The Website Traffic Series will try to cover all the traffic generation strategies available, so some of them might not apply to blogs necessarily. This one, for instance, is geared towards people that have static websites, like a company or business site. Even if you are a blogger, however, you might need to create a static website in the future, or to do consulting for a company that has one, so I think you could still benefit from knowing the different angles of this technique.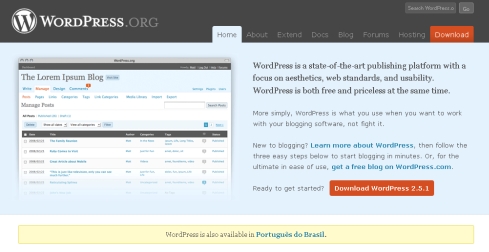 The Concept: Blogs revolutionized the Web for several reasons. First of all, the appearance of blogging specific software like WordPress or Movable Type, as well as the free hosted solutions like Blogger, enabled pretty much anyone (even people with zero knowledge of HTML) to create their own website and to share with the world their ideas and knowledge.
Secondly, blogs introduced features like comments and trackbacks that allowed users to interact with each other more efficiently. What before used to be a monologue (from the few websites that published information) became a conversation where blogs, websites, authors and readers all interacted and shared their thoughts.
By adding a blog to your static website, therefore, you are basically entering this immense conversation that is going on around the Web.
This new platform will allow you to publish new content, to promote this content on new channels, and to receive a large number of new visitors that would otherwise never have found your website.
Does it work?: Definitely. Once you get used to how things work on the blogosphere you will realize that it is much easier to generate traffic with a blog then with a static website.
First of all you could publish interesting articles related to your niche, and pitch them to other bloggers covering related topics. If your content is good they will gladly link to you and send readers your way.
Secondly, you could also try to promote your content on social media and social bookmarking sites.
Finally, there is also an organic advantage to adding a blog to your website. Google and other search engines tend to favor dynamic websites that publish new content on a regular basis, so a blog could also boost your search engine traffic significantly.
How to get started: The best solution on the Web is WordPress. It has all the advanced features that you will need, and a vibrant community that is always releasing themes, plugins, and supporting the development of the project.
Just create a subfolder on your website called /blog/ or something else, and install WordPress there. If you are not tech-savvy, post a message on some online forums asking for help, and I am sure you will find someone willing to assist you.
Once the blog is up and running, it is time to put some fresh content there. You are free to get as creative as you want.
It will take some time to figure all the peculiarities of blogs and online marketing, but once you grasp them you will see the traffic soaring. Check also the other parts on this series, some of them will definitely help you to promote your blog.
Over to the readers: Have you used a blog inside a static website to promote it? What results did you get?
Website Traffic Series