Website Traffic Series Part 7: Putting A Blog on Your Static Website
The Website Traffic Series will try to cover all the traffic generation strategies available, so some of them might not apply to blogs necessarily. This one, for instance, is geared towards people that have static websites, like a company or business site. Even if you are a blogger, however, you might need to create a static website in the future, or to do consulting for a company that has one, so I think you could still benefit from knowing the different angles of this technique.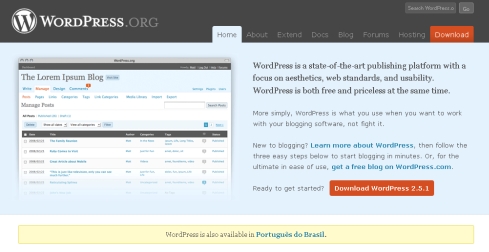 The Concept: Blogs revolutionized the Web for several reasons. First of all, the appearance of blogging specific software like WordPress or Movable Type, as well as the free hosted solutions like Blogger, enabled pretty much anyone (even people with zero knowledge of HTML) to create their own website and to share with the world their ideas and knowledge.
Secondly, blogs introduced features like comments and trackbacks that allowed users to interact with each other more efficiently. What before used to be a monologue (from the few websites that published information) became a conversation where blogs, websites, authors and readers all interacted and shared their thoughts.
By adding a blog to your static website, therefore, you are basically entering this immense conversation that is going on around the Web.
This new platform will allow you to publish new content, to promote this content on new channels, and to receive a large number of new visitors that would otherwise never have found your website.
Does it work?: Definitely. Once you get used to how things work on the blogosphere you will realize that it is much easier to generate traffic with a blog then with a static website.
First of all you could publish interesting articles related to your niche, and pitch them to other bloggers covering related topics. If your content is good they will gladly link to you and send readers your way.
Secondly, you could also try to promote your content on social media and social bookmarking sites.
Finally, there is also an organic advantage to adding a blog to your website. Google and other search engines tend to favor dynamic websites that publish new content on a regular basis, so a blog could also boost your search engine traffic significantly.
How to get started: The best solution on the Web is WordPress. It has all the advanced features that you will need, and a vibrant community that is always releasing themes, plugins, and supporting the development of the project.
Just create a subfolder on your website called /blog/ or something else, and install WordPress there. If you are not tech-savvy, post a message on some online forums asking for help, and I am sure you will find someone willing to assist you.
Once the blog is up and running, it is time to put some fresh content there. You are free to get as creative as you want.
It will take some time to figure all the peculiarities of blogs and online marketing, but once you grasp them you will see the traffic soaring. Check also the other parts on this series, some of them will definitely help you to promote your blog.
Over to the readers: Have you used a blog inside a static website to promote it? What results did you get?
Website Traffic Series
Browse all articles on the Promotion category
35 Responses to "Website Traffic Series Part 7: Putting A Blog on Your Static Website"
Rob H

I have a 6-week old blog that performs better than my 3 year old static site. Both have good original content. Amazing.

Peter Szabo

Very nice article, keep it up! For all Bloggers who do not know HTML I have an article up which teaches basic HTML tags which are essential for Bloggers, click here to read it!

Julie N

I launched my static website in January and was recently told by Social Media Mom that I should add a blog. I love reading blogs, but had no clue as to how to do this, but the end of May I added a blog. I'm still learning the ropes, but now I can see how it can help produce more traffic.

My static site is an asp driven, but I wanted to use WordPress.org. I purchased a new domain for the blog and hosting through GoDaddy. I love WordPress so this solution works great for me.

Blake Imeson

Update: I am the one that is dealing with the .asp site and we realized our self-hosting options really boiled down to wither Movable Type or blogengine.net

We decided instead to let WordPress.com host it and then map a sub-domain on our site to it. It only costs $10. Blogger allows the same thing for free but going that route could be risky if you ever want to switch platforms. TypePad also does it but it costs quite a bit of mula.

With WordPress.com you will be unable to put ads on it but it is free hosting and if you are doing a blog for a business it is a very bad idea to have ads anyways.

Internet Business Broker

Not sure if the last post made it? anyways – nice article – I have been wanting to add a blog to my website business broker website.
Can wordpress be used on an asp based site – I saw another comment like this – my site is asp and I like what I have read here about wordpress.
thanks,
david

Nick

I added a blog to my RV travel website about 18 months ago, mostly as a marketing tool for the books I publish, and have seen our numbers shoot way up in comparison to before. Plus, the added inccome (I'm averaging about $500 a month in Google AdSense commissions) has been very nice.

Kelly Jones

I think a lot of people don't want to start a blog because they think it will be too time consuming or challenging, but you really don't have to think of a blog as just a diary, soapbox, or list of articles, you can really make it anything you want. Think of things like a portfolio or a showcase. @Hendry Lee is right, you can use a blog as the static part of your Web site, and use the databases as a CMS.

I wrote about using blogs as anti-blogs on Andy Beal's Marketing Pilgrim:

Hendry Lee

Nowadays, you can use WordPress as the static part too. I've built two web site from scratch by using a single installation of WP.

Yes, WP rocks.

Matt

Thanks for this, I shall put a blog on my website.

Eric D

Excellent article. I have long been an advocate of developing a blog to support a website whether it is static or not. I do however believe that the blog should be free standing and not part of the static site. My reasoning is that the blog can add to the "link juice" coming into the site. Especially if that blog is on another server….even a free server at blogspot.

Whenever I start a website project I automatically do a parallel blog to support that site……….. great article…………eric

Pachecus

Very interesting series Daniel.. I'm reading all 7 parts…

David Eaves

It does seem to be working pretty well for my site, the thing I had problems with to begin with was incorporating some navigation to the blog, now that I have had the entire site redesigned it has started to look the part.

Daniel Scocco

@Barb, sure you can. One could start with a blog, for instance, and then add a store to it, which would be static.

As for the technical details, you have many options available. WordPress 2.5 already comes with the option of using a single page as your static homepage. Then you would just need to create other pages to create the whole static website, and your blog posts would keep working normally.

Barb

Daniel–I was wondering…can you do this also the other way around, e.g. start with a blog and then add some static pages such as a home page with a link to the blog on the same site? How does that work?

Chuck Anthony

Ah ha, thanks for the subfolder SEO tip, Dainiel.

Daniel Scocco

@Blade, in this case yes I guess that is the better solution.

@Vibizonline, subfolders are more search engine friendly than sub-domains.

A sub-domain will be counted as a separate site, while a subfolder as part of the current site, so they will share backlinks and search rankings.

Ruhaizad Daud
VIBizOnline

This is something I've planned on doing for my site.
question though . is there a reason you said to put the blog in a directory instead of its own sub domain ?

Susan

@Ramiro, the beauty of WordPress (in case you didn't know), is that you can import all your posts from Blogger to WordPress with a single click! I've done it for several friends who migrated their Blogger/Blogspot blogs to self-hosted WordPress. Posts, categories, and images are imported too!

Blake Imeson

I love WordPress too but what do you do when a client needs a blog and their site is built on .ASP ?

The only solution I have found so far is to just use TypePad (hosted by them) and map the domain to it.

Any ideas?

David Zemens – 1955 Design

Fresh content is king, no doubt about it. A blog, or other CMS system, gives you the ability to add fresh content in an easy way.

Any business who does not utilize a blog is missing the boat. All of the big boys do – Microsoft, GM, CNN, etc. Why do you suppose that is?

Adding a WordPress blog to a static website is something that I do regularly as a WordPress theme developer. It's a great feature for any business!

Ramiro

WordPress is the best. I started my two blogs with blogger but I should have started with wordpress. Now, it is too late. Each blog has more tham 1000 posts.
In Portugal, qhere I live, Blogger is most known and used.

Abdul

Very nice article, keep it up!
For all Bloggers who do not know HTML I have an article up which teaches basic HTML tags which are essential for Bloggers, click here to read it!

Vishal

I don't have a static website, I just have a free blog in Blogger, all for financial problem, once I get a bit of money, I will start my own paid one (website and blog). Hey, but what you said is really true, see all the famous companies on the web, they have started their own blog, technology or finance. Blogging is the Web 2.0 revolution.

Susan

WordPress is the best blogging software! There are many plugins you can add to make your blog reader-friendly, easy-to-navigate, and interactive!

I wrote a post about some of my favorite WordPress plugins.

Some of the tips were from DailyBlogTips! Daniel, thanks for all the great tips, suggestions, and articles you've posted on this site!

Rajaie AlKorani

I've never had a static website, but one person I do know that uses a blog to showcase his portfolio is David Airey, and I'm sure that setting up a blog has extremely increased his products and services.

Daniel Scocco

@SEO Genius, yeah I am not saying that blogs are the panacea. I believe different formats will suit different needs and purposes.

That being said, if traffic is your aim, a blog is a good start 🙂 .

SEO Genius

I started a static website as i felt a blog was largely over rated and too common, however through research i have found that blogs hold many advantages that you just cannot transfer to a static page. All in all i feel if i could go back i would change this, and opt for a blog instead.

However i shall make do with my static website, i have learnt a lot about coding through the website and it does offer its advantages.

Daniel Scocco

@Miguel, that is a good route, but there are many people and companies that already started with static websites. So for them I think adding a blog is perhaps the most important promotion strategy they could use.

Miguel Cangueiro

I started immediatly with a blog because I'm not an internet savvy and a friend of mine told me to create a website it's required a lot of HTML knowledge…
Comments are closed.