First of all a small announcement: I will publish all the "Website Traffic Series" posts on Thursdays now. This should encourage me to write them more consistently, and the readers will know that every Thursday they will find a new traffic generation strategy posted.
Now about today's post. Last week we talked about how you can use social bookmaking sites to promote your own content and generate traffic. Well, curiously enough, you can also promote other people's content to generate traffic to your own site!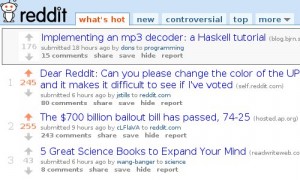 The concept
: You probably know that social bookmarking sites can generate tens of thousands of visitors to a website that gets featured on them right? Now, what if a particular page or post receiving a huge amount of social media traffic was linking to one of your posts? You would end up with a good amount of referral traffic.
The idea is simple therefore: whenever you come across a high quality page or post that is linking to your website, help to promote it on social bookmarking sites. Practically speaking, give it a thumbs up on Stumble Upon, digg it, bookmark on Delicious and so on.
Notice that I mentioned "high quality page or post" because it would be useless to go around voting for every post that is linking to your blog. They need to be appealing to social media as well, else your efforts helping to promote it will be fruitless.
Does it work?: Yes, although the referral traffic you will get will not be huge. Conversion rates for links inside posts gravitate around 1% (rough estimation for the sake of the argument), so if 100,000 people visit the post that is linking to you, you should expect 1,000 to click on the link that leads to your website.
The traffic is not huge, but every bit helps right? Additionally, this is a win-win situation, because you will also be helping someone that was willing to link to your site on the first place. It is a way of saying "thank you" for the link love, if you will.
Finally, if people notice that you are willing to help them out, they will be glad to help you in return, perhaps promoting your articles on social media as well.
How to get started: Applying this strategy is really easy, you just need to keep your radar up for people that link to you blog. Most blogging platforms display the recent backlinks on the control panel, so that is a good place to start.
You can also use blog tracking services like Technorati to monitor that. Try to identify that posts that have good value (e.g., a big list of resources, a comprehensive analysis on some topic) and then just promote them on social media.
Over to the readers: Do you have the habit of promoting posts and sites that link to your own? Have you noticed any traffic coming from it?
Website Traffic Series