Website Traffic Series Part 15: Promoting Posts That Link to You on Social Bookmarking Sites
First of all a small announcement: I will publish all the "Website Traffic Series" posts on Thursdays now. This should encourage me to write them more consistently, and the readers will know that every Thursday they will find a new traffic generation strategy posted.
Now about today's post. Last week we talked about how you can use social bookmaking sites to promote your own content and generate traffic. Well, curiously enough, you can also promote other people's content to generate traffic to your own site!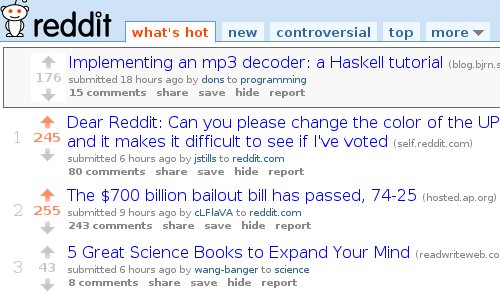 The concept: You probably know that social bookmarking sites can generate tens of thousands of visitors to a website that gets featured on them right? Now, what if a particular page or post receiving a huge amount of social media traffic was linking to one of your posts? You would end up with a good amount of referral traffic.
The idea is simple therefore: whenever you come across a high quality page or post that is linking to your website, help to promote it on social bookmarking sites. Practically speaking, give it a thumbs up on Stumble Upon, digg it, bookmark on Delicious and so on.
Notice that I mentioned "high quality page or post" because it would be useless to go around voting for every post that is linking to your blog. They need to be appealing to social media as well, else your efforts helping to promote it will be fruitless.
Does it work?: Yes, although the referral traffic you will get will not be huge. Conversion rates for links inside posts gravitate around 1% (rough estimation for the sake of the argument), so if 100,000 people visit the post that is linking to you, you should expect 1,000 to click on the link that leads to your website.
The traffic is not huge, but every bit helps right? Additionally, this is a win-win situation, because you will also be helping someone that was willing to link to your site on the first place. It is a way of saying "thank you" for the link love, if you will.
Finally, if people notice that you are willing to help them out, they will be glad to help you in return, perhaps promoting your articles on social media as well.
How to get started: Applying this strategy is really easy, you just need to keep your radar up for people that link to you blog. Most blogging platforms display the recent backlinks on the control panel, so that is a good place to start.
You can also use blog tracking services like Technorati to monitor that. Try to identify that posts that have good value (e.g., a big list of resources, a comprehensive analysis on some topic) and then just promote them on social media.
Over to the readers: Do you have the habit of promoting posts and sites that link to your own? Have you noticed any traffic coming from it?
Website Traffic Series
Browse all articles on the Promotion category
27 Responses to "Website Traffic Series Part 15: Promoting Posts That Link to You on Social Bookmarking Sites"
medyum

Great Idea something I have come across various times but still need to put in to action.

List of 150 Social Bookmarking Sites

Here is the list of social bookmarking site you also could use!

Daniel Scocco

@Stu, it could help, though comment links will have an even lower conversion rate.

@Four20, yeah I should have made it explicit it was a thumb number.

Four20

Agreed. . .the post just seemed to look like you actually did the calculations

Stu McLaren

Do you think this method is effective if you are engaging in a conversation within the comments?

The reason I ask is that if you are having a good discussion within the comments and then you bookmark that post, I wonder if you'd see an increase in traffic from people clicking on your link from within the comments?

Personally I think it probably would – especially if your comments are fairly high AND they are engaging. If the comments suck, nobody would click through anyway.

Anyway great tip!

Thanks.

Daniel Scocco

@Ali, got that already :), and thanks for the mention.

Daniel Scocco

@Four20, yeah that is right.

Does that affect the overall concept on the post though? I don't think so, and I thought that having a "guesstimated" number there would do more good than harm, cause it would illustrate to people what they should expect.

My opinion at least.

Nick Stamoulis

This is a great tip as the more quality content you put out on the social networks, the more credibility you gain and thus people will pay attention to posts later submitted. Great stuff!

Four20

I love how Daniel just throws in the %1 click through rate in there. There is no way to determine this. It would be different for each social media website(digg, stumble, buzz, etc). . .it would be different for each link(where it's at, how you're linked). . .it would even be different for the person that submitted you to the social media website.

Ali Hale (from Alpha Student)

What a cunning tactic! I can see how this could work well not only for you, but also for the blogger kind enough to link to you. May go and try it with my guest post on ProBlogger ("Choosing Your Categories" if anyone's interested in having a read) … 🙂

Thad Pryor

Thanks Daniel, some great tips — appreciate your hard work.

Todd Andrews

A good idea, but seems like a lot of work for a smaller percentage of clickthroughs.

Clog Money

This can be really affective, you just have to look at John Chows success from this method. Be prepared to spend a lot of time befriending users on these sites before you have any chance of getting your articles promoted to the top positions mind…

TechZoomIn

I didn't tried yet with these.

Just need to give a try for my new blog.

Harmony

I am just tapping into the SN idea…(I know SLOW).
Could you direct me to one of your posts that might help me get the foundation understanding of how and why they work for your blog, which one to start with, and how to cultivate it's effectiveness?
Thanks so much for all you publish here!

Ben Moreno

Brilliant idea Daniel! I already got 2 great posts in mind. Thanks!

Luca – Reach Success Online

Great tip. I've got a bit of catching up with these posts and will start to apply your traffic tips.

Thanks again

Nancy Sutherland

Thanks for the great post. Would this idea work if every time that someone posted one of my ezine articles on their site I promote it? I am trying to understand the concept. I never put the ezine articles on my own site.

Muhammad Siyab

A really good tip this,

I know about the win-win part, but didn't realize that it could bring me traffic too.

Thanks for an enlightening post 😀

Adam – Creadiv.com

Great post, I think it this method has been nicknamed Link Boosting. Because as you boost the site linking to you it will boost the power of your link and possibly the pr of your site.

SEO Genius

Great Idea something I have come across various times but still need to put in to action.

Young

Thanks, Daniel.

Daniel Scocco

@Young, I use Stumble, Digg, Reddit and Delicious daily.

Young

What social bookmarking sizes you usually use? And how often do you bookmark a site?

interwebhunt

its a great way to promote your own content a little more subtlety then bookmarking your own site. Not to mention you'll end up getting a little more link juice in the long run more then likely.
Comments are closed.