Website Traffic Series Part 13: Faking a Hacker Attack
As we said before, on this "Website Traffic Series" we are going to cover ALL the traffic generation tactics and strategies out there, even the weird and the blackhat ones!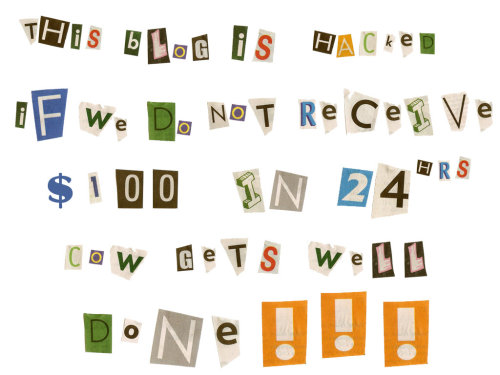 The concept: The idea is pretty simple. Popular websites that get hacked tend to make the headlines around the blogosphere. As a consequence, they receive many backlinks and a good amount of traffic. People are curious, and they will want to check out what happened.
Now instead of opening up some security holes on your website and waiting for a real hacker to come (which apart from the traffic would also give you some head aches…) you could simply fake the attack.
All you need to do is to create a weird HTML page, put a "This website was hacked" message there, and redirect your domain to that page.
Does it work?: Yes and no. First of all you need to have a somewhat popular website already for this to work minimally well. No one is going to care if your two-week old .blogspot blog should get hacked, right?
If you do have a somewhat popular website, though, there are chances that you will receive a good amount of backlinks and traffic with this technique. JohnCow.com pulled that trick some months ago. For 24 hours he redirected the visitors to his domain to a page that contained the image on top of this post.
Many people linked to him as a result. Some thinking it was for real. Some calling him out for a cheap stunt. Others just intrigued by the whole deal.
As you can see it does work to some extent, but it will also bring some negative publicity and criticism to your website.
How to get started: Personally I would not try to generate traffic with this method. I think it might work for sites that deal with blackhat or out-of-the-box promotional methods (JohnCow.com was born as a parody site after all), but that is not the case with most of us. Try this at your own risk, therefore.
Over to the readers: Have you ever considering to take something on your site to generate traffic? Would you get pissed if a website that you read regularly pulled this trick on your?
Website Traffic Series
Browse all articles on the Promotion category
22 Responses to "Website Traffic Series Part 13: Faking a Hacker Attack"
medyum

Hi Denial

that was good read, but trying such tactics may not get you desired backlinks and traffic, but it will surely damage your profile beyond repair, it takes life time to build trust and credibility (who can understand that batter then you) but it takes only few seconds to spoil it,…

Medyum OÄŸuz Hoca

gausarts

No man, it's a bad tip in the long run:)

Kok Choon

Oh boy, this is nice trick! 😮

instantShift

Nice tip !!

But mostly helpful for popular sites to make them more popular.

Nice writing, Thank you.

iShift

sagar trapasia

its a fuc**** way to use these sort of startegies. This shows that you dont know how to bring traffic. You can create a scene and easily get attention. You would be more satisfied if you bring 100 visitors by ur strategy than doing these cheap stunts.

Johnchow is a bitch. Its just the fact that he got at that point luckily and leveraging the max. of his position. He actually knows very less seo but blabber more to just indulge visitors.

Hyder

Ah yes, I remember this stunt.

I made the "hacker" message after all 😉 Worked quite well actually.

SEO Genius

Interesting article Daniel, something I never considered before not that I would every do it however still interesting.

Manoel Franklin

Very interesting idea,… I will not try it, but the final result can be very good! Best regards!

Hendry Lee

Well, that was a clever trick the first time someone did it, but used too often, that sounds desperate. No?

Daniel Scocco

@suresh, depending on your niche the visitors can stick and or even become loyal readers. There are many people out there who like to follow "pioneers" and blackhat guys.

@Sunil, not sure. JohnCow kept on blogging there, and people were still reading his blog.

Dilson

i think that was the biggest mistakes if you do that. you can lost your many readers

Carguy

I am one of those people that eres on the side of caution. I wouldn't do it but it does build some buzz for those that do.

Ryan McLean

I am a pretty straight guy and all the techniques I use to drive traffic to my site are whitehat. I think this is completely stupid if someone does this and it could get a lot of negative attention.
Truthfully I like to do it the honest way. I would be pissed if someone lies to me and faked one of these because I build ym entrepreneurs blog on honesty, not the 'fake it to make it' strategy

Adam Pieniazek

In the past I faked an event or two (non-hacker related) on some of my older, now defunct blogs. Honestly, I did it to see what would happen, plus I wanted to wrap up those blogs and the faked events were a good way to do so. Sure, there was a traffic spike revolving around these events but in the long run (which I wasn't concerned with as they were meant to be short term blogs) it's not good.

I would not recommend faking hacker events. For one, it may draw the ire of real hackers or point out real security flaws you may have to them. Second, some of your visitors may become concerned that your site is not safe to visit and thus you could end up losing traffic due to such an event. Third, I believe blogs are big because of the relationships it always the community to have with the creators. Faking an event betrays the trust the community gives to the creator thus hurting your reputation.

I can see how this method works and makes sense for johncow.com but for my sites I'll stay away!

Sunil Pathak

Hi Denial

that was good read, but trying such tactics may not get you desired backlinks and traffic, but it will surely damage your profile beyond repair, it takes life time to build trust and credibility (who can understand that batter then you) but it takes only few seconds to spoil it,

Franklin Bishop

If this was me I would decide not to do it. I just think that the consequences are worse for you then anything good that could come from it. I mean I'm sure there are many people out there that are going to try to prove that you are really not being hacked. I'm pretty sure one of those people will be able to do so and then you're stuck explaining why you pretended to be hacked.

I know you could get some publicity for being hacked and some publicity for faking being hacked but you can also lose some of your subscribers and readers. Some people do not like tactics like this and are completely turned off by it. I think you just have to weigh your pros and cons.

suresh

As you rightly said this hacking not seems to be a good idea.

After all we are all beings and wait for the results to come rather following cheap tricks.

Just getting traffic instantly is not only enough and

how sticky the visitors are ?

and what is the bounce rate is ?

May be also important questions and this stuff does not help in the above two cases.

Ya people can contradict with me after all it is a open world.

Alexandra Giroux

That's why so many websites got hacked today!
Comments are closed.