In the previous parts of this series we talked about generating traffic to your website with leaving comments on other blogs. Those were all basic techniques, so lets talk about something less trivial today: faking a blog sale.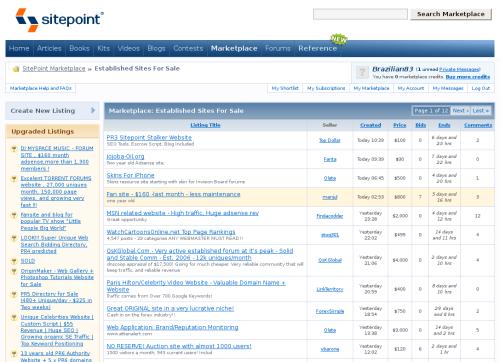 Before going further, though, keep in mind that I consider this technique to be unethical. I try to keep a 100% transparency approach on all my projects and endeavors, therefore I would never fake something to generate traffic, and I don't recommend other people to do so either.
But if we are going to talk about all the traffic generation tricks and techniques (that is the plan with this series) we need to cover the "black hat" methods as well, if nothing else for the sake of discussion and to keep people aware of what might be going around the web.
The concept: The idea is pretty simple, you make it appear that you are selling your blog, and try to generate as much buzz as possible around it. The traffic might come from several sources.
If you list your blog sale on big online forums or marketplaces (some free and some paid) you will inevitable receive visits from the curious folks and potential buyers. Sometimes thousands of them.
If your blog is somewhat popular and has a loyal following you might also receive traffic from the readers that will write about the sale on their blogs or websites.
After a couple of weeks you just mention that the reserve price was not met, and you call the sale off.
Does it work?: Overall no, it does not work. First and foremost because the traffic that you will receive will not be targeted. People will visit your website because they are planning to buy, or because they are just curious to see what is going on. Sure some people might like the content and come back in the future, but I would say that they represent 10% of the total traffic.
I happened to list some of my blogs for sale in the past, but because I really intended to sell them. If I remember well I received around 2,000 visitors from the marketplaces (Sitepoint), but the sale listing had no impact on my traffic levels or RSS subscribers on the following weeks.
There is also a negative effective connected with this practice. Some of your loyal readers might feel deceived. If they stop trusting you they might also stop visiting your website.
How to get started: Just don't get started! As you can see the couple thousand visitors that you might end up receiving using this strategy are not worth the damage that you will do to your credibility.
Over to the readers: Those are my opinions are least. Do you think that it is OK to fake a blog sale? What about the kind of traffic that you would get using this method?
Website Traffic Series