Website Traffic Series Part 11: Putting Your URL On Online Profiles
If you are a savvy Internet user, I am sure that you have a bunch of online profiles spread all over the place. Facebook, StumbleUpon, LinkedIn, Twitter and so on. Sometimes we just create an account on those places because friends encourage us to, or out of sheer curiosity. Regardless of the motive, it would be cool if you could put those many profiles to work and gain some traffic out of it right?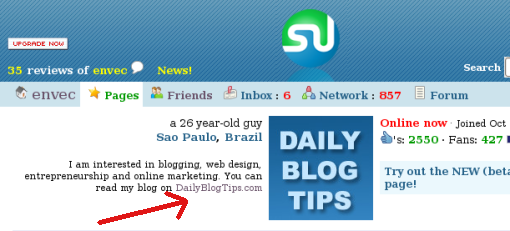 The concept: The idea is pretty simple. List your website URL in as many online profiles as possible. Usually most social networks already offer a place where you can list your website. Even if they don't, try to find a field where you can stick it in.
StumbleUpon for instance does not have a specific field for you to insert your website URL and share it with other users. They do have an "About Me" section though, and it accepts HTML, so just stick your link there.
Does it work?: Do not expect to crash your server with this technique. If you have many online accounts, however, combined they could end up sending you a good amount of monthly visitors. Obviously if your website is large already the effect would be hard to notice, but for new websites every small bit helps.
Secondly, the traffic that you will get from the links place on those online profiles will depend on your activity on the respective social networks. If you are very active on Digg, for example, more people will end up checking your profile, and more people will be likely to click on the link to your website.
How to get started: I would not recommend creating online profiles only to be able to place your link there afterward. This technique is fruitful if you already have dozens of profiles online and can edit them easily to include a link to your website.

Over to the readers: Do you have many online profiles scattered around the web? Do they all contain a link back to your website?
Website Traffic Series
Browse all articles on the Promotion category
23 Responses to "Website Traffic Series Part 11: Putting Your URL On Online Profiles"
Mark West

Social media is a good way to promote yourself and your business. There are many tips online to help to build your reputation to show you are an expert in what you are selling.

medyum

Great strategy — add links to in the profile section where it calls for links…prob not much SEO benefit but it all helps to attract visitors.

Scuttlebutt

Sounds like sage advice. I will stick my url everywhere I can!!!

bebo2001

this comment it self ask me for my website, will this be an example?

scatterhaiku

sounds like reasonable, good advice. 🙂 and it doesn't really take all that much time to stick a url in an already existing profile after all. thanks for the tip. 🙂

Whipsaw

Focusing on content is a good idea but you do need to add promotion in there as well. By adding your url to such sites when it is asked for is, doesn't take up too much time and adds to your sites online presence.

James

I've been adding my url as part of my profile, rather than as a specific marketing tactic, but it all helps build links and visitors.

Adam Singer

Great strategy — add links to in the profile section where it calls for links…prob not much SEO benefit but it all helps to attract visitors.

Mike

its similar parasite hosting 😉

Ajay

This is something I have been doing rather subconsciously. You never know who might see the url.

Ajay Kumar Singh

Nice post. Didn't realize that we can stick in URL in SU. But alas it has got nofollow tag. Never mind something is better than nothing.

Ajay

Daniel Scocco

@Scent of Health,

Yes content should always come first. Those traffic building tips should be used once you have solid content in place, and just in the case you are left with some time to promote your site. If you just have time to do one OR the other, focus on the content.

@Ultimate, agreed, your URL is one of the most important factors about your online persona.

Ultimate Blogging Experiment

I have tried to tell people this over and over that putting their URL out there more can only help you get more traffic to your blog. I had too many people that feel like this is spamming but this is not even close to spamming. These are your online profiles so your URL is part of "You".

Scent of Health

I am still wondering….These activities on other networks, take a lot of time. Is it not better to concentrate on content, I mean your own content?
Comments are closed.