Like it or not, if you want to be successful on the Internet, you will need to generate traffic to your websites or blogs. It does not matter if your goal is to make money with advertising, to sell ebooks, to generate leads to your business or simply to share your ideas; if people are not visiting your site your efforts will be worthless.
That is why I decided to start this "Website Traffic Series," where on each post I will cover one different traffic generation strategy. Now I am not trying to reinvent the wheel, since I know that there are plenty of advice out there on this topic. What I will do is to summarize what is known about each strategy, and break it down into "Concept," "Doest it work?" and "How to get started." That is, I want to provide some practical advice and a reality check with my own experiences at the same time.
If things go all right this so be a long series, so stay tuned!
Part 1: Web Design and CSS Galleries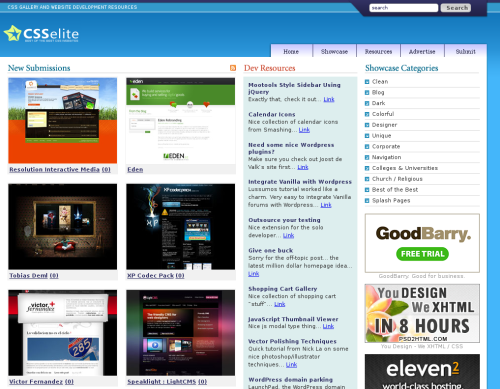 Concept: There are literally hundreds of web design and CSS galleries around the Internet. Basically these galleries gather and filter creative and good looking websites from around the world (mostly CSS based, but some also feature Flash and XHTML) and showcase them for the visitors.
Some of these galleries are extremely popular, and they can send thousands of visitors your way if you get featured there. There is also a bowling effect from smaller galleries that end up picking the designs featured on the top sites, so the overall traffic boost could last several days.
Does it work?: Yes, provided you can get featured on one of the top rated galleries. Achieving that is the hard part, though. A unique design will not suffice, it must be appealing and creative.
Daily Blog Tips has a unique design, for instance, but I doubt that it would get featured on one of these galleries because the design is too simple and minimalistic.
Another point to consider is the quality of the traffic. Most of the incoming visitors from the galleries will be interested in your design, and not necessarily in your content. Should you have a good strategy to convert them (i.e. highlights of your best content, clear subscription options and so on), however, there is good chance that some of these visitors will like your site and return later for the content and not for the design alone.
How to get started: First of all you need to have a creative and appealing design. If you are good with CSS you could do it yourself, otherwise hire a professional designer. You can improve your chances by using a clever color scheme, innovative navigation menus and so on.
Once the design is in place you will just need submit it to the galleries and cross your fingers. Check The Great Website Design Gallery Roundup for a complete list of the galleries and a detailed description of the features included on each one.
Over to the readers: Have you had any experience with web design or CSS galleries in the past? How did it work out?

Website Traffic Series