A couple of weeks ago we talked about how you can use social bookmarking sites to generate traffic to your website. Social networking sites represent another sub-category under the social media umbrella, and they could also be used to generate traffic. Below you will find how.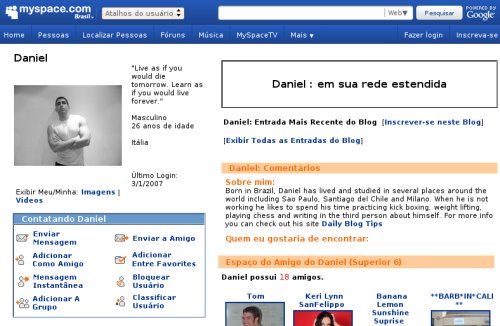 The concept
: The term
social networking site
encompass a wide range of websites and applications where the goal is to let users of a certain group, or having a certain interest, to connect, interact and share things. Popular examples include MySpace.com and LinkedIn.com.
Most of those websites allow its members to write a small bio or profile, and usually they also let you include a link there. Given the popularity of social networking sites around the web, it is possible to use those websites to generate traffic to your own.
Does it work?: Yes, provided you are minimally active on the social networking sites where you plan to promote your website. The traffic can also be significant depending on how popular your "profile page" will get. I have seen webmasters receiving as much as 500 uniques a day from MySpace or Facebook profiles.
Another advantage of registering with those services is that some of them will follow the profile links of members, meaning that you will also reap some SEO benefits along the way.
How to get started: First of all you need to create an account on those services. Some that you might consider are:
MySpace
Facebook
Twitter
MyBlogLog
LinkedIn
FriendFeed
Once you have an account, you will need to get as many friends and contacts as possible. Just get busy and active in the community and people will notice you. Make sure to add your link to your profile, and try to share it inside specific groups as well. As usual, test with different strategies until you find efficient ways to drive traffic to your own site.
Over to the readers: Are you active in social networking sites? Do you think that it is possible to generate traffic with them? What strategies have worked for you in the past?
Website Traffic Series