As you know the intent of this series is to cover all tactics and techniques to generate traffic to a website, so we will touch both free and paid methods. Today I want to talk about a paid one, the so called targeted traffic deals.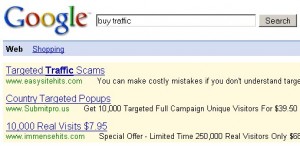 The Concept: Do a quick search on Google for "buy traffic" or "targeted traffic" and you will see an immense number of sponsored results. Those are basically websites that sell targeted traffic (or so they claim, but read on).
The amount of traffic and cost vary. Here are some examples that I gathered: "250,000 real visitors for $69," "10,000 targeted visitors for $39," and "10,000 visitors for $9,99."
As you can see they have solutions for all pocket sizes…
Basically, therefore, these websites will send you traffic in exchange for money.
Does is Work?: Hardly. The trick of this business is that they make the impression that they will send real Internet visitors to your website, but most of the times the traffic will come from popups, popdowns, traffic exchange and get-paid-to-surf schemes. Here are some disclaimers that I collected from those websites:
"Client understands that HIT COUNTERS on your site DO NOT ACCURATELY REPRESENT THE NUMBER OF VISITORS SENT TO YOUR SITE."
"The client understands that if the visitor viewing the the ad closes it before it finishes loading (due to network bandwidth, high impact graphics, animation or lack of interest on the visitors part etc.), IT WILL COUNT AS AN AD VIEW ON OUR SYSTEM, WE HAVE SENT YOUR SITE TO THE VISITOR AND HAVE THEREFORE FULFILLED OUR OBLIGATION."
I also found it interesting that most of those websites have an identical Terms of Service. Either they are copying from each other, or someone owns them all.
How to get started: Don't. I have considered purchasing those services in the past, but they always sounded too good to be true. Guess what, probably they are.
The techniques and methods used to delivered the "targeted" traffic are so cheap that the overall results should be close to zero.
One of those days I will take one shot for the team and order some "10,000 real visitors" to see what traffic I will be able to track from Google Analytics.
Until them I would not recommend anyone to spend money on such schemes, unless it is done for scientific purposes…
Over to the readers: Have you ever purchased one of those target traffic offers? Did it work? Do you think some of them could be legitimate?
Website Traffic Series