Website Traffic Series Part 18: Exchanging Links with Partner Sites
The practice of exchanging links is mostly used for SEO purposes, but it can also be used for traffic generation if structured correctly. Below you will find how you can use this technique to generate traffic to your own website or blog.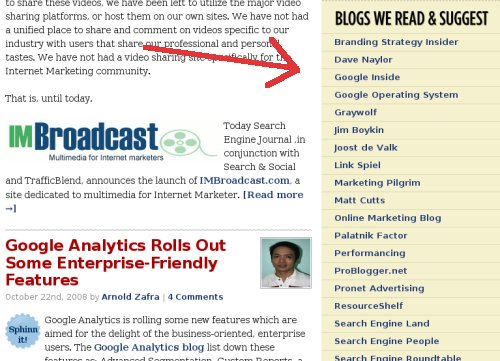 The concept: Porn websites are undoubtedly the most popular around the web right? If you take a look at them (under an educational perspective obviously…) you will notice a very common trend: most of them display links to partner websites on the footer or on the sidebar.
Some of them create those link exchange networks for the SEO benefits, but many also do it for the traffic gains.
Suppose you have website A, B and C, each owned by a different person. If all of them decided to put a link to the other two websites on the sidebar, with a headline like "Partner Sites" or "We Recommend," all of them would benefit and end up with more visitors in the end of the day.
Does it work?: Yes, although the results that you will get will vary depending on how big your site already is, and on how related the topics of your partner sites will be.
If your website is receiving 500 daily uniques per day, you would be trying to partner with websites with a similar traffic level (smaller ones would not be beneficial for you, and larger ones would not agree to). A sidebar or footer link on a website that receives 500 daily uniques will send anywhere from 1 up to 10 visitors your way, per day (this is a rough estimation, the numbers could be different depending on the circumstances).
If you manage to get 5 link exchange partners, therefore, each one of you should expect from 10 up to 50 extra daily visitors (or 300 to 1500 extra visitors per month). Nothing spectacular, but nothing to be ashamed of either.
The larger your blog, the larger the number of visitors that you could receive from link exchanges. The positioning of the links might affect the click through rate as well (i.e., links placed on a header stripe will generate more clicks than links on the footer).
Provided your link exchange partners cover related or complementary topics, there is also the benefit that those new visitors could end up liking your site and becoming a loyal visitor or an RSS subscriber.
How to get started: As I mentioned before, you will need to look for websites that have a related topic and a similar traffic level.
One good place to start is your own blog. Take a look at your most active commentators, and see if any of them have a blog on your same niche and with a similar traffic level. I bet there are some.
Secondly, take a look at who is linking to your articles or blog already. If someone naturally linked to you, he would certainly be willing to discuss a link exchange partnership.
Once you have a list of potential partners down, just contact them explaining the idea. Make sure to highlight what they have to gain out of the deal.
Finally, it might be a good idea to nofollow your links if you want to avoid troubles with Google.
Over to the readers: Have you ever exchanged links with other websites for the purpose of generating traffic? Did it work?
Website Traffic Series
Browse all articles on the Promotion category
20 Responses to "Website Traffic Series Part 18: Exchanging Links with Partner Sites"
medyum

Exchanging Links is a very good way to build traffic, you may also need submit your website to social book marks.

bolerochwazi

I don't think work at all. I tried a few times i didnt get any traffic.

Outsourcing Website Design

Well few years back link exchange was one of the best way to achieve backlinks but lately it has not been so. It is hard to find people who are ready to exchange links with u. Worse they'll put ur link on a third party site with low page rank. I have been wondering if link exchange is a good idea anymore!!!

seo

Exchanging Links is a very good way to build traffic, you may also need submit your website to social book marks.

Social Media Marketing Blog

I liked 17th series the most. Posting on Articles Directories …

Kurt Avish

Small correction to the above: " I meant normally you just have to use images…but not just make a blog post with just images! I meant use images and photos among your post to better illustrate your ideas.

Kurt Avish

@Shoto: I don't agree with you buddy. Infact even if a blog get 1000 visits per day….an addition 10 or 20 is not a waste. If you work on this additional 20 now…later you can work on additional 30 more…and keep increasing…

So instead of being satisfied with just the current amount of daily visits…why not aim at showing your content to a larger audience?

I would like to ask a question out of subject from this post too. I found a very nice trick to get traffic from google image search. Normally you just have to use image (Please put the source) and instead of downloading and re upload it to your server…you put the "img src" to the actual link of the image you got on google and also at the same time you LINK BACK to the original photo on the original site.

The downside is that you are using the bandwidth of the other site which is not ethical. So I prefer to use those image hosted on image hosting sites. But it brings lots of traffics…looking for the photo of course….but among these traffics many will also want to read the blog they just drop in.

I am not sure if this is right to do. Correct me if am wrong. Just sharing a small tip i found.

Shoto Azikuri

I think link exchange is good for begginers, but when you already have more then 1000 uv day it doesn't matter 10 uv per day.

Daniel Scocco

@Steve and Brian, will do.

shoban

Very old point but very well said 😉 I completely agree with you. I have some links which dont send me traffic and I want to remove them… But at the same time I dont want to hurt the other person who has my link.

How do you suggest to overcome this situation?

BTW.. I have a tech blog. Any one interested?

Steve & Brian

First I just want to say how fantastic your blog is. Brian and I have just started http://www.yourerdoc.com (blog on Emergency Medicine) on October 1 and we are up to about 100 unique visitors a day using many of your tips. (today is Oct 23)

I am not sure if "link exchange" is the same as "blog roll" but if it is – this practice is working well for us. We are linking to and inviting 1-3 new medical related blogs a day to add us as well and that seems to be both well recieved and effective. These links now produce around 20-25 uniques a day for us.

I am not familar with "no Follow" and how that keeps you in good graces with Google. Perhaps you cna add that to a Friday question post for us "newbiews":)

Thanks again for a fantastic resource!

Daniel Scocco

@SEO Genius, if you nofollow them Google is fine with it.

@TechZooming, yeah I remember. Your idea about putting links in the middle of posts in interesting also.

I used link exchanging in the past, but I don't use it anymore because I got my own network now and I share links between the 3 sites.

Dan @ PowerDosh.com

I've been finding that guest posts and link exchanges have been working well for me. I've been focusing on the SEO benefits (because I can choose the link pages and anchor texts for links back to my sites). However, the traffic is not to be sniffed at too.

SATISH

I have been finding space in my blog to start this link exchange strategy.. looks like you are reading my mind 🙂

Noticias Automotivas

forgot to say on previous comment: 30.000 unique visitors per day is quite big, and small mistakes are a big price to pay!

Noticias Automotivas

i don't do much of these link exchanges fearing some google penalty or something… got penalties twice, not for this, but for duplicate content, and i can tell you, cost several thousand dollars, every time it happens… so i prefer to play safe!

Ruchir Chawdhry

My tech site is still in the initial launch phase. I have exchanged links with a few sites but the traffic hasn't been substantial – about 1-2 visitors a day. Even in the past I haven't received much traffic by exchanging links… I generally receive more traffic is someone recommends my blog in a post, rather than a sidebar…

TechZoomIn

Hi Daniel,

have you remembered asking you to take an article about link sharing.

I started link sharing at TechZoomIn from staring on words.Now i have around over 15 partners and it is working quite cool for me.

I have placed a exclusive link asking visitors to share links with me. But am not looking at how popular is their site.am allowing all kind of people.

Am not seeing any link sharing at DBT. Have you tried it any time?

SEO Genius

Good article and I have exchanged links in the past but I tend not too anymore mainly because I think it looks a little suspiscious to Google if two websites suddenly start linking to each other at the same time.

I have never really had much traffic from other websites through link exchanges however I did have a bit of success through exchanging with a forum once.

Will.
Comments are closed.