The practice of exchanging links is mostly used for SEO purposes, but it can also be used for traffic generation if structured correctly. Below you will find how you can use this technique to generate traffic to your own website or blog.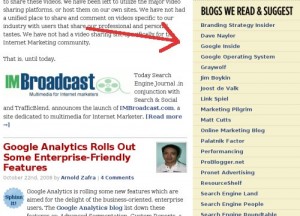 The concept: Porn websites are undoubtedly the most popular around the web right? If you take a look at them (under an educational perspective obviously…) you will notice a very common trend: most of them display links to partner websites on the footer or on the sidebar.
Some of them create those link exchange networks for the SEO benefits, but many also do it for the traffic gains.
Suppose you have website A, B and C, each owned by a different person. If all of them decided to put a link to the other two websites on the sidebar, with a headline like "Partner Sites" or "We Recommend," all of them would benefit and end up with more visitors in the end of the day.
Does it work?: Yes, although the results that you will get will vary depending on how big your site already is, and on how related the topics of your partner sites will be.
If your website is receiving 500 daily uniques per day, you would be trying to partner with websites with a similar traffic level (smaller ones would not be beneficial for you, and larger ones would not agree to). A sidebar or footer link on a website that receives 500 daily uniques will send anywhere from 1 up to 10 visitors your way, per day (this is a rough estimation, the numbers could be different depending on the circumstances).
If you manage to get 5 link exchange partners, therefore, each one of you should expect from 10 up to 50 extra daily visitors (or 300 to 1500 extra visitors per month). Nothing spectacular, but nothing to be ashamed of either.
The larger your blog, the larger the number of visitors that you could receive from link exchanges. The positioning of the links might affect the click through rate as well (i.e., links placed on a header stripe will generate more clicks than links on the footer).
Provided your link exchange partners cover related or complementary topics, there is also the benefit that those new visitors could end up liking your site and becoming a loyal visitor or an RSS subscriber.
How to get started: As I mentioned before, you will need to look for websites that have a related topic and a similar traffic level.
One good place to start is your own blog. Take a look at your most active commentators, and see if any of them have a blog on your same niche and with a similar traffic level. I bet there are some.
Secondly, take a look at who is linking to your articles or blog already. If someone naturally linked to you, he would certainly be willing to discuss a link exchange partnership.
Once you have a list of potential partners down, just contact them explaining the idea. Make sure to highlight what they have to gain out of the deal.
Finally, it might be a good idea to nofollow your links if you want to avoid troubles with Google.
Over to the readers: Have you ever exchanged links with other websites for the purpose of generating traffic? Did it work?
Website Traffic Series