There are techniques that will send thousands of unique visitors to your website. Others will just send a hand full of them. Both types should be considered though, since when it comes to website traffic generation, every small bit helps.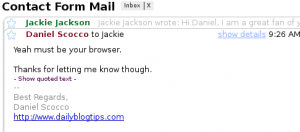 The concept
: Do you know anyone who does not use email? Depending on your profession or background, I could even ask you: Do you know anyone who does not use email
heavily
? The answer to both of these questions is usually "no."
Email is just pervasive these days. Whether you are a banker, an attorney, a web designer or a logistics manager, I am sure that at least 10% of your day is spent sending and replying to emails.
If that is the case, why not take advantage of this pattern and promote your website along the way? By adding a small link pointing to your website on your email signature you will be able to generate some very targeted clicks. Not a bunch of them every day, but over the time they will add up.
Does it work?: Yes, although as we stated before, do not expect to crash your servers with the traffic that will come from the email signature links.
The overall amount of clicks that you will get will also depend on the number of email messages that you exchange daily and on the relevancy of your website to the people that is exchanging emails with you.
Apart from the clicks, though, adding a link to your website might also help you in other ways. Suppose you sell stereo systems, and you are exchanging emails with a client. Should he discover your super cool blog about stereo audio after clicking on your email signature, I am sure he will be more inclided to close the deal with you.
Over the past months I also received several emails from a wide range of people that wanted to congratulate me for the interesting blog that I had, mentioning that they had just subscribed to it also. Most of those discovered the blog via my email signature.
How to get started: The good part about this technique is that it is easy to setup. Most email clients will offer you the possibility to create a custom signature with a couple of clicks. On GMail, you just need to click on "Settings" and the signature box will be right there.
I do not recommend jamming your signature with many links though. Put one link there, perhaps with an enticing message, and the receiver might click on it. Put ten links there and you will just scare the person on the other end.
Over to the readers: Do you have a link to your website on your email signature? How effective do you think this technique is for generating traffic?
Website Traffic Series