Website Traffic Series Part 17: Using Article Directories
Article marketing, which is basically the practice of submitting content to article directories, used to be very popular around the web. It is losing appeal lately, but it still can be used to promote your website and generate some traffic to it.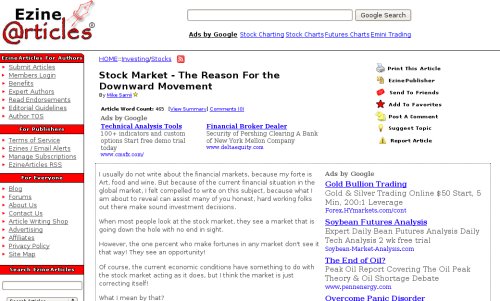 The concept: Article directories allow people to freely submit articles to their database. Usually you just need to register an account and you are ready to go. They also allow the insertion of an author byline, and a link to an external website, so depending on how popular your article will be, you could end up receiving traffic from the link you placed there.
Most article directories also allow third parties to republish the articles, as long as they are not modified and the credit links are kept intact. This feature could send you some further traffic if other people decide to republish your content.
Does it work?: Until some years ago article directories used to have a lot of love from search engines. As a result, a carefully optimized article could easily rank among the first positions in Google for related terms. The author would then receive highly targeted traffic from his byline link.
Lately, however, article directories are losing their power, and it is harder to rank well with submitted articles. That does not mean that this strategy is obsolete though. If done correctly (SEO wise), and in mass scale, article marketing can still produce good results. One requirement, therefore, is that you have a good amount of time to work both on the articles and on the submissions.
How to get started: First of all do some keyword research to know what keywords you should be targeting with your articles. Then write as many articles as possible around those topics, and craft their titles carefully (i.e. make them appealing to search bots). You could also generate many variations from a single article to maximize the number of submissions.
Once you have the articles written and ready to go, register an account with some popular directories and submit then there. You could start with those two:
Don't forget to add a byline in the end of the articles, and drop a link or two pointing to your own website.
Keep in mind that the articles you will be submitting should have been written specifically for this purpose. Do not re-use articles previously published on your blog or website, as this could harm your search rankings with duplicate content penalties.
Over to the readers: Have you ever tried to promote your website by submitting articles to directories? How did it work? Do you think this strategy is losing efficiency lately?
Website Traffic Series
Browse all articles on the Promotion category
32 Responses to "Website Traffic Series Part 17: Using Article Directories"
Jongste Zoon

What youre saying is completely true. I know that everybody must say the same thing, but I just think that you put it in a way that everyone can understand. Im sure youll reach so many people with what youve got to say.

Nice share

Tutorial Blog

I thinks it a good idea, but this trick so difficult. We need some good skill writings and good topic to can succes.

medyum

This is because Google doesn't like multiple articles with exactly the same content so you get ranked crap. They see it as content spam…But I have found writing articles for the pure purpose of submitting them to these article databases has brought me a lot of traffic

Liam

I think Alan P Hunter hit the nail on the head for me. I use article directories to build backlinks to sites, especially deep links to specific pages. I find it works really well for ranking sub pages for long tail keywords.

Instant Download

nice article about generating traffic, but i most of time fail in getting traffic because of my english. i am not a good writer, so most of the articles directories won't accept, so i try forum for my traffic. but this article is helpful, if i am a good writer.

Jordan

I recently got a Twitter update form an article directory to not bother with keywords because they wanted natural sounding prose. ???

My question is if you can't use good keywords what is the point and how will people find your stuff on their site? Don't they want some CPM's in the process?

To me article marketing is not about traffic but being in the forefront as an expert of sorts. The plus is some back links.

They all count in the scheme of things.

Article marketing is not my priority so I only submit articles every now and then. Constantly I'm reminded of the urgency that I need to submit as many articles as possible. Who does this really benefit?

Morgan

I've been using article submission for some time with good success. But if you submit the articles manually it takes just short of forever. I've been using a service called rotowriter (http://www.rotowriter.com) and it's made article submission a lot more effective. They register you at a couple hundred sites automatically and they submit the articles to all the sites automatically. It's a real time saver. They also have an editor that allows you to vary the text of the articles that goes out. It's a little clunky but it's faster than writing separate articles.

Daniel Scocco

@Mike, check the ones listed here:

Mike

Daniel, you listed 4 points which I highlighted below.

Step 3, how do you generate 3 variations of each article, do you manually rewrite them or are you using a tool? If so, can you please share the name of the tool.

Step 4 – Can you provide the list you use for the 20 best directories.

1. Keyword research
2. Write 10 or 20 articles optimized each one for a different keyword
3. Generate 3 variations from each article, so you end up with 30 or 60 of them.
4. Submit those to 10 or 20 large directories

Social Media Marketing Blog

wow, I was not aware about this aspect of SMM. thanks a bunch.

wallney

article marketing is really helpful. and its really worthing spending time on it.recently,i submited articles to these sites. things become better

Frank

I know this post is aimed mostly at the traffic benefit of articles but there is another benefit that I believe is still useful. If you write and submit a series of articles (over time) then you present yourself as a subject matter expert (SME). Becoming a SME will (over the long term) help a lot more the than the links and traffic from the articles. I've written a number of articles (for article directories and smaller print magazines) and that has led to a number of opportunities with larger magazines.

Just my 2 cents.

Alan P Hunter

I only submit articles as a means of getting high ranking, keyword anchored links back to my site. Submitting an article to EzineArticles gives you a PR6 link. Getting traffic from the article itself, well that's a bonus but it's not the reason I do it. I do it to help my main site up the SERPs.

I can spin an article 20+ times (with 40%+ differences to the original) and submit it to the 20 top article directories in a matter of hours.

I've found articles are most effective if you send a link or two to each article to give it some juice – social media comes in handy for that.

Josh

Traffic and/or backlinks?

Daniel Scocco

@Josh, what do you mean as an alternative. Alternative to generate traffic?

Daniel Scocco

@Kok Chon, here is what I would do:

1. Keyword research
2. Write 10 or 20 articles optimized each one for a different keyword
3. Generate 3 variations from each article, so you end up with 30 or 60 of them.
4. Submit those to 10 or 20 large directories.

Squeaky's – Madmouse Blog

I recently submitted one of my articles to Ezine, it was accepted, but not much traffic. But, I have noticed that since I have been submitting to article directories, I rank better in the SERPS for some of my keywords/phrases. Also, Google visits my blog more often as well.

Ryan McLean

This is because Google doesn't like multiple articles with exactly the same content so you get ranked crap. They see it as content spam…

But I have found writing articles for the pure purpose of submitting them to these article databases has brought me a lot of traffic

Kok Choon

I think article marketing is not as effective as few years back, but if we do it correctly, should still get decent traffic.

The problem is:

How to do it right? There are 3 ways to use article marketing:
1. Submit each article (Spin or not) to as many article directories, getting each article site's traffic and enlarge your article distribution channel – The key is write as many articles and submit to as many sites possible.

2. Highly optimize the articles to some keyword, and submit them to high ranking Web 2.0 site or Ezinearticles.com, do back links to the article's page once approved – The key is to tap into search engine traffic.

3. Use article directories or blog networks to host your articles, using spin technology to generate as much unique versions of the article as possible, get some traffics from the hosting sites and the most important part – Get a lot of back links to your site!

I am not sure which get the best result, but they seem to be working well.

I think the best result is – Using 2nd method to tap into search engine ranking, and use 3rd method to build back link to 2nd method's article…

Any thought?

Josh

Daniel — What would you suggest as an alternative to article directories?

Daniel Scocco

@Rajaie, yeah I also only use article marketing when I have available time. If you don't, it is better to invest on other promotional activities.

@Mark, yeah a couple of years ago when I first did article marketing it was really effective. Lately I almost never do this anymore.

@SEO Genius, all the parts of the website traffic series are brief. The goal I have with those posts is just to highlight all the traffic generation strategies, and not necessarily to go in-depth analyzing them. I agree with your points though.

@Chris B, yeah I think perhaps they work better for SEO then for raw traffic generation.

@Ali, let me know how it works out for Alpha Student.

@Lee, that is weird. Perhaps they are all in competitive niches?

@Rebecca, yeah 3 years ago article marketing was the hot sensation. As you said it is will possible to make it work these days, one just needs time.

MLRebecca

I remember when article marketing was huge. It's such a simple concept. I've even taken posts I've written on my blog, and elaborated a bit to where the article has the same information as my post, but is written in a completely different way. When done properly, this form of marketing can do wonders for your website. Thanks for reminding all of us about the benefits of article marketing.

Lee

My experience is that you will get a small burst of traffic when the article is published and then it will slow down to a trickle. Between my account and a couple of people working for me, we have over 100 articles on EZA spread across a few different topics and have yet to land a page 1 Google result with any of them.

Ali Hale (from Alpha Student)

Great timing, Daniel! I've just started using EzineArticles this week and have written four articles so far. I'm actually enjoying the writing process, and (once they're approved and online) I'll be linking to them for my own sites.

I've no idea yet whether it'll see a boost in traffic for Alpha Student, but I'm trying out as many things as possible to see what works!

Chris B.

I use article marketing more for building links then I do for direct traffic from the article itself… a well-written article can be widely syndicated and give you large quantities of solid anchor-text links that can drive your niche site up in the SERPS, especially for niches that are not very competitive.

SEO Genius

Good article Daniel however found it a little brief.

I use article marketing quite a lot these days its one of the areas I know very well. I tend to submit to ezine articles first then submit the same articles to several other directories giving you several backlinks from respected websites.

In many catergories these days traffic is quite low though however article directories still have their SEO power as well as bringing in some traffic it is just dependent on what area you are focusing on.

I focus on several areas one which on average would bring in little more than 100 views in a month another which would bring in a couple of thousand views in a month.

It is dependent on the market, keywords and article its self. As Daniel said do keyword research and you'll be fine.

Mark

We were doing article submission a lot last year, and it worked.. however as of late its not as effective, the return is now not worth the time and effort.

Rajaie AlKorani

I guess that this idea would work, but I, personally, wouldn't use it. It just feels as though it needs too much work and time.
Comments are closed.