Article marketing, which is basically the practice of submitting content to article directories, used to be very popular around the web. It is losing appeal lately, but it still can be used to promote your website and generate some traffic to it.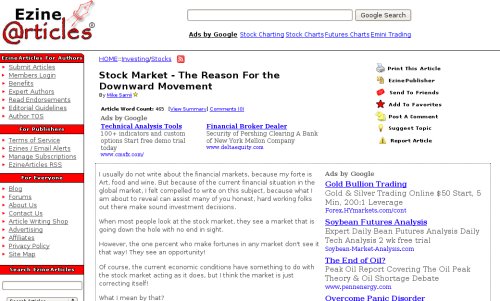 The concept
: Article directories allow people to freely submit articles to their database. Usually you just need to register an account and you are ready to go. They also allow the insertion of an author byline, and a link to an external website, so depending on how popular your article will be, you could end up receiving traffic from the link you placed there.
Most article directories also allow third parties to republish the articles, as long as they are not modified and the credit links are kept intact. This feature could send you some further traffic if other people decide to republish your content.
Does it work?: Until some years ago article directories used to have a lot of love from search engines. As a result, a carefully optimized article could easily rank among the first positions in Google for related terms. The author would then receive highly targeted traffic from his byline link.
Lately, however, article directories are losing their power, and it is harder to rank well with submitted articles. That does not mean that this strategy is obsolete though. If done correctly (SEO wise), and in mass scale, article marketing can still produce good results. One requirement, therefore, is that you have a good amount of time to work both on the articles and on the submissions.
How to get started: First of all do some keyword research to know what keywords you should be targeting with your articles. Then write as many articles as possible around those topics, and craft their titles carefully (i.e. make them appealing to search bots). You could also generate many variations from a single article to maximize the number of submissions.
Once you have the articles written and ready to go, register an account with some popular directories and submit then there. You could start with those two:
Don't forget to add a byline in the end of the articles, and drop a link or two pointing to your own website.
Keep in mind that the articles you will be submitting should have been written specifically for this purpose. Do not re-use articles previously published on your blog or website, as this could harm your search rankings with duplicate content penalties.
Over to the readers: Have you ever tried to promote your website by submitting articles to directories? How did it work? Do you think this strategy is losing efficiency lately?
Website Traffic Series