Last week we mentioned how you could generate traffic on your static website by adding a blog to it. If you have a popular site or blog, however, you could also consider adding a forum to it.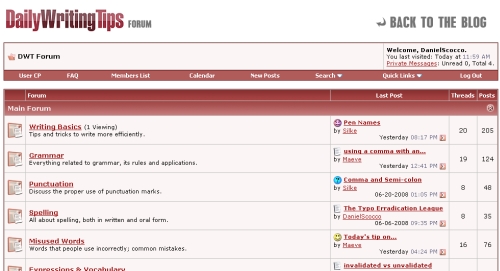 The concept
: Online forums, regardless of format and structure, are as old as the Internet. They became popular because they enabled people with similar interests or needs to connect online, to exchange experiences, knowledge, and to get questions answered by peers.
By adding a forum to your website or blog, therefore, you would be creating a new channel for your visitors to interact with the website, with its authors, and with other readers as well.
Should the forum become active, it will probably increase your overall traffic significantly. The members will want to log regularly after all, and they will also produce user generated content, that in turn might attract further visitors or search engine traffic.
Does it work?: Yes, provided your site is big or popular enough to get an active forum going on. You need a good member base to keep the content coming and to get the questions answered, else you will end up with a ghost forum.
There is no magic number here, but you should wait for 5,000 or more daily unique visitors before launching a forum. Just consider that we had around 10,000 RSS readers on DailyWritingTips when we launched the DWT Forum, and out of those only 400 or so registered for the Forum.
That was enough to get the forum going on, especially because our readers are very engaged with the topic, but it should illustrate that getting members is not as easy as it sounds.
How to get started: If you already have a decent amount of traffic and an active community around your site or blog, you just need to select the forum software you want to use and you are ready to go.
There are some good open source solutions available, the most popular one being phpBB.
If you have some money to spend, however, I would recommend going with vBulletin. The single user license costs $160, but it is well worth it, especially if you consider the support you will be getting for one year.
Once your forum is up you will need to give some initial boost. You can write an article on your site about it, put some badges around linking to the forum, or even create a small competition with prizes for people that register on the forum.
Over to the readers: Have you created a forum before? What do you think are the main difficulties to get one rolling? Are they worth the results?
Website Traffic Series