Test Everything on Your Website
What if you could find a single place to validate your HTML and CSS, test the SEO aspects of your site, check your performance in the social bookmarking sphere and even control the status of your server?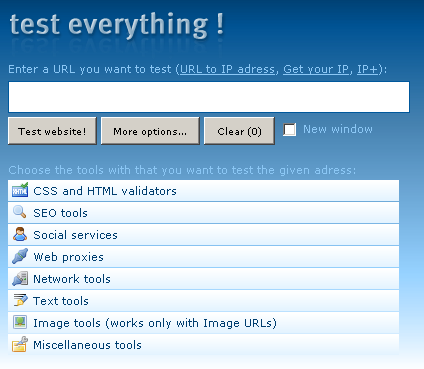 That is exactly what Test Everything stands for. This online service groups together over 100 web tools and applications for website owners. The tools are divided into 8 categories, and inside them you will pretty much anything you could need, from ping testers to graphic generators.
Browse all articles on the Web Tools category
27 Responses to "Test Everything on Your Website"
Lost2angels

I m giving it a try to this tester lets see.Thanks for the useful post.

Bang Kritikus

Thanks for your tool link

Agent 001

Thanks for that tool.Now I can get all info about my website at a time.It will lessen my efforts.

Desibabesworld.com

Nice Tool Daniel

Daniel

Ken, it is working for me.

ken

is the tool working? have you try it?

60 in 3

Wow, very cool website. I've been playing with it for a while now and it seems to be incredibly useful, especially for novice bloggers like myself.
Gal

Patricia – Spiritual Journey Of A Lightworker

I am a new blogger. Thanks for all of your helpful information. Patricia

Daniel

Brick, that is very true. In fact I think the author of the service lost a gold opportunity there.

Daniel

Ram, I did sent it twice, you might be having problems with spam filters.

Brick Blogging

Very nice! A custom domain would've worked better though. This one is not that easy to remember.

Ramkarthik

Daniel, then I might give it a try.

P.S: I didn't receive your mail friend. Im afraid that it would have went to someone else. 🙁

Thanks.

Daniel

Some of the tools included on the service can even be used on hosted blogging platforms like Blogger.

Ramkarthik

Good tool Daniel. I will use this once I get my domain.

Daniel Harrison

I test for a living, so I could not agree with you more! Nice to know that there are tools to make life easier for us too!
Comments are closed.