Website Traffic Series Part 20: Leveraging Holidays and Big Events
Christmas, thanksgiving, the summer Olympic games, the U.S. presidential elections, you name it. For most people those are holidays where they rest and hang out with family and friends, or big events that they watch on television. For website owners and Internet marketers, however, those are great traffic generation opportunities!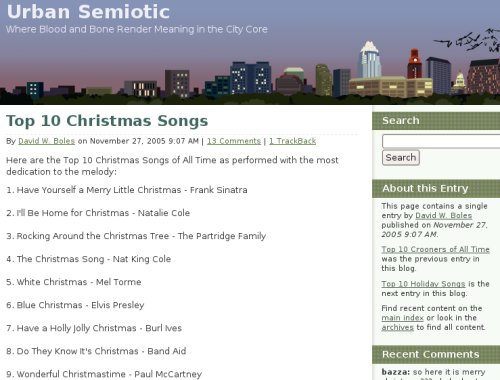 The concept: The Internet is already the main source of information around the world. Kids, teens, workers, and even grand parents now turn to the web when they need to find something. On big holidays and events those folks will concentrate their attention, and if you manage to get your website or blog aligned with what they are looking for you might end up receiving huge traffic.
Suppose you have a website about cooking and recipes. On thanksgiving you could publish a series of posts explaining how to cook a turkey on other recipes that people could make on their homes. Depending on the quality of the content and on your promotional efforts you could attract many visitors with such a series.
Does it work?: Yes, and many webmasters and marketers exploit this trend year after year. There are basically two channels that you might tap into: search engines and social media.
For the first one, you would need to perform some keyword research, and then publish targeted and optimized articles. The success of this route will depend on the overall authority of your website and on the backlinks that your articles will receive. If you manage to rank for a popular keyword on one of those events, however, the result would be a huge and profitable influx of traffic.
The second channel is social media, and in order to get exposure there you would need to get creative with your content. Lists and funny stuff always perform well on those sites.
How to get started: If you want to use this strategy, the first thing that you need to do is to create a list of holidays or events that are related to your niche. Here is a small list with some of them:
New Year's Day (January 1st)
U.S. Independence Day (July 4th)
Thanksgiving (November 27th)
Christimas (December 25th)
Summer Olympic Games
Winter Olympic Games
FIFA World Cup
Presidential Elections
Once you know the holidays or events that you are going to target it is just a matter of preparing the content. You can get creative here and use articles, songs, quizzes, videos and so on.
Wait until a couple of days before the event and publish it. Know if your target is organic or social media traffic and promote it accordingly.
Gather the results, analyze what worked and what didn't work, and repeat the next year (or after 4 years).
Over to the readers: Have you tried to leverage big holidays and events to generate traffic? How did it work out?
Website Traffic Series
Browse all articles on the Promotion category
17 Responses to "Website Traffic Series Part 20: Leveraging Holidays and Big Events"
medyum

Really informative article. You've just point out some useful tips here. Thanks for the info. Keep it up!

bisnis internet

I think event calendar is good for discount promo.. Thank already make this event list.

Boerne Search

This is true, I have used "Cyber Monday" to my advantage for 3 years now and I am thinking of getting into every holiday niche I can find.

If you think about it, everytime you turn around another holiday pops up. 😉

Website Traffic Guide

How much cost exactly to get the traffic by use the big events?

Pink Ink

I posted about Twilight the day the movie came out, and got a lot of comments, especially when I linked to a popular comment blog.

It really works.

Sometimes I already have a timely post up, and I find a blog that is doing links on the same subject; I tweak the title or something, and presto, my traffic spikes.

Idaho SEO Expert

Really informative article. You've just point out some useful tips here. Thanks for the info. Keep it up!

Web Hosting Review

This is a helpful, and comprehensive guide on doing Website Traffic Series.
Good writing. Keep up the good work. I just added your RSS feed my Google News Reader..
Matt Hanson

Destination Infinity

That's right Daniel. There was one post of mine – The Longest Jump which I published around Olympics time. It is the second most viewed post in my blog – mostly through search. But for the last few months, there is hardly any traffic for that article.

Destination Infinity

Stu McLaren

Retail stores use anything they can to create a "reason" for bringing people back into their store to buy and this article is a great example of the fact that website owners should be doing the same thing.

News Events, Holidays, Celebrations (Anniversary, Birthday etc) are all great ideas.

Heck, you can make up your own reason for doing a promotion around an event (Moving Sale, Inventory Clean out etc.)

Great post – it certainly gets the creative juices flowing 🙂

Julius Kuhn-Regnier

interesting idea! I have never tried it but I certainly will 😉

Ujank
Ryan McLean

Great idea. Thanks for the tip.
I might start a christmas blog or something next year

GotFreeBusinessCards

I noticed before Halloween and before Thanksgiving, Google Trends showed searches related to the Holidays being the biggest trends.

Matt Caldwell – 15 Minutes to Riches!

FIFA World Cup, hadn't thought of that one… thanks.

Daniel Scocco

@Satish, let me know how it goes.

SATISH — Technotip.org

We are targeting Christmas (December 25th)..
As Christmas is famous for the gifts, we have also arranged some giveaway on our blog.
Hope we get some traffic..

I will have to monitor the traffic and know the results on my blog.

Nice Strategy..
Comments are closed.