AGLOCO Network
AGLOCO stands for "A Global Community", and it is basically a company owned by the users with the objective of generating revenues through advertising displayed on a Viewbar that users download. The registration is free, and after you become a member you can earn money in two ways: navigating through the Internet using the Viewbar and referring new members.
The Viewbar has not being released yet, and apparently members will have a monthly limit of 5 hours to navigate using it. Some people defend that you will be able to make a couple of dollars at most from the Viewbar navigation, and I guess that is close to the reality.
The referring scheme part is more interesting, there are estimations that each referral should pay $30 (it is not clear when or how this money will be paid to members, though). The other benefit of referring people is that you can actually accumulate hours if they navigate using the Viewbar, up to 5 degrees of referred members.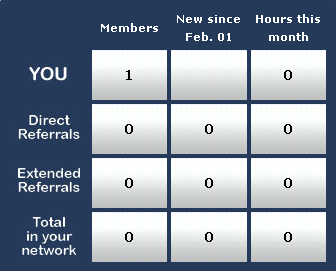 Overall I can say that I am a little bit skeptical about the real opportunities behind this deal. I decided to join nonetheless because it is free and because I was curious. Also since the Viewbar has not been released yet this could be good time to build your referral network. If you want to try it out and join my network, click here.
Browse all articles on the Monetize category
6 Responses to "AGLOCO Network"
Marco Richter

Sounds a bit like the good old AllAdvantage. Do you remember?

Agloco

You'll start to see good things happen with your network as you just tell the people around you. I have 20 directs and over 760 extended just by telling my warm market.

jk

Daniel

Tillerman, I agree that it looks very similar to a pyramid scheme, but the founders are claiming that it has some differential points to make sure that the whole system is viable.

It is like Jason said, I had nothing to lose so I decided to try it out. I will keep you guys informed on the future developments of that.

Jason Drohn

I signed up and posted an article on my site about it. Since then, I have like 14 direct referrals and almost 450 secondary referrals (the last time I checked at least).

It could be cool. You have to figure, what is there to lose? And with all the hype, agloco would probably be sued if nothing came out of it.

"ME"

Hi sir,

your site is very impormative.
and your presentation regarding
Agloco is great!
wish I could have a link exchange with you?

Thanks

Tillerman

Sounds awfully like a pyramid scheme. Or do I mean scam?
Comments are closed.