Copy HTML Links With Firefox
If you ever wrote an article that included a long list of links you know how boring and time consuming it can be to copy the text of the link first, then flip back to the page, copy the URL, and then finally create the link.
The solution for this problem can be found in Firefox extensions that allow you to copy HTML links on the fly; meaning that they enable you to copy simultaneously the link text and HTML, and once you paste it you will already get the HTML code ready to go.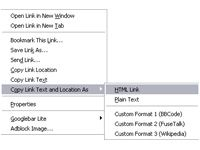 The most used extension for this purpose is called CoLT. Basically you will need to right click on the link you want to copy, move the mouse over "Copy Text Link and Location As," and then select "HTML Link."
I have used it for a while, but I don't link the fact that I need to go through two sets of menus. It adds one unnecessary step to the process.
My favorite extension that does a similar job is called Copy as HTML Link. Here you will need to select the text that you want to be used on the link, right click over it and select "Copy as HTML Link." Notice that instead of copying an existing hyperlink on the page this extension we create a link with the text you highlighted and with URL of the page you were visiting.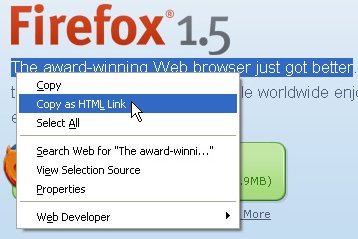 In reality the two extensions could co-exist since the former copies the HTML of existing hyperlinks while the latter creates an HTML code based on the text you select and the URL of the page. Test them and see which one will fit your browsing habits.
Browse all articles on the Software category
19 Responses to "Copy HTML Links With Firefox"
esolgsmnews

Plz describe in any of your posts that how we can judge our site that how many errors or negative points it has which are blocking it to come on first page.

Is there any software or any site which can do free of cost for us????????

plz guide properly as it can solve many of our problems.

Hope will not be disappointed

open source

thanks for sharing

Abhijit

Thanks for information. It would be great for the Firefox users.

SuezanneC Baskerville

I would really like to be able to copy a list of links with the text and the urls. The whole list at one time.

Ray Fowler

This sounds like a great little tool, but I don't have Firefox. Does anyone know of a similar tool for Internet Explorer?

Jan

Great that you told about that. I really like this extension and I have been using it regularly not only with my (former) WordPress blog, but also with Wikis and blog systems using Textile.

Luciano Passuello

Another interesting Firefox extension that does that is Make Link. You can choose formats (HTML, Markdown, Forum Format, or Plain Text) or create your own customized formats.

sky

this tip has helped me much and make my spirit grow..thanks dude

Wayne Liew

I find this problem sometimes when I want to deep link into my own articles or giving out link loves.

This little plugin should work great for those giving away weekly link loves.

Lana

It may not be on a subject, but I'd like to add this link for your info:

Muhammad Siyab

nice!

Michael from Pro Blog Design

I never realised there were extensions for this. Thanks Daniel!

kiskav

thanks so much!!!

Shana Albert

Nice!! This sounds like it could save me a bit of time. I'm always on the look-out for time saving tips. Thanks so much!!

Shana

Jamaipanese

thank you, I am sure I will save myself lots of time with this extension
Comments are closed.