Link Diagnosis: Backlink Analyzer Tool
If you ever wanted to get the whole picture about your backlinks, or about those of a competitors…. there is a little to that will do this job perfectly.
It is called Link Diagnosis.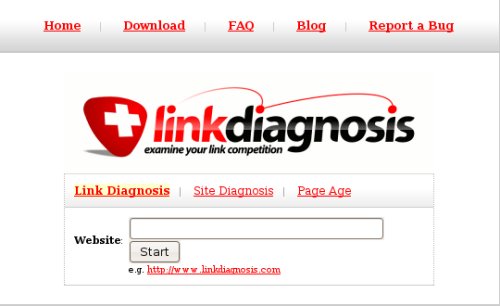 You just need to put a URL and click "Start." Depending on the number of backlinks that the site in question has, it might take a while for the report to get completed.

Once the report is done you will be able to see:
total number of backlinks
total number of unique anchor texts
list backlinks, with their respective PR
what pages are the most popular ones
what anchor text is the most popular one
There are two types of report: a basic one which is accessible via the website, and a complete one that required their Firefox extension to be installed. Check it out.
Browse all articles on the Web Tools category
40 Responses to "Link Diagnosis: Backlink Analyzer Tool"
Grusch

Beware, my antivirus tool reported a trojan after activating the firefox addon !!

gendut

thanks for recommendation good tool…….. to know more deep abou competition

idrys

I would like to try this nice tool for checking my site backlinks…
thank you daniel

ahugelist

Great blog, great info!

A couple of other ways to find out backlinks.

in yahoo type in:
linkdomain:www.yoururl.com

In Google type in:
link:www.example.com

Visit:
DomainDecider.com for free domain information tools

GoDunk.com

Very Thanks

how percent to br sure about result of backlink ?

Gennaro

Another day, another interesting development in the blog world. Imagine how well the rest of the economy would be doing with this much innovation in the rest of the work sectors.

Money Maker

Well I tried it 'cause I need comsething like that but it was vereerry slow then my anti-virus through up a Trojab virus alert – so not a lot of use really

Ajith Edassery

@Daniel, you were a bit too faster than me 😆 I had drafted a short post about this as well 🙂

Please make sure that you use their firefox add on as well (There are a couple of bugs – some times for the second run, it may crib even after restarting the browser)

rss

Testing now. We'll see.

joe comp

i want to try that service and i think its very usefull to me to check my backlink.its a good informations for me.

thank you and greetings from me

John Bauer

Interesting tool, though it "bombs" if using IE!.

Nick

This is Pretty intresting. Its kind of strange where all these backlinks are comming from.. I seen them on sites that I never even been to or heard of.

But it is a pretty good tool! I'll keep it in my bookmarks!

iFant

Thanks….!! Testing now……!!!!!

Ben Moreno

This is great but having a problem installing the Firefox extension. I am not getting that pop security window. Will try it out later.

emmanuel

nice tool! i am beginning to love it, thanks for sharing such tips

PAL VHS

I like that tool, though it pretty slow…

PAL

Daniel Scocco

@Jaan, never tried it.

Jaan Kanellis

Daniel what do think of SEO SpyGlass?

Scott Williams

Testing it now… Thanks!

Daniel Scocco

@Lisa, this is a competition analysis tool. It helps you to understand where the backlinks of your competitors are coming from, what anchor text they have, what PR, and so on.

After that you need to work on your SEO and linkbuilding to try to beat your competitior.

Lisa Lee

Don't quite get this. How can this help me increase my traffic? Blurrr

Writer Dad

If it's as awesome as it sounds, that's exciting.

SEO Genius

Just tested one of my sites and it seems a little vague and I am not to keen on the interface layout. Perhaps just my own opinion but I dont think its very accurate.

SEO Genius

Excellent tool will test one of my sites

Tschai

Nice concept…however it's only based on Yahoo and it kinda neglects Google!

For Aytemir.com I'm getting:
"No data for this website – probably not indexed in Yahoo"

Which could be true, because I haven't bothered. Google alone seems enough…sadly.

Jen

Very interesting tool- will give you a pretty complete picture.
Thanks

rudy

i can't get mine, beside it's relative new, also not indexed by Yahoo. I submitted my url couple times to yahoo, but not indexed until now.

Tom – StandOutBlogger.com

That's really handy. I'm gonna go test a few of my sites 😀

Daniel Scocco

@Mike, not mine, and not sure who created it.

I just use it once in a while.

Mike Smith

Nice. is this yours or do you know who created it?
Comments are closed.