Add a Footer to Your RSS Feed: 7 Practical Examples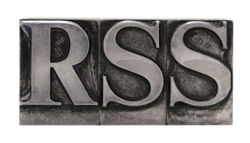 The bottom of your RSS feed is valuable real estate. Some bloggers use this space effectively and some choose not to use it at all. Many of your subscribers will not read all the way to the bottom of your feed, but for those that do you can add to the value of the post be utilizing this space.
Different bloggers use this area for a very wide variety of purposes. There is no right or wrong method, so try to find one that you think will enhance your feeds the most. Here are some real-world examples of what you can do with the bottom of your RSS feed.
1. Sell Ad Space
If you are trying to monetize your blog, consider selling ads at the bottom of your feed. John Chow is a goog example. Each of his RSS feeds includes sponsored links at the bottom (be careful with how many ads you insert on your feed, though). John is the master of monetizing a blog, and this idea is no exception. An alternative to selling ad space is to use your own affiliate links at the bottom of feeds.
2. Special Bonuses for Subscribers
One proven method for increasing subscribers is to give away something of value as a gift or bonus to subscribers. Chris Garrett uses the bottom of his feeds to provide a link to his bonus e-book download. This way the subscribers are able to see the link and download the e-book, but it is not visible on the blog itself.
3. Include Copyright Information
Plagiarism is a serious problem for a lot of bloggers. You can help to discourage others from stealing your content by including the copyright information at the bottom of your feeds. If another blogger scrapes your feed your copyright info will show up on their blog (so be sure to include a link to your blog along with the copyright). This strategy is used by Daniel here at Daily Blog Tips.
4. Links to Other Articles on Your Blog
Your RSS subscribers are most likely interested in many of the other articles available on your blog; however, they've probably missed several of them. One method used by a lot of bloggers, including me on my own blog, is to use the bottom of feeds for linking to other posts that may interest subscribers. This may help to increase the number of subscribers that click through to your blog.
5. Provide Additional Author Information
Building credibility with your readers and helping them to feel more connected to you is critical if you want to build a large and responsive subscriber base. Andy Beard includes a picture of himself and some very brief information about his blog. This is an interesting idea that not many people are doing yet. Andy also includes links to other posts on his blog at the bottom of the feed (once again, be careful with how much information you insert, you do not want to clutter the RSS feed).
6. FeedBurner Ads
If you are a FeedBurner user you have the option of placing pay-per-click ads at the bottom of your feeds. The FeedBurner ad program is similar to other leading PPC programs like Google AdSense. Andy Beal of Marketing Pilgrim uses FeedBurner ads.
7. Contest Information
Contests are very popular right now among bloggers who are trying to gain some publicity and grow their subscriber base. One method is to run a contest that involves placing information at the bottom of your RSS feed that can be used by subscribers to win the contest. David Culpepper of PureBlogging recently ran a contest like this.
To see these examples in action you can subscribe to any of the blogs mentioned here.
Now that you have some examples of what you can do with the bottom of your feeds the next question you may be asking is…
How Do I Get Content to Appear at the Bottom of My Feeds?
WordPress users have a few different plugins to choose from. The options include:
RSS Signature (formerly known as sig2feed)
PostPost
Better Feed
Use any of these plugins to enhance your RSS feeds and make them more effective.
Browse all articles on the Blogging Basics category
35 Responses to "Add a Footer to Your RSS Feed: 7 Practical Examples"
Asep

Wow…thanks for your information. I am knowing that rss feed has a lot of advantages, may be i can get much money tomorrow. Thanks

Shafar

Great information! 🙂

Kristian Rodgers

"John Chow is a goog example."?

He He…

!abcodygz

I am very pleased with your site. I will be glad if you appreciate my site

SEO Pricing

Yes defiantly feeds are way to go

ssre

This site truly amazing!!!m

Stasigrii

Hello, very nice site, keep up good job!
Admin good, very good.

Robert.jooste.org

Very Interesting indeed. I've noticed that on a couple of occasions that I get "comments" from some strange website.
Not my exact words, but it says pretty much what I posted.

Then it appears on the blog post like the 27th, 31st comment on this post.

What you say about the copyright thing I believe is GREAT.

Well done.

Stasigr

Hello, very nice site, keep up good job!
Admin good, very good.

WordPressWire

Thanks for the tips – very useful list of WordPress resources.

Sandra

Great article with tips! You've given me some cool ideas…

alones

It is good way to take more visitors to stay more~.

Thank~

Blogging The Movie

Thanks. I'm surprised you don't have Brian's threaded comments though.

Sergio

great resources!!! there a few to make in line!

Andy Beard

I really need to condense mine a little and have been meaning to for months, but have been hoping Bloglines would add support for inline CSS.

They haven't in the new beta, so I think I will probably switch to tables.

My footer is severely messed up in Bloglines

shawnsweekly.com

That is really a good post. Very useful and relevant information.

Jermayn Parker

I guess all footers need more working on include rss feeds

Costa Fong

Thanks for the tips. I think I will have to aggressively promote my feeds.

Steven

Thanks to everyone for adding new resources and plugins. Some of them I had never seen before.

Sucker

Good tips! I'd just like to echo the importance of #3 and #4, which can be used together quite nicely.

It's a great way to get back at any splogs stealing your content. You can have the notice in the footer about where the content came from, plus all the links in your post make great backlinks!

Dave

Pheedo.com is another service that monetizes RSS feeds. Pheedo is very easy to join.

engtech @ internet duct tape

I think plugins like ChrisG's are the way to go if you're on self-hosted WordPress.

If you're on blogger.com they have a setting for the feed signature.

If you're on WordPress.com the only way to do this is using FeedBurner feed flares:

Ellie

I use Feed Footer, because it allows me to use up to 10 different footers. 🙂

Sumesh

There is such a plugin to do it post by post -blogclout.com's feedfooter plugin.

Daniel

Wallace, I don't know any plugin that lets you specify a footer on a post by post level.

You could try working with the WordPress codex to create a special call for that.

Wouldn't it be easier to add that specific info on the post itself though :)?

Wallace

nice post,
do you know how can i add specific content at specific post feed?

Shankar Ganesh

The feed footer is a great place to put copyright notices!

I've learnt its effectiveness, and started putting copyright stuff and author name in my blog's feed footer.

Daniel

Actually I need to take a look at my feed footer to see how I can further optimize it. It has been a while since I last touched it.

Technobuzz.net

Thanks For these tips… 🙂

Jan

thank you for cool tips!
Comments are closed.