SEO Smart Links Plugin
It has been a long time since I recommended a WordPress plugin, but here we go again. I started using this plugin on a niche site, and so far it seems to be helping a lot with the search engine optimization.
The plugin is called SEO Smart Links, and it basically allows you to specify keywords, and whenever those keywords appear on your posts or pages the plugin will automatically create a link to the post of your choice.
As you can see this can be useful both for your human visitors and for search bots, and your posts will be interlinked more efficiently. Here's a screenshot of the options page: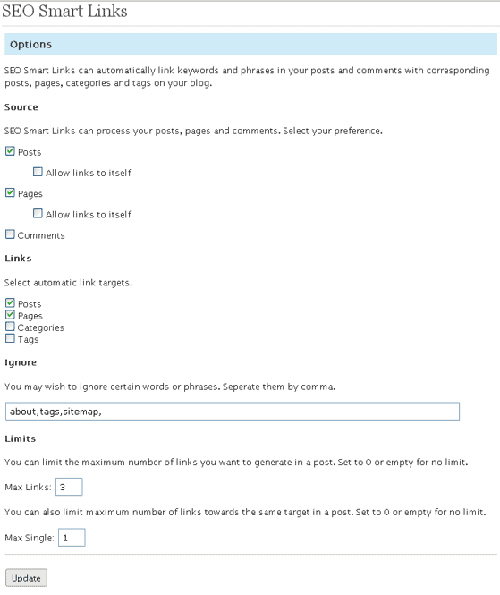 Another use for the plugin is to insert affiliate links on your posts. You just need to select the keywords, and the plugin will automatically link them to your affiliate offers.
It's quite a handy tool to have on any WordPress blog, so check it out.
Browse all articles on the WordPress category
6 Responses to "SEO Smart Links Plugin"
Warren Levine

Tried to unsubscribe, did so, and was told (after saving change) that no changes have been made. Make sure I don't get anymore emails.

Amrish SIngh

SEO Smart Links Plugin is a great plugins for word press . This plugin interlinks our blog post and by that we can engaged reader to our blog for a long time and this will help to increase the page view of blog

Swamykant

I liked the last mentioned feature. Thanks for share 🙂

Dave

Excellent to know there's a good free one out there. I bought a premium plugin to help with affiliate links two years ago, but it recently went haywire on me and I disabled it.

Cleber Lusa

I have some SEO plugins installed here, including this one.

However I don't see any good result in terms of traffic using these plugins. Probably because my site is very new with only 10 posts…

Jaan Kanellis

Love this plugin. Best cross linking plugin out there.
Comments are closed.