The 7 Characteristics of Good Domain Names
Domain names are the real estate of the Internet. Just as a good location is vital for a bricks and mortar business, a good domain name will be the corner stone of your website's success. But how to identify them? Below you will find the 7 characteristics of good domain names.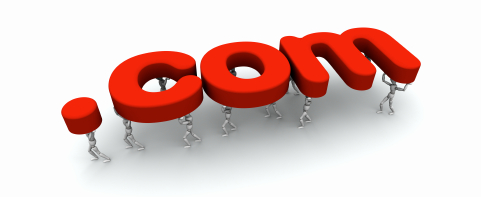 1. They are short
Good domain names are short. It is not a coincidence that all the three-letter and four-letter .com domains are already gone, and that the five-letter ones are going fast as well.
There is no definite number of characters that you should aim for, just remember that the shorter the better. If you really need some guidance, try to go below 10 characters, and never exceed 20.
As for the number of words, one-word domains are gold, two-word ones are good, three-word domains are average, and above that it is usually a bad idea.
Example: Quotes.com is a superb domain and probably worth millions of dollars. ProQuotes.com is a good two-word domain worth thousands of dollars. ProQuotesNow.com is an average domain and could be used for a website. YourProQuotesNow.com is plain worthless.
2. They are easy to remember
Many Internet users do not use bookmarks. They just memorize the domains of their favorite websites and type them whenever they wan to visit one. Guess what, if your domain is complex and not easy to remember you will lose these visitors along the way.
Example: Brcwr.com is a short domain name, but is not easy to remember at all, so it would be a bad idea to use it for your website (unless the initials represent the name of the website or a memorable message).
3. They are easy to spell
The last thing you want is visitors misspelling your domain and ending up somewhere else.
Avoid unusual foreign words, words that have complex pronunciation, strange combinations of letters and anything else that might cause someone to misspell your address.
Example: CappuccinoBar.com might be problematic for English speaking visitors. Cappuccino is an Italian word, and not everyone is aware where the doubles are placed.
4. They have a .com extension
Organizations might prefer to register a .org domain, and companies targeting very specific geographical regions might want to register a local domain (e.g. .it, .co.uk, .cn and so on). Apart from these cases, however, a .com domain is always the best way to go. This extension is the most popular around the around, and it is already stuck in people's mind.
Visitors coming to your site via search engines or organic links will pay attention mostly to the name and not to the URL. The next time they want to visit your site it is very likely that they will just type its name followed by a .com. Guess what, if you are not there when they hit enter they will just go somewhere else.
Example: Darren Rowse created his popular blog on Problogger.net. Despite having a strong brand, some visitors were still going to Problogger.com. After a couple of years Darren decided to buy the .com version for $5,000 and redirect it to his site, so that no more visitors would leak.
5. They are descriptive
Many visitors will come to your site through the search engines and via direct links on other websites. That is, they will come if the domain that they will see will be appealing.
Having a descriptive domain name will give visitors an idea of what your site is about even before they enter it. If related keywords are present in the domain it might also help your search engine rankings.
Example: You would be able to guess what TelevisionGuides.com is about even before visiting it right?
Put it in another way. Suppose you are searching for a movie review. You make a quick search in Google. The first result comes from MikesLair.com. The second result comes from MoviesCentral.com. Which one would you rather click?
6. Or brandable
A brandable domain will have a nice pronunciation, an interesting combination of letters or simply an appealing visual effect. Sometimes they will not be descriptive, but they can be equally efficient.
Brandable domains will make your visitors associate the name with your website and its content. (Notice that brandable domains can be descriptive at the same time, but that is not always the case.)
Example: Kotaku.com is one of the most popular gaming blogs on the Internet. The domain is not descriptive at all, but the brand is so strong that gamers immediately recognize it across the web.
7. They don't contain hyphens or numbers
Domain names containing hyphens and numbers are cheaper for a reason. They suffer the same problem of domains not using a .com extension or with complex spelling.
Consider Tech-World.com. The names that will stick in people's mind are "tech" and "world." Many visitors will just forget the hyphen along the way. Eventually they will try to access your site by typing TechWorld.com, in vain.
Numbers, on the other hand, will confuse people with the spelling. Suppose you registered Tech5.com. Visitors might mix it with TechFive.com, if they manage to remember the number in the first place!
Example: Coolest-Gadgets.com is an extremely popular gadget blog, with over 70,000 RSS subscribers. With such a huge readership you get people often typing the domain directly on the address bar. Needless to say that many of them would just forget to add the hyphen. The owner of the site bought CoolestGadgets.com afterwards to fix the problem.
Final remark
Do not get discouraged if your current domain doesn't have all these characteristics; or if you can't find one that does. These are just factors that you should consider when evaluating domain names.
There are plenty of examples of popular websites with domain names that lack in one or two points covered on the list. Just make sure that your domain has most of the characteristics and you should be fine.
Update: If you are looking for a domain names ebook, check out "Killer Domains." It has all the tools and techniques that I use to find great and available domain names.
Browse all articles on the Domain Names category
76 Responses to "The 7 Characteristics of Good Domain Names"
Jeremy Steele

.com is still a huge must – I still type .com for domains I know are .net or another extension. For example – I still type problogger.com a lot – thank god Darren finally picked up the .com version.

Jermayn Parker

Would disagree with your point of .com, before .com was a must but these days people know of sites rather than just .com. .com should always be the first option but if that is not possible then go the others…

I think a good URL must be rememberable and it can help to be unique and different. flickr and digg is different, unique and also rememberable..

Crystal

This article makes me pretty happy about the domain I have. I hit 6 out of 7 on the list. The only thing I don't have is keywords in my domain. (the name is Net Hustlin'). I still get some organic traffic from the word "hustlin" though lol

Steven

Excellent points Daniel. It's getting very hard to accomplish all of these without spending a fortune. I guess you just have to decide what is most important to you and maybe be willing to give a little bit in some other areas.

Not John Chow

I wish that I had read this post in October before launching my blogs. I will definitely bookmark this post for future reference!

Daniel

Brian, both seem too long for me.

Rarely I get free domains for new projects these days. I prefer to invest some money (from $100 up to $2000) to get a good one and dont regret later.

$100 is not that a big investment, and sometimes it can have a huge impact on the quality of the domain you'll get.

Brian Auer

Nice timing on this article! I'm actually trying to decide between two domain names for my new upcoming photoblog. I'm still stuck though.

fineartphotoblog.com vs fineartphotographyblog.com

Obviously the first is shorter and easier to spell, plus the site will be a photoblog rather than a photography blog. Then again, the second has that key phrase "fine art photography", which is much more popular with the search engines. I would have preferred to go with something shorter than either of these, but I don't have the money to acquire an existing domain.

I've asked my readers which way to go, but they seem pretty split on the subject too. I'd be happy to hear any insights from others.

Bern

@Ravi
That's a very cunning observation. I always wonder too, if today dot com's are scarce, what's left for the future generations ? People will inherit the great domains from their forefathers, who were quick enough to grab the gold. Or the money from it's sale.

@Daniel
I think your blog has a nice mix of brand and description.

On the blog I'm setting up, I'm aiming for that balance too, albeit I picked a two word. "Apps" gives me the keyword. Though it's not a focused keyphrase, I can work on keyphrases on the content, while having it on the domain might provide me some extra google juice.

With the two together I have some nice plans for the brandability (coupleapps would go for "few good apps"), and with it I hope to also achieve a descriptive name, once people easily make the association.

I kinda worry that "couple" might not be the best word pronunciation-wise, and that it might be mistaken for the highly commercial keyword for married people. But anything can be overcome when good branding settles in.

Anthony Lawrence

However, you can't argue with Google 🙂

I actually have three domain names that currently all go to the same place: pcunix, unixish and aplawrence (all dot com).

The last is the least descriptive, the least memorable, and the hardest for anyone to type.. BUT it was the one Google gave all the love to, so after fighting it tooth and nail, I gave up and stopped even trying to use the others.. other than as 301 redirects to aplawrence.

This came about because I started with pcunix but soon added aplawrence because I wanted that in my email signature. Most inward links started using that, even though at that time the 301 was the other way around. Because so many links were that way, Google gave that name the love.. so here we are, years later and I'm probably stuck with it 🙂

Ravi

I'm going to disagree with you on questioning your own domain, Daniel.

Despite being 13 characters, it sure doesn't feel like it, because 2 of those words are 4 letters and one syllablle. It rolls off my tongue and I instantly remembered it the first time I visisted. And you can't forget about the fact that you've got a brandable aspect to it (daily) and Google juice in the domain itself (blog tips).

I have to say, I rather envy this domain choice.

Daniel

Kelly, that is a very solid domain.

INcontantIN, I am all for short ones, even if less descriptive.

INconstantIN

Strangely as it may seem, but it is namely the search for a good domain that I am busy with these last two days. I made up my mind for a domain mainly due to the fact that some of the most important sites offering blogging oportunities require a domain and not a subdomain. So, I spent quite a while on searching tips and tricks for how to choose a domain. What you have here is, actually, a nice summary of the posts and articles I came across during my research. One thing that bothers me is that there is no general opinion about whihc one is better, a short name or a long but descriptive name, just like yours….

Kelly

I agree with lots of these. I'm a tax attorney and my blog URL is short (taxgirl.com) but I am used to working with lots of attorneys who feel the need to use ALL of their names or initials in their URL. It's confusing. And it screws up email deliveries! 😉

Daniel

KimC, the deal is, to get a good domain these days you need to spend a couple thousand dollars, that is why the decision must be planned.

KimC

Ah, but doesn't everyone hope (at least secretly) to go "big" one day? And if you're going to shell out the bucks for one domain and a hosting package, why not shell out another $9/year for another domain while you're still a nobody before the squatters get it and try to charge $900? I know more than one person who started small, got big by accident, and found that they waited too long.
I'll bet Darren was wishing he had acted a little sooner. 🙂

TechDune

Should have got a better one, instead of techdune 🙂

Daniel

Ravi, interesting point indeed. I also suspect that the prices of .com domains will only go up.

The Internet grows by 20% every year, more and more people is jumping headfirst into it, and the number of domains is limited.

Daniel

KimC, my first rule is to always name the site after the domain name, that why there is no confusion.

If you have a big site or a company one then yeah securing the other top level extensions is a good idea. For small websites it is not a big of a problem though.

Ravi

This reminds me of a point I made on a Lifehacker post — we're living in the era of (or shortly after) the domain name gold rush. Just think, if we think our choices are slim pickings, just what's going to be left for future generations?

I must've spent almost 6 months trying to come up with a brandable name for my new company. A corresponding domain name was a must, and every time I thought I had something amazing, something no one else had ever thought of, I found that it was taken (90% of the time by domain squatters).

Ultimately, I settled on the Rodamus Group (rodamus.com, but its under construction atm). It's relatively short (without sounding as bad as things like profilactic and jango and renkoo), sounds respectable, and ultimately brandable as long as I put the effort into it.

Looks like I violated a few of these rules this time, but they'll definitely come in handy next time around…thanks, Daniel!

Wayne Liew

Hyphens will be a great weakness for a domain. It is so unnatural when I wanted to type the hyphen key on my keyboard.

Domain names is an important factor of a blog or a site. The decision of wanting to make is descriptive or brandable must be decided when a site is to be started.

Also, it is a must to include domain selection in a blog startup planning to avoid any regrets after a while of blogging. This is the time when such guides serve as a rule of thumb.

Nice article. Stumbled!

paul

Good list. it stinks that domaineers have gobbled up a ton of the best names. but i have found with a little bit of work and a lot of creativity, you can still get good names. i would also add to your list non sensical names – or new words – as long as they are easy to spell and remember.

KimC

A suggestion: domains are cheap. Buy similar domains and redirect to your website. My blog is called Life in a Shoe. It's at InAShoe.com, but I also own LifeInAShoe.com. Longer, but I suspect some people make that mistake. I would rather catch them than have them get lost or end up somewhere…ahem…less friendly.
It's often a good idea to snag the .org version of your .com site as well, just to keep it from falling into the wrong hands.

Daniel

TheInverstorsJournal.com is long but not a bad one. You meet the other requirements as Sharon said.

Depends on the plans you have for the site and how established it is.

If it is not that developed yet and you have big plans for it getting a better domain could be an option, otherwise just stick with it.

The Investor's Journal

I unfortunately didn't know things like you listed and I made my domain with an extremely long name. It's actually bothering me now and I'm not sure if I should create a new domain and move all my content. But then I'd lose all of those sites linking to me..

Sharon Hurley Hall

My blog breaks rule no. 1, but meets the others – and anyone searching online can also find it easily. Of course, then you have the issue of living up to the brand that you've created.

Daniel

Yeah, if its Daily, it's here! 🙂

Ramkarthik

Daniel,
Yes but your name is very descriptive and that scores more points for your domain name. You have actually started a 'Daily' blog series and this is a good thing which has helped you to build(almost you have built it successfully) a network like Crunch network.

Daniel

Two words is very good Ram. In fact that is a point where I am not happy with DBT domain itself. If I was to start over I would definitely look up for something shorter.

Ramkarthik

Nice write up. My blog has satisfies almost all the characteristics. But my blog is a two word domain. Other than that, my blog satisfies all the other things.

I agree with the point where you mentioned Easy To Spell. I have many times Googled for few blogs name when I wanted to visit them. Few of the good blogs indeed have a name that is very tough to remember or type correct.

Ryan

One of my sites breaks 5 of the 7 – it's short and somewhat descriptive. But I'm in process of redesigning it and one of the goals is to start using one of the other domain names that I have that only breaks one of the above – it's not short. It's 3 words but it's the same 3 words as my company name.
Comments are closed.