Top Resource: Paint.NET (Graphics Program)
Do you ever need to crop or resize an image, create graphics for your blog, or touch-up photographs?
Paint.NET is a tool I use almost every single day – mainly for simple tasks like cropping and resizing screenshots, or converting image files to different formats. I've also used it to enhance photos, design business cards, and put together basic website headers.
There are tons of tutorials and videos online showing you how to use Paint.NET, and it's also completely free. Note, however, that it's only available for Windows.
Here's what it looks like. (You can see I'm working on a screenshot, which appears just a little further down this post…)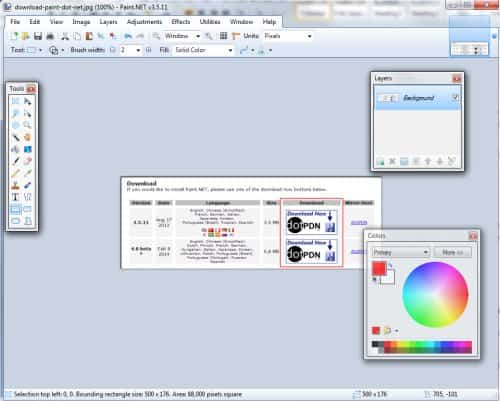 You can download Paint.NET here:
www.getpaint.net/download.html
Tip: The site is supported by advertising, which means you have to pay careful attention to make sure you click the download link for Paint.NET rather than the download link for a piece of software being advertised.
In the screenshot below, I've circled the download links for Paint.NET itself:

(I recommend going for the stable release rather than the beta, as it's almost certainly going to have all the functions you need.)
I've found Paint.NET easy to work with, and extremely useful. The one niggle I have is that the text tool isn't very advanced – I'd love to be able to edit text more easily after placing it, for instance, and I often want to put one or two italic words in the middle of a block of non-italic text, which isn't easy to do.
Are you using Paint.NET or do you have a different program for editing screenshots and photos? Let us know your tips and experience in the comments.
Browse all articles on the Software category
10 Responses to "Top Resource: Paint.NET (Graphics Program)"
Karen Cioffi

I use Logo Creator for all my images. There's a free version and a $27 (I think) version. It super simple.

Ali Luke

Hans and Mike — I've not tried Gimp myself, but I've heard from some people that Paint.net is a bit more intuitive. I know Gimp is widely used, so thanks for recommending it here, Hans.

Mike Good

I've been using Paint.net for quite a while. I recently tried to use Gimp but ran back to Paint.net when I couldn't figure out how to find anything. Gimp also takes forever to load on my system.

Bogar Ardiansyah

It may be just a simple (not really) image editor. You'll simply get all the basic function that any free image and photo editing software can do, in a simple way, too. But you can also expand the function into something more like Jack of all trades (in a good way) image editor by adding some cool plugin from the community. And that's simple enough, too.

Hans Henrik Appel

I use Gimp for everything. It does lack some basic features like the ability to draw basic shapes easily, but the vast range of filters and features make it the best free graphics software available.

Daniel Lim

Nice resource, hope this application can help me to manage my blog in the future

Steve B

Not sure why they would brand it as Paint.NET when there is another site on Paint.net. They must be losing a ton of traffic to them.

Emily Akin

I've been using Picmonkey.com for some of my photo editing. It's free and there's no account to set up unless you want some of the premium services they offer.

James

Have you tried pixlr?

Shawn Hoefer

I've tried paint.net, and many others, but for free, powerful graphics, I come back to Gimp time and again.
Comments are closed.