The Perks of Pro Blogging
You know what they say, a picture is worth a thousand words. Below you will find my old office when I used to work for a multinational company, and the new one…
Old Office – Italy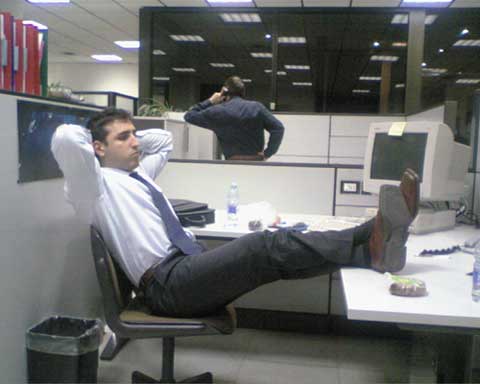 New Office – Brazil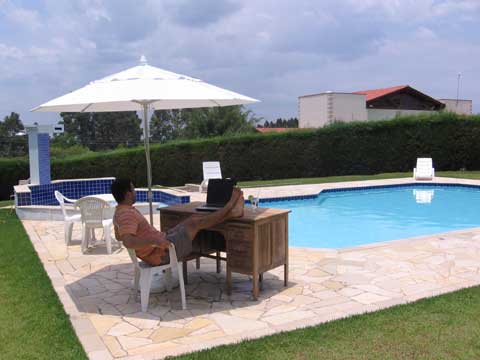 Browse all articles on the General category or check the recommended articles for you below:
54 Responses to "The Perks of Pro Blogging"
Joey

Now that is Inspirational!

Daniel

Bret, most of the times I work inside as well. That picture was actually taken to mock my co-workers on the company I used to work for :).

Bret

Absolutely love the contrasting pictures. I have to ask — how well can you see your laptop screen outside? Whenever I take my laptop outside I have a difficult time seeing the screen.

Daniel

Eduardo, gracias por el post en tu blog!

Espero que vuelvas a comentar aca.

Saludos

Noticias Automotivas

Cool! I am a problogger too, and live here in Brazil, near you. Used to live in Mogi Mirim/SP, this year moved to Pouso Alegre/MG. Regards!

Veron

Argh! This is the second time I'm looking at this post, and the second time I'm leaving a comment. I am so jealous and I want to have a life like the guy in the second picture too (that's you).

Eduardo
Tyler Ingram

Wow that is an upgrade!

I have a temporary office in my backyard (i'm on medical leave as my Achilles tendon heals).

Wish I had a pool though, not that I could use it.

Daniel

Thanks for the nice words everyone. My online success is very modest yet (there are a lot of people out there making 10x more money).

But I am just glad I took the decision to quit my job. The freedom I gained is priceless.

Rizal

Wow! Great! One day I want to get office like your new one.. 🙂

Rishi

OHKAY! Now I got it. Cold drink, a laptop and a cool front swimming pool – so that is the reason why your posts are so COOL … 😉

WIsh I could also do something in blogging one day from which I can get something like your second pic or something more from it will also work 😀

Anyways, GREAT CONGRATZ ON YOUR SUCCESS! 🙂

Raj

New One Is Cool and better view

Phil Van Treuren

Awesome post . . . those two pics say it all!

Andrea Micheloni

Hahaha 😀 I do think many people would like to have an office like yours!

Ben Evert

A bottle of wine or beer and your office would be just about perfect.

Melt du Plooy

Old office comment
At least it had an airconditioner for warm days and a permanent roof over your head…

New office comment
Looks like you have to pack up if those clouds build up some more !!

*grin

Daniel

Yeah, but it was because my boss was not around all day long ;).

Daniel

Thanks. By the way just to clarify that is my parents' house. My blogs can not afford such an office yet hehe.

Still it is great to work from home.

Daniel

Roberto, yeah :). When I put the feet on the top of the table it is like meditating…

Meraj

Really nice 🙂

I hope you would be enjoying your work noe more.

Lars-Christian

Haha, that is nice Daniel. You've come a long way already 🙂

Cristi

nice touch 😛

Armen

Ha ha…too cool my friend!

Leftblank

You make me so jealous – I wish I was sitting in the Brazilian sun right now…

Also, you might find this article interesting;

Roberto Alamos

Your seating habits has not changed so much 😉 I guess it should be difficult to type with your toes…

Jeremy Williams

Well, at least you looked comfy in the old office.

Veron

lol this is hilarious! Right now I am like you in the first image, only I'm a woman and I look way more bored.

Pierro

Salut;
so damn it right ! and funny too:
"a picture is worth a thousand words."
I look for a new practical course i a NEW OFFICE like this 🙂

Marshall Middle

New office has a better view

Tine

Oh my, I sure would like me a new "office" 😉
Comments are closed.