Use These 10 Tips to Write Your Most Popular Post Ever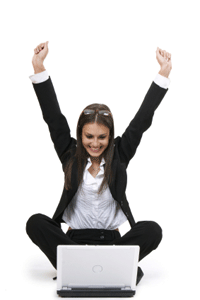 One popular post can bring your more traffic and links than a month's worth of your usual content.
In this post, I want to set you a challenge with the potential to launch your blog into the stratosphere.
Make the next post you write your most popular post ever.
The following ten tips form my key advice for tackling this task. I used all of them when hitting the Digg front page for the first time. There's no blueprint you can follow to write an incredibly popular post, but you won't have a chance unless you try. I'm confident these tips will give you a good shot at success.
1. Time is more important than talent. Work on something for eight hours and you can bet it will be good. You don't need to spend that long, however (though that's how long it took me to craft the first post I wrote that hit the Digg front page). More time means you can refine, format and fill your post with plenty of value. Take the time to really craft your content. It will show in the finished product.
2. Use your best idea. A post will never become wildly popular unless it fulfills a need, and does so emphatically. What's something your niche wants but hasn't got yet? Can you assemble a whole lot of really awesome (targeted) resources in one place? The more your posts helps people, the better it will do.
3. Use formatting to your advantage. These days, social media is key when it comes to launching your posts into the stratosphere. Social media users are notoriously spoiled for choice, however. Use formatting to emphasize the best aspects of your post. Hone in on your funniest lines, your most profound bits of advice, your best resources. Make them stand out.
4. Brainstorm headlines. There are probably one or two bloggers who've completely mastered the art of writing headlines for social media (you'll know who they are). The rest of us haven't been blessed with such skills. When you see a great headline, chances are it's option #12 of a dozen choices. Few of us can think of a great headline straight away. Spend ten minutes brainstorming and you're bound to stumble across something that works. A weak headline will cripple your post's chances of success. It's essential that you put a lot of work into getting it right.
5. Invest plenty of value in your post. Ever bookmarked or voted for something without completely reading it? We've all done it. It's because of the 'Wow' factor — the presence of enough promised value in one place gets the reader enthusiastic about the post straight away. Instead of 5 tips, why not share 50? Instead of 9 resources, why not 40 or more?
7. Beauty is in the eye of the beholder. If your post looks good, it will draw readers in. Take the time to add images, thumbnails and formatting to what you create. Make your post a visual feast. With so much web content presented in a bland way, your post is guaranteed to stand out.
8. Tell them what you're going to tell them. Readers will skip your waffly introduction. You can say the same in less words, particularly when you're writing for an impatient reader: someone who wants to get straight into your tips/resources/opinions. Use your introduction to highlight why the reader should stick with your post. There's a reason my post introductions mainly consist of: "In this post, I'm going to do this, this and that." It's what people really want to know: what am I getting in exchange for my attention?
9. Send messages with links. The best way to get a blogger to investigate your blog is by linking to them. We've got a natural desire to know what's being said about us. If your post becomes really popular, each link inside it should send enough traffic outwards to be worth investigating. Be generous with your outbound links when writing your most popular post. It gives other bloggers an incentive to link to you, because it's ultimately more promotion for them.
10. Utilize your network. If you want people to Digg, Stumble or Reddit your post, there's no reason why you need to sit back with fingers crossed and hope it happens. Ask them. Your loyal readers like you. You entertain them, or teach them, or help them. If voting is a simple matter of clicking a link they'll be more than happy to do so. Ask for votes in your post and email readers and social media influencers. In most cases you will need to get the snowball rolling. After that, others will do most of the work for you.
Bonus tip:
11. Examine what worked before. Study your most popular posts so far. What's common about them? Why did they work? What needs did they address? In creating your most popular post, it's important to learn by example and build on what has worked for your blog in the past. Another good idea is to analyze the most popular posts on other blogs in your niche. Why did they work? What's remarkable about them? You can transfer those qualities over into what you write.
Browse all articles on the Writing Content category
79 Responses to "Use These 10 Tips to Write Your Most Popular Post Ever"
kraft

Very useful tips! Thanks

Investblogger

Hi there,
I am Jaime Pressly , this is my first
post. I didn't find relevant
thread to post this, and my apologies, if I posted in the wrong place,
please advise.
About this time last year, I came across information about
investment programs, that are rarely published on
official investment resources. The earnings, which people could
receive by investing in such programs, looked
unrealistically high at
first, but as I searched additional
information about them, I made my
choice. These days, I consider
myself to be the successful
entrepreneur. To
share my findings, I
made available the blog, which
outlines detailed information
about online investing. You can see my
blog, follow this URL.
I would be happy to receive
everyone's feedbacks.

Free Traffic Tips

Nice post!
Very helpful tips.

sarah

your tips are good for any type of writing – especially about putting the time into it, having patience and being able to put something away and come back before posting.

Alfa King

Very useful tips, #8 in particular.

subcorpus

i've read your article …
but i dont think i can still write my most popular post …
yet to come … still need more time … and a better idea …
hehe …

Michael

I have found that utilizing social media, by linking one of my blogs has attracted a few comments – which I never received prior to not using social media. I had to add additional user specific tags so that the blog was easy to find by keywords, and by adding the same image for all posts. I believe an image will stand out in the readers mind – where hopefully they remember you or your posts.

Particularly a social medium site that has a forum and blog posting, where you can refer your blog from forum help discussions. Also, profile sections on media sites are certainly a opportunity to attract blog visitors through customization and formatting such as adding images, html editing, slide shows, relevant self description, and of course links to your blog. It worked a little for me…

Ron Passfield

Never a truer word was spoken. I've been using Blogrush.com lately and it gives you a barometer of the responses to your blog posts – hot, cold, warm, deathly etc.

It shocked me into really thinking about my audience, my headlines and how much I invest in a post.

As it is, my better posts take a couple of hours to produce. So the time factor is there. You have given us a way to increase our return on effort – and often it is just going that extra hour, adding the extra resources.

Thanks for a quality post that models what you are talking about.

AlexK

"8. Tell them what you're going to tell them. Readers will skip your waffly introduction. You can say the same in less words, particularly when you're writing for an impatient reader: someone who wants to get straight into your tips/resources/opinions."

I think this is number one in importance. Once you've written what you want to tell them you can write a headline that matches.

One of the reasons I don't leave a comment on posts. I haven't been told what they promised to tell me.
Alex

Jim Saeger

Great tips for anyone, but especially for a newB like me

Jordan Pearce

Talk about a timeless and encouraging post.

Regarding #11 go back though past articles that worked and update them every year or so. Resubmit and or promote again.

It works!

Chris Jacobson

Excellent list. I'll link to this on Sunday.

Raj

Nice tips and Helpful too 🙂

bmunch

@Skellie – Great post. You are definitely making a presence within the blogosphere with your excellent guest posting everywhere.

I have a question about #2. What happens after you use your best ideas? Where do you normally go for your inspirations?

Skellie

@ Shark Girl: I can sympathize with that. What kinds of blog posts do you write for the Pentagon, after all.

I'd suggest the best thing you can do is to demonstrate your knowledge clearly and authoritatively.

susan

cool. i never give tips on my blog…or advice. it's solely trend. but, there is lots i can apply, here. thanks!

costa

Good Tips! just exactly what i need. Sometimes my own articles seems so good to my own eyes but it never seems to appeal to anyone.

Shycon Design Colorado

Great stuff here. Headlines are key, and in today's blogging era scannable content is imperative. It only took me about 30 seconds to read this whole article!

Not John Chow

Thanks for the great post! It reminds me about my biggest problem: writing too fast. A good post needs to be written, read and then re-written. Thanks for the reminder.

Also, it is not enough to run spell check. You need to review your final copy by actually reading it one more time. I find a lot of errors in the blogosphere. Maybe this should be tip #6!

Shark Girl

Skellie, most definately in a good way. I'm working on a project to help the small business in Defense contracting to not be shut down by unfair competition. I don't know how to get the attention of the House, Senate and Pentagon, all of which visit my site regulary. I have hundreds of visits by many military domains too.

But I don't know how to write articles. Maybe your tips will help. I'm at least going to try it and see what happens.

Daniel

Young, it is coming from iStockphoto.com, not sure.

Young

good idea. DO you know the name of the girl in the pic?

AaronC

12. Don't skip #6 🙂

Skellie

@ Patrick: What a compliment. Thanks!

@ Rhys: Modular — that's a great name for it. I tend to use that method for almost every post I write. I certainly used it for this one. (It started with the words in bold).

@ Shark Girl: In a good way, I hope ;-).

Seo Blog

Thanks for the tips!

Shark Girl

Thanks for these tips. I'm going to use all of them to write posts that will get the attention of the Pentagon.. lol.

Jacob Cass

I was just searching for this and what do you know it came up in my feader just then 🙂 Cheers

James Mann

Thanks for your great points.

I have done a few things to make my blog easier to read, like taking off the inline text links because they tend to clutter the posts and make my affiliate links less visible.

I also removed the adsense type ads as well. I am not sure how this will affect my income but I should know if I went too far in the next few days.

My headlines usually suck pretty bad so I am working on that. I find myself rushing to get posts done so I may end up dropping a few of my sites just so I can slow down to a jog. 🙂

ganeshmuthiah

Hi James,

Are you still blogging with less adsense type of ads ?
Pls share with me if you are using different tactics.

I'm new into blooging and wish to provide less distractive site for reader.

I like my current page with no ads at ganeshmuthiah.wordpress.com

Rhys

I couldn't agree more. One of my most popular posts was well over 5 hours of writing time, largely due to the fact that I posted it more of a modular fashion (wrote the basic artcile to begin with, then added to it) rather than in a storyboard fashion (beginning to the end).

I recommend posting in that way, as you get down the important points first.

Patrick Altoft

This is the best article of the week.:)
Comments are closed.