Are Social Bookmarking Sites Dying?
A couple of weeks ago Technorati released the State of The Blogosphere 2010, and one part of their report that caught my attention was the traffic sources breakdown.
The report illustrated that bloggers are getting social media traffic from two websites mainly: Facebook and Twitter. All the others have been dwarfed, as you can see in the image below.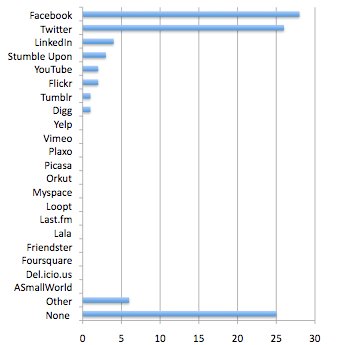 Some years ago getting in the front page of Digg, StumbleUpon or Delicious was the dream of any website owner, but it looks like that is not the case anymore. Facebook and Twitter are the only options right now.
And there is even more evidence to confirm this trend. Digg launched a new version some months ago, and it pretty much collapsed ever since. Its loyal users abandoned the ship claiming that the new version completely changed the dynamic of the site, and traffic is going down hill. I remember that a couple of years ago the top stories would get as much as 3,000 diggs, and now they get 200 or 300.
What about Delicious? It was one of the first social bookmarking sites, and it was tremendously useful, with a huge number of users who loved the service. Last week Yahoo! (the company who bought the site back in 2005) announced that they will either be closing Delicious down or selling it to someone.
I haven't seen any news about StumbleUpon, but I don't think it is going that well either. I used to get a lot of traffic from it on most of my websites, and that is all gone. Most of my webmaster friends are seeing the same pattern, so people seem not to be stumbling that much anymore.
All this background information to ask the following questions: Are social bookmarking sites dying? If so, why did this happen? The idea of bookmarking web pages socially seemed like a solid one, and if you ever used it you certainly saw the benefits. Despite that users are moving on to new and different things. What do you think?
Browse all articles on the Social Media category
41 Responses to "Are Social Bookmarking Sites Dying?"
Laura

One thing people don't always understand about social sites is that you get back what you put into them. If you use them for self promotion other people are less likely to be interested in what you post. I use Twitter to post the odd update, maybe a couple of times a month. The rest of the time I talk to people, answer the odd question floating around or ask one of my own. Conversation works better at getting real attention and interest than self promotion alone.

Laura

I use Tumblr and Stumble Upon as bookmarking sites. I don't think of Facebook or Twitter as bookmarking sites at all. I really like Twitter but I don't use other sites and services to access it, I just keep it simple. Facebook, I will probably dump that sometime in 2011 when I get fed up enough. It's just getting to be a giant get rich quick scheme, not social at all. I can't even find friend feeds for some of my relatives any more, they keep moving them around. The only thing I can find are applications that are more like blood suckers than games at all.

Social bookmarking sites aren't dying. They have just become a victim to overkill. As soon as any idea starts to do well on the Internet all the marketing get rick quick types have to copy it. When they flood the Internet with too many sites they start to die off. There will be a survivor, eventually. It will be the one that sticks around and changes with the tide.

I will stick with Twitter, StumbleUpon and Tumblr unless they change for the worse in a big way. I try new sites as they come along but I prefer sites that have passed the test of time and proven they can adapt and keep growing in good ways.

Eric C

First off, Daniel, I think these type of posts are the best. For me, they explain trends that the medium is going through. After reading blogs on blogging for over two years now, I get tired of reading the same advice (headlines! Pictures! Sub-headers!) over and over. Stuff like this, news like this, is so much better. It's why i check Daily Blog tips of Problogger now, if I'm short of time.

My take on social networks: yeah, they are dying. When I started blogging, I focused on twitter and facebook, and I've never regretted it. I thought I might, but they have only gone down in importance. Digg especially has had a bunch of issues.

Noelle

For gathering links to post on my blog, (which I do almost every week,) I used delicious until yahoo decided they might like to shut it down. I now use something different, but I still use social bookmarking and probably will as long as I keep doing weekly links. Not only do I use it to save the links, I use it to find stuff to link to.
Comments are closed.