Alexa is becoming a joke lately. Some people claim that over the previous two years it was already losing reliability, but lately it went completely nuts. Whatever they did on the last algorithm update, it messed up their rankings badly.
I know that many people already ignore Alexa, but most advertisers still consider it when evaluate ad buys on websites, so I think we need to raise the awareness about it, and encourage them to use other available tools to gauge traffic.
The problem emerges when you make comparisons of different websites, and when you bring into the picture other traffic tracking services like Compete.com or Google Trends. I have 5 interesting cases to illustrate this.
Case 1: Daily Blog Tips vs. Daily Writing Tips
This was a natural example since I own both sites and have access to the real traffic figures. Daily Writing Tips (as of today) has an Alexa rank of 91059. Daily Blog Tips has a rank of 112363. The Alexa graph of the reach of both sites tell a similar story: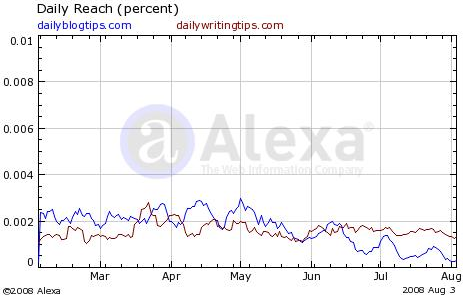 So if one was to trust Alexa, he would conclude that Daily Writing Tips is getting a lot more traffic than Daily Blog tips right? Wrong!
In fact it is exactly the opposite, Daily Blog Tips generates around 15,000 daily page views, while Daily Writing Tips only 8,000. The proportion of unique visitors is similar.
Now the interesting thing is that both Compete.com and Google Trends show a very similar traffic trend for those two sites, and one that is much closer to the real numbers.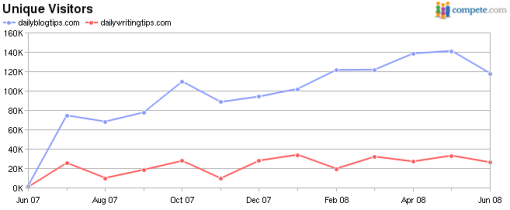 The time frame of the graphs is different, but it should not matter. The Alexa graph is displaying the trend for the past 6 months, while Compete and Google are displaying it for the past 1 year.

Case 2: PhotoshopStar vs. VentureBeat
PhotoshopStar is a photoshop blog created by a friend of mine. It has around 2,500 RSS subscribers and gets some decent traffic. As of today it has an Alexa rank of 30,422. VentureBeat, on the other hand, is one of the most popular technology and web 2.0 blogs on the web, with tens of thousands of RSS subscribers. It is Alexa rank is 31,397. Hmmm. This would mean that PhotoshopStar gets more traffic than VentureBear? Check out the Alexa graph: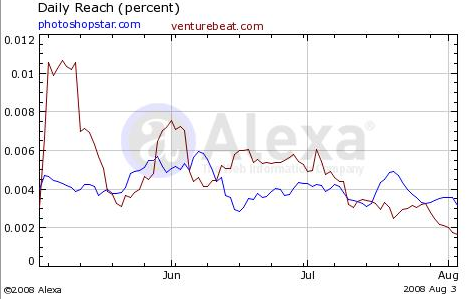 Now what would you think if I tell you that PhotoshopStar gets around 300,000 monthly page views (source is my friend), while VentureBeat gets over 1,000,000 (source is Federated Media)? Alexa must be kidding right? Not only that, but again both Compete.com…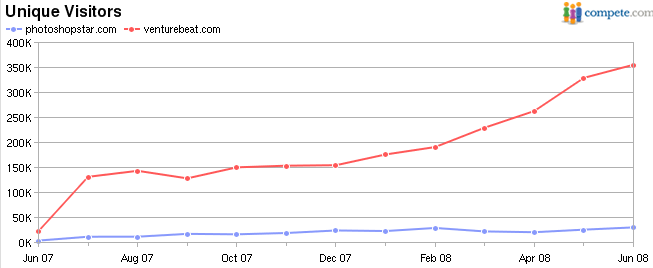 and Google Trends managed to display a more realistic situation.

Case 3: JohnChow vs. Techmeme
JohnChow.com is a popular "make money online" blog. According to John himself his blog generates around 300,000 monthly page views, and its current Alexa rank is 58,000. You probably also know Techmeme, a tech news aggregator. Its Alexa rank is 73,938. Again, one would expect that Johnchow.com is receiving a lot more traffic than Techmeme if he was to follow what Alexa says right?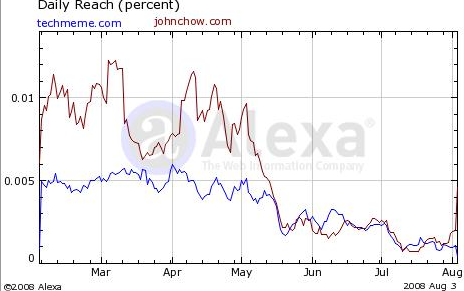 Well this is probably far from the truth. Techmeme must be getting at least twice as much traffic as JohnChow.com. Both compete…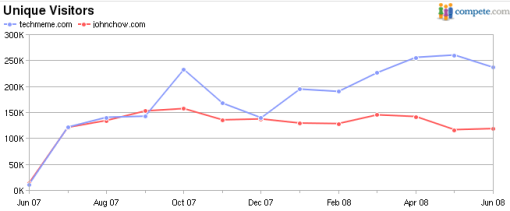 and Google Trends in fact are showing a very similar pattern, where Techmeme has by far more traffic than JohnChow.com.

Case 4: BloggingTips vs. Copyblogger
BloggingTips is a meta blogging site, with around 2,500 RSS subscribers, and its current Alexa rank is 103,872. Copyblogger, on the other hand, is the authority copywriting blog on the web, and counts more than 40,000 RSS subscribers. Oddly enough, Alexa ranks Copyblogger right aside with BloggingTips, with a rank of 102,259.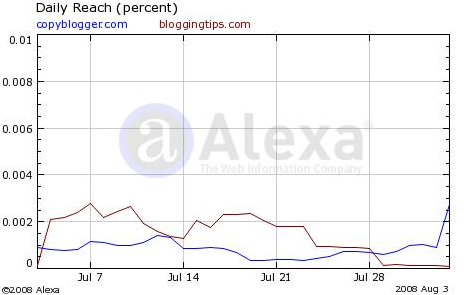 Over the last month Copyblogger shows a spike on Alexa, but still you can see that was going hand in hand with BloggingTips for a while. Do they really receive a similar traffic? I highly doubt so, and the Compete.com traffic report confirms that.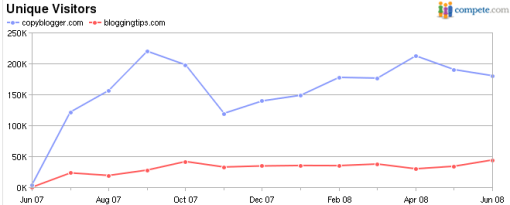 Google Trends shows a trend to both websites that is very similar to Compete.com (that is, the BloggingTips traffic is so small in comparison to Copyblogger that it is not showing in the graph).

Case 5: PSDTuts vs. DZone
Someone could think that the crazy Alexa rankings covered above were due to websites coming from different niches. Well let's take two on the same niche then: web design.
PSDTuts is one of the most popular blogs with photoshop tutorials. It is current Alexa rank is an impressive 11,957. DZone.com, on the other hand, is a popular social bookmarking site for web designers and developers. One would expect that the latter would have a higher traffic right? Not for Alexa… which is giving a rank of 23,233 to DZone.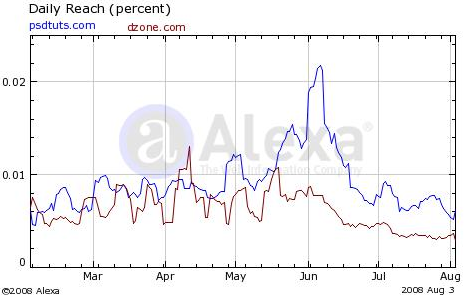 Compete.com is telling a whole different story though…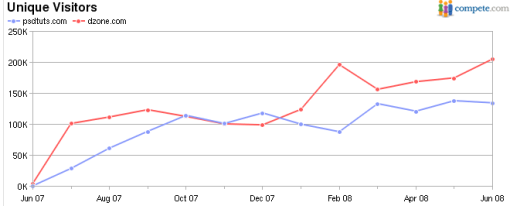 And so is Google Trends. Yet another time both of those traffic tracking services are agreeing with each other, and completely disagreeing with Alexa.

Conclusion
As you can see, on all those 5 cases Alexa was reporting very strange traffic trends. Sometimes it reported the opposite of the real situation. I am pretty sure it would be easy to find 10 or 100 more similar cases.
Compete.com and Google Trends, on the other hand, are behaving very similarly, and judging by the numbers that I know, they appear to be far closer to the real situation.
In my opinion the only factor that makes people still consider Alexa is its ranking system. People like rankings. They like to compare A with B and C. Compete.com and Google Trends still need to develop such a continual ranking system (right now you can only do on-spot comparisons).
Should they come up with such a ranking system, though, I am not sure how many people would still look at the Alexa numbers.