Turning a Failed Post Into a Success
This is a guest post by Steven Snell. Steven designs websites and maintains a blog for Vandelay Website Design. You can read more of his writing and see his portfolio at vandelaydesign.com.
All bloggers at some point face disappointing results with a post that they believed would make a big impact. It may have underachieved in terms of page views, comments, or inbound links. Whatever the case, the opportunity hasn't been lost for the post to succeed.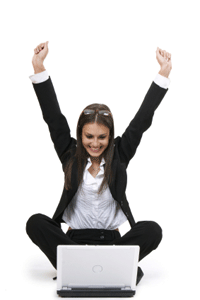 But what should a blogger do to spark some excitement into the post? Read it again. Edit the post to make sure that it is useful to readers and consider adding more if it seems incomplete. Take an objective look at the post. If you still feel that it provides quality information that would interest people, take some further steps to draw attention to it.<
1. Link to it in the first paragraph of an upcoming post
Links higher on blog posts have a greater chance of being clicked. Most RSS subscribers scan through their RSS reader, only reading posts that catch their attention. By placing a link high in an upcoming blog post it will be seen by more subscribers as they scan. You can implement this by writing a follow up post, or just by writing a post on a related topic and mentioning the other post.
2. Announce that it has been updated
The majority of blog posts can be added to or improved in some way. Take the time to see what was missing the first time around and make some improvements. Once the changes have been made, write a brief new post announcing that updates and additions have been made, and if possible explain what has been added.
A great candidate for this is a post that contains a list or even just links to resources. Add more and then announce the improvement.
3. Add inbound links to the post throughout your site
Increasing the number of internal links to a post should improve the number of click-through visitors to the post. Those internal links may also help to increase its search engine rankings, as it now looks like a more important page.
4. Look for forums on the topic where you can present it as a resource to people
If your post is truly a helpful resource for others, you may be able to find some forum discussions on the topic. If so, join in on the conversation and include a link to your post.
5. Use comments on other blogs
This is basically the same idea as #4, except with blogs instead of forums. Do a blog search (try Google Blog Search, Ice Rocket, or Technorati to find other posts and discussions on the topic. Participate in the conversation, mention a few points from your post, and leave a link. You can also leave the link by using the URL to that specific post rather than your homepage URL when you are filling in the comment. This way if someone clicks on your name in the comment it will go directly to the post.
6. Use comments on your own blog
Most likely the topic of the post is relevant to a number of other older posts on your blog. Find posts that are related and leave a comment with a link telling readers that they can find more information on the subject by following the link. This is especially effective if you offer a subscribe-to-comments option on your blog. In this case your comment will be emailed to readers who have already left comments on the related post.
7. Mention the post at the bottom of your feed
Another place to promote your post is at the end of your RSS feed. WordPress users can choose from several different plugins, including Sig2Feed and PostPost, that will allow you to include anything you want at the end of your feed. Consider leaving a link and a brief description of the post to try to generate some clicks.
8. Submit the post to social media sites
Maybe a post that have not drawn much attention from your regular readers will catch on at a social media website. Try submitting the article to Digg, Reddit, Stumble Upon, or any number of the smaller niche sites out there.
Sometimes just writing a great post isn't enough. By trying these methods you will have given your post the best chance to be seen by interested readers. Find a few that work well for you and implement them in the future when you think a post hasn't reached its full potential.
Browse all articles on the Promotion category
22 Responses to "Turning a Failed Post Into a Success"
SeTqUggg

dollar car rental los angeles
dollar car rental los angeles

XOgiUuon

phetermine buy online
phetermine buy online

Daniel

Yep.

JTPRATT's Blogging Mistakes

I'm very guilty of not using my incoming links…thanks for the tip! On the Sig2Feed plugin, does it still add things to the end of your feed even if you are using the Feedburner Feedsmith plugin to redirect /feed to feedburner.com/feed?

Steven

Daniel,
Thanks for posting the article.

Khalid,
I would agree with Daniel. If the link adds value don't feel like it is unethical or spammy. I think it's also a good idea to give a little bit of feedback as well, rather than just saying "here's a link to a related article." Now after I've typed this I see that it's basically what Aaron already said.

Rob,
I agree with your points on deep linking. That's something that's easily forgotten with a blog. You write one post, move on to the next and tend to forget about linking to older posts.

Better Blogging with Michael Martine

Great list of ideas! I like the first two points specifically. I can think of a couple posts I'd like to try and revive, so this has been very useful.

coos

I just mark the post as sticky so it shows up as the first entry. I'm lucky my blogplatform supports it…

Buxr.com

Thanks for the post. I never considered the blog search as way to find related material.

Rob O.

I've found strategies #1 & 5 to be particularly useful. So called "deep linking" is a good way to revive an older post or give an article more attention than it originally garnered.

And I frequently "deep link" back to older posts within new posts because it's a way of providing some continuity – keeping an on-going conversation going across a lengthy span of time.

One key thing to remember when doing this is to choose your anchor text wisely. Don't just go with the old "Click here to see my older post." Instead work in the hyperlink as a part of a more complete idea or sentence to make the anchor text meaningful for both the readers' and Google's sake.

Daniel

Yeah Digg users are peculiar :).

Jeremy Steele

"Khalid, if it is adding to the discussion no one will get pissed by it."

Unless of course you're doing it on a Digg comment. I did that once and got about 200 hits and my comment got +10 diggs, but about 20 people were all like "stupid spam blah blah"

Daniel

Jeremy:

"There really isn't any reason to make a new post about something when you've already written about it, you know?"

I don't think there is a clear cut like you state. There are many reasons that could make worth writing a new post on something that you have already written in the past:

a. your opinion might have changed
b. new events might have changed the situation
c. you might have new resources/ideas to add to it

Don't you agree?

Daniel

Khalid, if it is adding to the discussion no one will get pissed by it.

Aaron B. Hockley

Khalid, generally what I'll do is leave a brief comment where I give a few sentences of info/opinion, then mention that if folks want to read more of my thoughts or to check out a relevant post give the link.

Khalid Hajsaleh

I could never figure out the etiquette behind leaving a useful link to one of my posts on other blogs. I am not talking about spam. I am talking about something that can add value to a discussion. I guess there the self promotion in doing so makes me stay away from actually doing it. What do you think?

Jeremy Steele

One thing I'm starting to do more often is go through an update old posts, and in a week or so I'll write a nice long post about changes I've made to them. There really isn't any reason to make a new post about something when you've already written about it, you know?
Comments are closed.