The Blog Post Checklist: Use Before Hitting "Publish"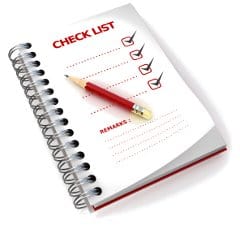 How many times have you published a post, only to find out you forgot to proofread and that many typos slipped through? What about when the links you included are broken, when you used the wrong keywords, or when you forgot to optimize the post title?
As you can see, there are many things one should check before hitting the "Publish" button, and most of us forget about them. That is why I decided to create "The Blog Post Checklist," with a list of things you should check before publishing your post. You'll find it useful especially for those long, linkbait type articles you publish once in a while (what I call "killer articles").
Below you'll find a description of all the checks, but you can also download a PDF version to print and fix above your computer.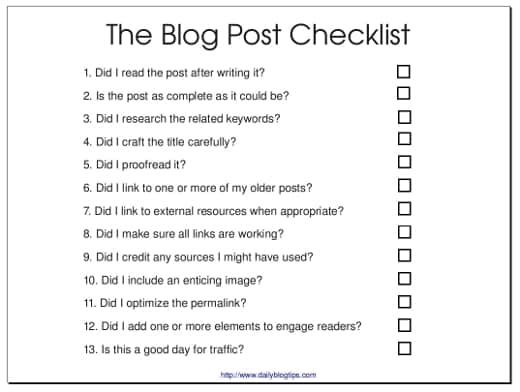 1. Did I read the post after writing it?
Common sense as it sounds, most people don't read what they just wrote before publishing it. This is a mistake, because unless you read your article as an integral piece you won't be able to tell if the whole thing makes sense, if the paragraphs and sentences are in the right order, if the arguments are solid and so on.
Before anything else, therefore, read what you just wrote from top to bottom.
2. Is the post as complete as it could be?
If you want to generate as much traffic as possible and to get as many backlinks as possible, you need to make sure that your post is as complete as it could be. If you completed the previous check you should also be able to evaluate whether or not you could add more sections and explanations.
For example, you might be writing a software review, and your post is focused on the features of the software. What about the installation process? What about the compatibility of the software with other programs? These are all aspects you could include, making the post more valuable to potential readers. If you want to read more on this topic check these 10 tips to write popular posts.
3. Did I research the related keywords?
Keywords rule search engines (and the web, as a consequence). If you want to maximize your traffic you need to use the same keywords that most people use. First of all because this will make your post easier to understand. Second because it will help with the search engine optimization.
For instance, you might be writing a post about gaming notebooks. But should you call it "gaming notebooks" or "game laptops"? After using the Google AdWords Keyword Tool you would discover that the term "game notebooks" is searched by 8,000 people every month, while "gaming laptops" is searched by over 60,000 people. This means that the latter is much more widespread, and you probably should go with it.
4. Did I craft the title carefully?
The title of your post is the most important part. Even more important than the body of the post itself, because unless the title grabs the attention of visitors, they won't read the post.
First of all make sure your title has an emotional hook. For example, you could get the reader excited by offering something of great value (e.g., "100 Photoshop Tutorials to Become a PSD Ninja"), or you could get the reader curious by making an unusual statement (e.g., "5 Things Chuck Norris Can Teach You About Marketing").
Second, remember to use the main keywords of your post in the title, as this will help with the search engine optimization.
5. Did I proofread it?
I know you have already read your post once to make sure the ideas make sense and the paragraphs are in the right order. However, you'll need to read it once more, to proofread it.
This time focus on spotting grammar and spelling mistakes. Here are a couple of tricks you can use for this purpose: read your article backwards or read it out loud. Both of these methods will allow you to focus on the single words, making it easier to spot the mistakes.
6. Did I link to one or more of my older posts?
Linking to older posts inside your blog is a practice that helps both human visitors and search bots. It helps human visitors because it lets them explore your archives, possibly complementing or expanding on the information they have just read. It helps search bots because it lets them crawl your site more efficiently, and it also helps them to understand your content (through the link anchor text).
Before publishing the post, take some time to find older posts you can link to.
7. Did I link to external resources when appropriate?
Do not be afraid of linking to external websites. You'll not lose PageRank, and you'll not lose readers.
If your content is solid, you'll only be enriching it by linking to relevant external resources. If you mention a particular tool in your post, for instance, link to it. If you mention a term that readers might not be familiar with, link to the respective Wikipedia entry.
8. Did I make sure all links are working?
All it takes to break a link is to omit a letter, a dot, or to add an extra http:// heading. For example, if you write http://www.siteyouwannalinkto.co the link is not going to work. Similarly, if you write http://http://www.siteyouwannalinkto.com the link is not going to work either. The impact on the user experience, however, is quite significant. If your visitors can't click on a link you mentioned and find the website they'll get frustrated.
Before publishing the post use the "Preview" feature of your blogging software and click on all the links to make sure they are working and pointing to the correct URL.
9. Did I credit any sources I might have used?
If your post was inspired by something you read somewhere else, credit it. Similarly, if you used information that came from a particular website or blog, make sure to mention and link to it. This will be fair with the original author, and it will also be useful to your readers, as they will be able to track where everything is coming from.
One post that inspired me to write this one was 13 Questions to Ask Before Publishing a Post On Your Blog, by Darren Rowse. Even though I had read it back in 2008, the idea probably kept wandering in my head, until I finally decided to write my own take on the issue.
10. Did I include an enticing image?
If an image is worth a thousands words, why not use one in your post? Images are a great way to entice people to read the rest of your post. They can also help with the search engine optimization, and bring some traffic from Google image search.
Check out the post Where to Find Images for Your Blog to discover the image sources I use.
11. Did I optimize the permalink?
Most publishing platforms and software allow you to edit the permalink of each post you publish. You should use this feature to make sure your permalinks are concise, and that they contain your main keywords.
Apart from making the permalink look cleaner, this will also help with your search engine optimization and possibly increase the amount of traffic you'll get from Google and company.
12. Did I add one or more elements to engage readers?
Every blog owner should be trying to build a community around his blog, and engaging readers with your content is one of the best strategies to achieve this.
Practically speaking you could ask them a question at the end of the post, include a poll, make a call to action, use their feedback directly in your post and so on.
13. Is this a good day for traffic?
Even if you have written a masterpiece, you'll not get the best possible result if you publish it on a Sunday. The best days for traffic are usually Monday, Tuesday and Wednesday. But make sure to track your traffic numbers, so you can be sure of the best day for your blog.
Second, keep an eye on international holidays. If you live in the UK, for example, you should check the list of US federal holidays and avoid publishing your killer article on any of these dates.
Over to the readers: Would you add anything to this checklist?
Browse all articles on the Writing Content category
75 Responses to "The Blog Post Checklist: Use Before Hitting "Publish""
Pat

Great list Daniel! I think everyone should print this out, or at least save it on their computer and read it before posting. I've sent out the post on Twitter and Facebook for ya!

Cheers bud!

Carmelo Fontana

Nice post. I use blogger and this is the first time I hear about permlink customization… Thanks

Dianne Guthmuller

I just found your blog and subscribed! It's just what I was looking for. I post everyday Monday-Friday; I have a lot to learn about getting my blog noticed. Thanks for your help!

Dianne

Brigitte

very helpful post & comments. Thanks guys.

Adesoji Adegbulu

Wow, i was thinking of writing some things related to this. Though the points i have is not listed in yours. Thanks for this.

@Daniel, I'll love to write a recap on this post and list out the things i have.

Thanks

Allen – Social Media Marketer

I believe proofreading is very important when publishing an article relates to your business. Because it reflects your brand/personality! Rechecking is also important if there are any automation to your posts to publish it on various online channels other than your own blog!

Web Marketing Tips

I must say that you added this post at the right time.

What is the right time .. I am sure you know about this 🙂

Dave Starr

A very good reminder. I particularly want to call attention to the idea of the importance of time and day ..many of us blog from locations other than where are primary readers are. Especially those of us who reside across the International Dateline from some of them.

Have any of you ever looked and seen where and when your traffic comes in? In this blog, for example, I have two big 'traffic rushes' every weekday, about the time people go to office in Europe and again a much larger one that stars about 9 am New York time and lasts until after folks in Los Angeles are already in the office.

What, you mean most of the readers of a blog about escaping the rat-race by moving overseas are reading it in their offices when they are supposed to be working? Who could have guessed? 😉

AWStats or whatever other tracking software on your server will tell you this. See what your own traffic patterns are.

But just as Daniel advises to watch out for major holidays in target countries, watch out for dates and time zones too .. becuase if I were to launch a "killer post" at 9 am Monday my time, my primary audience would be still in bed Sunday night in the USA.

Post on the schedule of the primary audience you want to reach … may be different than your own schedule.

Kelly Wilson

Title, keywords, proofread, internal links…yep, get these basics right and your half-way to a good blog post. They're the basics.

Really, there's a lot of factors that need to be considered, which you make in your other points. One you could add to the checklist -do you write in prose that is interesting or dull? Are you adding something fresh to a common topic? Are you engaging the reader? yadda, yadda, yadda.

Overall, good checklist.

Steve

Did I add an affiliate ad so all the scrappers give me free affiliate clicks when they republish my content?

Luca Minudel

Tell what you really know and what you really experienced from practice at work an be honest.

If you have someone else to read your post (pair-writing) and confirm that's clear, it would be great.

And be sure that you like what you are doing.

After that throw away the checklist, be yourself, that is what really count !

Alex | Blogussion.com

I know a lot of people don't really factor in the time of the day/week in which to publish an article. I know my blog is the busiest earlier in the week and slows down more towards the weekend/end of the week. So I make sure to save my favorite posts for those days (not necessarily, my best posts, because in my eyes all of my posts are the best I can do…I just play favorites).

Roshan Ahmed

Wow,
That's a really nice post. Every time I write a post there is a high temptation to post it right away to my blog. But for me proof reading is important because I'm not a native English speaker and there are many chances for me to make grammatical errors. So I read my article after few hours, as a second person, to make sure there are not severe grammatical errors.

> I am using an offline blog editor ( MS Windows Live) and so there are only less chance of typos (like 'tip' instead of 'top'. which these software doesn't detect).

> And considering the images, I create them myself! I'm not a Photoshop man, but I can create some pics with Macromedia Flash.

I liked your last point very much and it's something I don't keep in mind.

Tom

Great checklist and great additions by Eunus. It's not just writing a blurb and throwing up on your site. The writing is only half the job, if that.

Susan

Great article! I love the tip to check keywords using Google Keyword Tool. I've been amazed at how the results vary, and without good keywords, it's hard to generate traffic via the search engines.

George Passwater

Great list of things to look at for those killer posts.

I really believe in #4 – Did I craft the title carefully?

Without a engaging and appealing headline, no one will click on it. I usually take extra time to work on that and use tools like the Headline Analyzer as well. Yes, great content in the post is key, but you have to get someone to click on your title first.

Cindy Kurman

Great post. I'd add "Did I fact check all information?" to your list. It's so important to make sure that all of your information is verified, especially when quoting someone, using statistics, and numbers.

Eunus Hosen

I want to add more options in this checklist. These are like following:
14. Did I placed in appropriate category
15. Did I written an effective meta description
16. Did I selected tag's carefully
Eunus

Yaz Zahidli

I wanted to add meta description, meta keywords and tags to the list but you have already added them here.

Thanks for the great list. Waiting to see a plugin which automates some of these checks and create warnings!

Joshua Black | The Underdog Millionaire

I really appreciate your point about the right days for traffic. You can spend a ton of time on something that no one is ever going to see, just because you posted it on a Friday or Saturday. People just aren't out there looking at blogs or that many web pages on the weekends, so it's critical to get you good content in early in the week.

-Joshua Black
The Underdog Millionaire

Jenn Mattern

I used to believe the "don't post on weekends" thing too. Then we started putting up better content on Fridays. And traffic that day picked up even better than earlier days in the week. And then I launched a weekend series. Now weekend readers are only a hair behind the weekdays (and when we post more than once over the weekend it actually can be on par with the work week).

So just don't make the mistake of assuming a slow traffic day now always has to be that way. It's as much about what you're giving readers on those days as it is general habits on their part.

Jennie Molphy

One more thing might be:

'Did I ask a question at the end to encourage more engagement with my readers?'.

Great list – I know I often don't link to my own posts for example, so it's a good reminder checklist.

Mark Tanney

Great list and commentary. I printed off the list for later use. I've got to do that keyword research! Thanks

Jenn Mattern

I definitely think reading a post aloud is one of the best things you can do before publishing. When what you just wrote is still fresh in your mind, a read-through will often miss simple mistakes. Your brain sees what it expects to see rather than what's really written. Reading aloud slows you down and helps you identify problems ranging from simple typos to areas that just don't "read right." It's good for more than proofreading.

Burns

Excellent article, definitely something we should all think about!

Rob

Great info here! Can't count how many times I've had to go back and do fix-ups after noticing something after a few days!

Dev @ Blogging Tips

Another Awesome Post. I am doing everything except Point 3 "Did I research the related keywords?". and i think keyword research is most important .!
I always proofread my blog posts for grammar,typos, mistakes etc etc. !!
Anyways, other tips are good as well !! Thanks for sharing this great checklist 🙂

Thanks,
Dev

Emily Art

Thank you for the information! As a newbie to blogging, I really appreciate it.

Josh Garcia

Hey Daniel,

This is an awesome list! Thanks for thinking about this and putting it together. We are all guilty of forgetting one or two from that list. 🙂

Chat with you later…
Josh

Julie – A Fine Tooth Comb

A practical, powerful post! I need to work on implementing point #6 (linking to older posts). This is a great way to engage readers who may have landed on a post without visiting the home page.

Lou Belcher

Great post. It's great to have all this essential information all in one place. Thanks.

Make Money Online with Gregory Hyne

Great list of the many things that you ought to think about. If I had to do them all every time I made a post, I think I'd give up blogging though! I especially like the tip for posting on sunday. Keep up the good work and thanks.

Daniel Scocco

Yes I would use it mainly for the "killer articles". Using it for the daily, smaller posts wouldn't be as important.

Karl

I agree with you man, this seems to be an awesome list but using it for every post would pretty much kill the buzz about blogging, and for me (who has a more personal approach to blogging) it would get too serious.

But I will definitely have some use for this post! Thanks Daniel.

Karl

Adam Snyder

I totally agree with you, blogging is all about feeling and getting what is on your mind onto others minds. If you went through this entire list and dissected your post you would not have fun doing it and you would lose a lot of that one on one feeling that is conveyed in writing.
Comments are closed.