Social Bookmark Buttons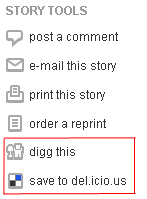 Most of the mainstream websites, let alone blogs, are starting to use social bookmark buttons on their sites (the image on the right comes from BusinessWeek). While those buttons are not a guarantee to hit the Digg or Delicious front page they certainly help people that want to share your articles, making it possible to bookmark them directly from your site.
If you are not using those buttons on your site yet I suggest that you give it a try. There is a site called iFeedReader that automatically generates the buttons. All you need to do it to select the bookmark services that you want to include, provide details about your blogging platform and the site will generate a code that you can copy and paste inside your blog structure.
By the way make sure you avoid including all the available social bookmarks, you do not want to spam the reader with too many icons. Choose 2 or 3 of them and place them in such a way that it will not disturb readers that are not concerned with social bookmarks.
Browse all articles on the Web Tools category
7 Responses to "Social Bookmark Buttons"
nimwey @ online jobs

Actually most sites today have an integrated social bookmarking buttons on their site, this helps visitors to easily share the content to their bookmarks.

Daily Good Tips

A lot of social bookmark buttons now, you can use one of more buttons, with many types and buttons effects such as glass effect etc.

Christa

Really good article, wish more people would appreciate that!

Bang Kritikus

Thanks for your great article !

high blood

wow this is a very good article. Thanks for this one

Surabhee Gupta

Your information was great… thank a ton…

asem hassan

Thank for the information
Comments are closed.