Q10: A Full-Screen Minimalist Word Processor
Last week over DailyWritingTips we published an article about writing software, with of 25 of them for all sorts of purposes. Several readers recommended a word processor called Q10, and I decided to give it a try.
Now, I am not sure if it would be an exaggeration or not, but I think that this little software quadrupled my writing productivity.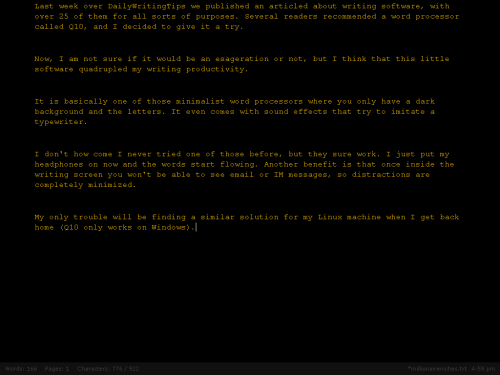 It is basically one of those minimalist, full-screen word processors where you only have a dark background and the letters. It even comes with sound effects that try to imitate a typewriter.
I don't know how come I never tried one of those before, but they sure work. I just put my headphones on now and the words start flowing. Another benefit is that once inside the writing screen you won't be able to see email or IM messages, so distractions are completely minimized.
My only trouble will be finding a similar solution for my Linux machine when I get back home (Q10 only works on Windows).
Browse all articles on the Software category
28 Responses to "Q10: A Full-Screen Minimalist Word Processor"
Keith Eckstein

Q10 works just fine on Linux under wine. I find it doubles my productivity!!!

Ilija Brajkovic

Q10 is great program, I use it almost every time I need to write some text.

For Linux users, there is free program called pyRoom, which does the same thing.

Riles

q10 is amazing! I've been writing with it for 8 months and the only downside is that you have to exit it for research. You can even put it on a flashdrive and just have it to use on the go.

Anonymus

Q10 is a really nice tool. Q10 works fine under wine and ubuntu. But on my machine the typewriting sound is missing. Nevertheless I love pyroom too although it's not as funny as q10 because of the missing sounds, the timer and the line.

Maybe I'll reprogram q10 for open source?

Isn't there any hope that q10 would get open source?

Praneeth

love it! b school essays here I come! 🙂

:S

Jeremy

Thank you. This is extraordinary. For those of us out there who are more interested in writing than programming this is Manna from Heaven.

Regards, Doc.

Jan – queenofkaos

I just downloaded it and tried it out, I can only say that it's amazing. Thanks so much for sharing this with us. My kids came in and said, how can you type so fast? The typing noise I am sure actually made me type faster, because it's fun.

And no distractions really make a difference. I ignored my email ding and just got the article finished. And I love the timer feature.

I forgot to set it but I will be using it. So many fun features. Great new productivity toy!

Jan – queenofkaos

This is going to sound like a stupid question, but does this mean that the majority of you write your blog posts in a text editor first?

It makes good sense so that you will have a copy on your hard drive, but I usually just write directly into wordpress unless of course the article is to go somewhere else.

I am going to try out this program though, it looks really interesting.

The change alone could spark some creativity!

Thanks for the info and also, I really enjoy your blog. Always good info here.

Ella

i recently bought an eeepc, which has Linux on it, so i can't run q10 either. but today i went looking on the net for a way around it, and apparently you can run q10 in linux, if you run it under a program called WINE.
i am going to try that, so if you are interested i can tell you how it went. just send me an email.

Jeremy Visser

There have been a few suggestions for Linux already, but one I am interested in is PyRoom, which is written in Python.

An architecture-independent .deb package is available for convenience.

Egonitron

Meh, I've been a big fan of Zoho Writer lately. have any of you tried that yet?

daniy!

I never heard about Q10 before and how does it serves only a green text on a black background. The simplest application that serves such function is notepad. If I need no distractions when writing for ideas, I just open the notepad, maximize the window, and autohide the Windows taskbar, so I won't discover any distractions there. It's just me and the letters. Oh… with several menus above…

Louis Liem

Dark Room functions just the same. Plus, it can change font colors 🙂

Raphael Stolt

Daniel nice reminder for a kind of tool I totally forget to care about. You might also want to check out this blog post, describing how to utilize Word as a full screen word processor. And there is also a web application available, but as I'm on Mac I guess I will give WriteRoom or Scrivener a shot.

Again thanks for reminding me!

Matthew Crist

If you're on a Mac, you can use Writeroom. It's great. You can also tell other applications to edit text in Writeroom, so you can use it for everything.

Tim Wilson

I'm on linux and I use jdarkroom. Works well but doesn't have the typewriter sounds I'm afraid (as far as I can find anyway)

Inge Janse

That's bloody gorgeous! I'm so going to use this at work and at home. Away with distraction!

The first thing I immediately noticed is that I type not only less often distracted, but also way faster (ie more keys per minute and less errors) in this tool than in any other word processor, including the minimalistic Google Documents. Could it be that the lack of distraction (Windows file bar, system tray, blinking stuff) allows me to assign more cognitive effort to the core process of writing?

It makes perfect sense that I don't get distracted and can continue writing, but I wouldn't have guessed that the writing itself would also get better.

Again, thanks!

Rajaie AlKorani

@Eli, yes, it has a spell checker 😀

Vishal

I was very much happy, while reading the description, but the last line Q10 only works on windows disappointed me. I use linux, my Windows partition is full of viruses. Helll..

Eli

I'd definitely give it a go if it has a built-in spell check?

Martin

I've also used DarkRoom (

Tenth Blog

@Gerrard, yes it can be changed. just hit Ctrl-P

Thanks for this post. I wonder if someone could develop something like this for wordpress. This is a neat tool.

SEO Genius

Thats a software i have never ever considered yet i am always being distracted. I am just planning on writing some articles now so i shall download it and give it a try.

Thanks

Rajaie AlKorani

By the way, in case anybody doesn't find how to change the settings, just press f1

Daniel Scocco

@Kanka, I will try pico. I tried VI, but it has unnecessary stuff that complex the life of someone just wanting to write text 🙂 . Thanks for the input though.

Rajaie AlKorani

Looks really good, I'll be sure to give it a try, thanks for sharing!

Kanka

For Linux:

Assuming you're using a GUI, press ctrl-alt-F1 to go to a terminal screen. Then, run VI or if you have it, pico. Pico works like you would expect a normal text editor too, basically; VI has a bit of a learning curve.

Gerard

Wow.
I'm gonna check it out. Wonder if font color can be changed..
Comments are closed.