Nice Idea From the Finance and Investing Niche
Most of you guys only know my work on this blog, but I also own websites in other niches. The finance and investing niche is one of them. I own a site called Learn Gold Coins, which is a complete guide for those who want to learn about gold coins and investing in gold.
The interesting thing about having sites in different niches is that you can learn tricks and strategies from one and apply to the others. For instance, recently I started using a plugin from a network of investing sies (called Wikinvest Wire), and I was surprised by how efficient the model they created is.
Basically you need to apply first, and only sites that are relevant to the network and have quality content get accepted. Once accepted you'll download the plugin (for WordPress, Blogger or whatever blogging platform you are using) and install.
And here comes the cool idea. Once you install the plugin it will start working immediately, inserting at the bottom of your posts a section with links to related posts on other blogs participating on the network. Here's how it looks: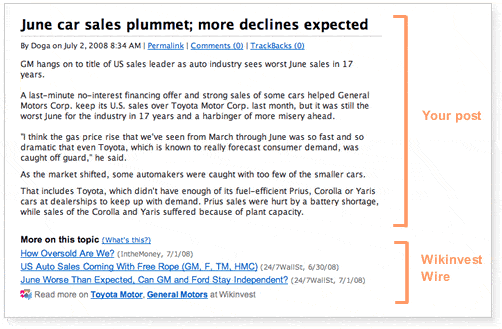 Why is this a cool idea? Because it ensures that members will not try to cheat the system (by hiding the links or moving them to a different section, for example), and that each member on the network will get an equal share of exposure.
I have seen many blogging and site networks in the past, and even joined some of them, but none worked well exactly because members could cheat the system, and the exposure each member would get from the network wasn't equal. The system Wikinvest Wire uses solves this problem.
"Cool, but I don't have a site in the finance niche so I can't join that network." That is not the point of this post. The point is to share a structure for a blogging network that really works. Crafting a similar plugin wouldn't be too hard, so you basically could start your own network on a different niche using the same structure.
I for one am considering to do it.
Browse all articles on the Promotion category
6 Responses to "Nice Idea From the Finance and Investing Niche"
doug_eike

This is an interesting idea! I've wondered about the fairness of our Facebook Group, mostly because the traffic on my blog does not indicate that all of the members are living up to their end of the bargain. I am only familiar with basic html and css, so I am far from ready to design a WordPress plugin, but the concept is intriguing. Thanks for the tip!

aswin

Interesting one
One way of link exchanging 🙂

Daniel Scocco

@Glorious Blogger, more link traffic exchange.

Glorious Blogger

So, it is some sort of link exchange?

Daniel Scocco

@Cleber, yeah the plugin is supposed to increase your traffic. It might bring some SEO benefits too, but not sure yet.

Cleber Lusa

It's an interesting idea.

My site has some content about finance, maybe I'll join it.

And what are the main benefits?

Free traffic fo sites that are using this plugin?
Comments are closed.