Grab Your Free Report: Business Mistakes to Avoid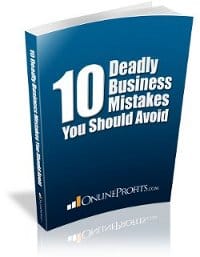 Today we are releasing a special report on the Online Profits website titled 10 Deadly Business Mistakes You Should Avoid. It is completely free, and you just need to sign-up for our newsletter to download it.
The report highlights the 10 most common mistakes that lead offline and online entrepreneurs to failure. It also comes with some real examples to illustrate the points. I am sure you guys will like the information there.
We are releasing it to promote the upcoming launch of the Online Profits training program, scheduled for January 18. The report will give you a good idea of the kind of material we offer on the training program (it was derived from one of the lessons, after all).
The Contest
In order to celebrate the release of the report I'll be having a contest giving away 10 free memberships (worth $400 each) to the Online Profits training program. If you wanted to join but is short of cash, this is your opportunity.
All you have to do is to download the report and write about it on your blog or website. It doesn't need to be a positive review, so you can even say it sucks…. Once your post is live just send the URL to daniel@dailyblogtips.com and I will add your entry.
I will draw the 10 winners on Friday 15 and post their names here on the blog.
Update: I did the random draw using Random.org, and the 10 winners are:
adesojiadegbulu.com
philfaqs.com
rapidaffiliatecash.com
86blogger.com
roslihanip.com
newbielifeline.com
dudutomaselli.com
thetruthway.net
bizdharma.com
kanjihacks.com
If you are among the winners I will get in touch with you shortly.
Browse all articles on the General category
26 Responses to "Grab Your Free Report: Business Mistakes to Avoid"
Daniel Scocco

All the winners should have been contacted by now. If you have not check your spam folder or get back to me via the contact form.

Dudu Tomaselli

Hi Daniel,
Any news about the "I will get in touch with you shortly"? 🙂

UK SEO company based in Manchester

This is a very good guide for avoiding making mistakes. But i believe sometimes we need to accept that some good wisdom is acquired through experiencing failure.

metalpigs

Thanks! Just downloaded your report about the 10 Deadly Business Mistakes to Avoid. =)

Sheila Atwood

Thanks for the report and your newsletters.

I have posted on my blog.

Sheila

Sheila Atwood

Thanks for the report and for your newsletter.

I am proud to about it on my blog. My post went up today.

Sheila

Asif

I have downloaded it and have mentioned it to my subscribers

Nezine

Seems an interesting offer. I will make sure to download it and give it a try.

I am not so lunck in drawing but its worth the try.

freeblogger

This is cool. I erlier did a post on my blog titled Hot Onlline Business Ideas. I believe your post coupled with mine will help people understand business and the mistakes to avoid.

I will join the contest by adding this on top of the said post. As soon as i do that i will send what you need to your email address

scheng1

"Deadly" seems a bit strong to describe mistakes in business. Fortunately, not many businesspersons end up "dead"

Shirley

Great Contest, Dan, I'm going to read your book and know the 10 mistakes so that I can avoid them and apply what I'll learn to my internet biz career :).

Melvin

great report.. I have downloaded it and am looking forward in learning from it..

Chester

This is a great book for those people who keep on asking where theyre going wrong in their businesses. But, it is more highly recommended for people starting up. It is important to know which mistakes to avoid.
Thanks for sharing this!

Eric C

@ Daniel – I'll be honest, I usually never download reports and such, just because it feels like things like these should be free. Yet… I'm going to download your report. For one, the topic seems fascinating, and you've given so much away for free I feel like signing up for a newsletter isn't a problem.

Only bummer is that repping your product on my website makes no sense because it would be off topic. anyways, good luck with he launch.

@ Roberto – Gotta disagree. The web is the new platform. Everyone needs a web presence, for the most part. Making money is just one part of the equation.

You are right on the profitability going down though…

ay

thanks for the report. it is insightful and rich. thanks again

Agent Deepak

Thanks for the opportunity. I have downloaded the report, I will read it ASAP.

Emz@IndoTravel

It's time to know my knowledge about business. Well, I'm going to subscribe and get your ebook!

Grateful Al

First:

To Roberto – have you never heard of a sub-niche?! They are basically unlimited. Don't be a little fish in a big pond. Apply yourself to be a big fish in a little pond. Find YOUR voice, don't be afraid to be yourself. If one tries to compete with the 'masters of marketing' already entrenched with huge budgets (ie. make-money-online and other saturated markets) you will be disappointed, discouraged and over-whelmed.

Proper business principles online and in the brick & mortar world will ALWAYS apply and will lead to sustained business. Sharks will always be prowling for the newcomers and will prosper; hopefully due diligence is applied first and some research before one invests in ANYTHING. (Also learn to 'back-out' of any sales page first and see if you don't get substantial discounts.)

Thanks for all you do Mr. Scocco.

Roberto

I do appreciate all your posts, because they are always worth the time reading. Especially this one, because it may be applied to all businesses, not only online ones, and also because I have found there many of my past errors.. 🙂

Anyway… telling that everybody can achieve results, provided that he/she has a good idea, works hard and follows best practices, it's a bit misleading (IHMO). In my experience, when something becomes available to anyone, it has a commercial value near to zero and cannot be used anymore as a competitive advantage.

From this perspective, the only real market opportunity in such a filed is to sell perspectives to newcomers: as example, the only blogs that work are meta-blog (how to make blogs), the only websites that work are meta-website (how to make websites), the only web-marketing that works is the one pretending to teach people how to make money on the web.

For me this is an artifical market, that will produce incomes until new people will enter and will trust the experts. When the truth will be clear (and it will also for web 2.0, as it happened for the dot.com companies) people will realize that it is not enough a good idea with good/strong will to succeed. But until then, experts will have earned enough…

Among all experts, at least you tell clearly that the success is not ensured. But it seems like the "AS IS" license of commercial software: you pay to install it, but if it harms your pc the responsibility is yours and not by the producer.

I tell this without polemic purposes: just would like to say that attending those courses is fine, but people should not expect to make money by use of principles learned there: they can just enlarge their knowledge. Making money is a different matter.

Best regards
Roberto

Raviaa

Good. And thank you. I'll read it right away…

I guess the tips inside could be adapted to a blogging related business too, right?

Chris Peterson

Hi Daniel thanks for giving chance to know exact mistake in offline and online.

Generally we have don lot of work in offline and online but we ignore minor mistake where we loose our business and visitor.

But your book will remind to reanalyze again. It's really useful for who those are new and old in that field.

Kristoffer

I'm planning to write about DailyBlogTips.com soon on my own blog http://lakridserne.cz.cc. I'm also planning to download the report when I come home. Great website… Thanks.

mohsin

thanks for the report, I seems quite promising and the offer is impressive too. Let's see what I can do to participate in the competition.

Firas Steitiyeh

I didn't last year, although I have paid to attend the course! it's AMAZING! I just wannna try to win this year heheh

I hope so!

Best,
Firas

Daniel Scocco

@Igor, glad you like them. I sure try to put out only valuable material, even when promoting a product or service like in this case. Sales pitches are boring.

Igor Kheifets-Mastermind Internet Marketing

I have just downloaded the report, Daniel, thanks.

Your stuff (newsletter and blogs) are always
worth the optin/money, so I will probably blog about
this too.

Igor
Comments are closed.