FreshDrop.net: Great Resource for Expired Domain Names
Just as thousands of new domain names get registered every day, thousands get dropped by their owners (either deliberately because they lost interest, or because they forgot to renew the domain in time).
Purchasing those expiring or expired domains might be a good deal. It is not impossible to find good domains (i.e., short and easy to spell) that will already come with some PR and with hundreds (if not thousands) of backlinks.
How do you go about finding them, though? FreshDrop.net is one of the best places on the web to do so.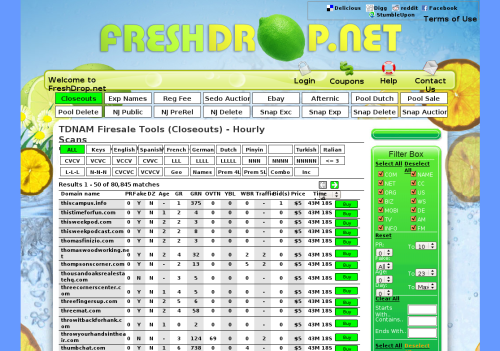 The website presents on a single page a list with the expiring domains, their PR, whether the PR seems to be fake or not, the age of the domain, whether it is listed in Dmoz or not, the number of results in Google for that domain, the number of backlinks as calculated by Yahoo! and more.

As you can see it is just a matter of deciding what parameters interest you and searching out. You can also filter your research only on specific auction sites (e.g., Sedo), or select the characteristics that you want to have on the domain, including number of letters, extension and so on.

Definitely worth a try. I already purchased three domains via this site.

Update: By taking a look at the comments I realized that maybe I didn't made completely clear when you should use this service. If you are looking for a brandable domain for your next big blog or website, this is probably not the best place to go. Expired domains are good when you plan to make niche websites, which are smaller and more dependent on SEO, because they will already come with some PR and preferably with a good amount of link juice.
Browse all articles on the Web Tools category
19 Responses to "FreshDrop.net: Great Resource for Expired Domain Names"
medyum

Very cool tool, thank you.

Rosario

Thanks a lot. i been searching all over google and finally found a great resource with DBT itself. i must use our search feature before using google search hereafter.

papia

another similar site is drophunt.com. very helpful as well.

Mike Collins

Wow, I can't believe I never heard of this site before. Thanks for sharing…it really is a great resource. Hopefully I can find a couple of good expired domains.

funny pic

Thanks man, i love dailyblogtips.

DennisSC

I remember during the first dot-com boom when rents skyrocketed in the San Francisco Bay area, people we're actually trading domain names for rent.

Personally, I have this dream where I'm looking on a site like this, and I see "amazon.com." Of course, someone else beats me to it. Dang.

bagus

yeah it will cost you $4.99 for one year subscription

Daniel Scocco

@Melvin, you need access to the tdam market, yeah. The godaddy membership for that costs $5 per year I think.

bagus

yeah..I've used their service for quite a while
I think they're the best and the most complete free search expiring domain service so far. You don't need to sign up to search their database what makes them so great 🙂
Well, you can find some great domain with high PR in there and then optimize it a little and sell it again at higher price 😀

Melvin

But Daniel you have to pay for a membership right?

Matej

Thanks Daniel, I thought so just wanted to make sure

Daniel Scocco

@Destination infitiny, yes you could, though it won't give you any real benefits unless the first domain has type-in traffic. I will try to answer more in length on the Q&A next Friday.

@Todd Andrews, I renewed it for 10 years 🙂 .

@Shoto, you don't even need to register there to buy the domains. I believe you might need an account on some registrar that words on the domain auction market.

@Matej, most of those domains are auctioned by the current registrar if the owner decides to let them go. So "time left" is for how long the auction will run.

Matej

What's that "Time Left" ?

SEO Genius

Dang that seems awesome I used to use Godaddys own service cant recall the name, but this seems great.

Will definitely give them a go.

Arjen

Cool, thanks!

I'll definitely try this out in the future.

Having a good domain is so important, and my current domain isn't that good.

Shoto Azikuri

So you can register and buy or sell domains?

Very cool tool, thank you.

Todd Andrews

When does dailyblogtips expire?

Destination Infinity

Thanks for the interesting info, you always come up with different ones…. BTW, can I have two domain names pointed to the same blog? Like, the visitors may click at either and still be directed to the same blog? Blogging q&a might have been a better place to ask this question, you could choose to answer it there though. Thanks,

Destination Infinity

Blogging Millionaire

That is a pretty cool web site. I'll have to look into it more and also read some more reviews from other people. I'm happy to read about this web siteat this blog first.
Comments are closed.