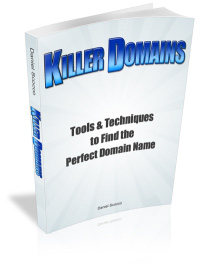 My first ebook is getting launched today. It is titled "Killer Domains: Tools & Techniques to Find the Perfect Domain Name."
If you tried to find some good domain names lately you know how disappointing the experience can be. It feels like all the marketable domains are already gone. And the problem is that the success of your website starts with the domain name.
If you use a structured research process with efficient tools and techniques, however, I am sure that you will be able to find dozens of good domains that are still available, or to find registered domains for sale that will represent an excellent investment.
Here is the table of contents:
Introduction
The Process of Researching Domain Names
Prefixes and Suffixes
Tools and Resources
Registering and Managing Domain Names
The ebook has 55 pages, 30 of them for the content and 25 with the huge list of prefixes and suffixes (over 400). There is also a link included where you can download an Excel spreadsheet with the prefixes and suffixes to work with them more efficiently.
My experience with domain names
I started developing projects on the Internet more than three years ago, and on that time frame I needed to research and buy dozens of domain names. On the beginning I was not so sure about what I was doing, hence why some of my domains are not that good (DailyBlogTips.com, for instance, has 3 words and is quite long).
Over the time I learned some tricks and became familiar with the best tools around, so the quality of my domains improved as a consequence. Today I have a good portfolio of domains, probably worth over $20,000.
Some of the latest additions to that portfolio are TechCult.com, DailyBits.com and Freaked.com.
Money back guarantee
I am pretty sure that the ebook will be worth the $17 for the buyers. A good two-word domain name sells easily for $100, so even if you manage to find just one domain using the tools and techniques described you already recovered the money. If you end up finding a cool domain for your new website or blog, the ebook will probably be even more valuable to you.
That being said, if after reading and trying to use the described methods you arrive to the conclusion that this is not what you were looking for, just shoot me an email and I will refund your money.
Update: The eBook has been removed from the market because I will be using the information that it contained inside a larger project.