11 Factors to Consider When Designing Your Blog Theme
Changing themes is very common for bloggers. In addition to the option of changing from one free theme to another, many bloggers develop their own theme, make some customizations to an existing theme, or pay someone else to design one for them. Even if you are paying someone else to do this for you, you should still be very involved in the process to insure that you get the best possible end result. Regardless of whether you are doing the work yourself of having someone else do it, here are 11 factors that you should consider to create the perfect theme for your blog.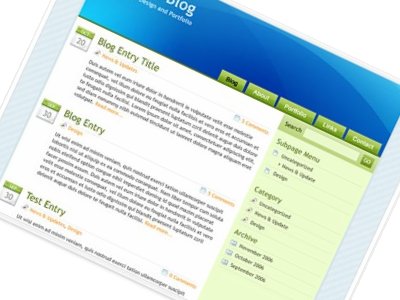 11 Factors to Consider:
1. Complexity of the Re-Design
Do you want to completely change the look of the blog, or would you like to keep some elements of the design so that the blog is still recognizable to visitors? There is no right or wrong decision here, it just depends on your situation and what you need to accomplish with the re-design. Some bloggers are happy with the current look and just interested in freshening things up a bit and making some improvements in certain areas. Other bloggers are willing to completely strip down the current look and go for something totally new.
When Chris Garret had his blog re-designed several months ago, he kept the look very much intact and just came up with a more modern-looking theme. On the other hand, when Darren Rowse had ProBlogger redesigned, the result was a vastly different look. While there is no right or wrong method, you'll need to decide this at the start of the design process to get things headed in the direction that you want.
2. Brand Establishment
Does your blog already have an established branded image? If so, you may want to keep enough elements of your current design to retain that image. You don't necessarily have to be an A-list blogger to have an image that is established in the minds of your visitors. If your blog is growing and your audience has become familiar with the brand that you have established, you should at least consider how a change in design could affect this.
3. Colors
Some bloggers choose to keep the same color scheme when developing a new blog theme, and others opt for something totally different. This also goes back to a decision of staying consistent with the image that you have been building, or going for a complete overhaul of the design. If you're not happy with your current color scheme, it's probably a good idea to make some changes. To make this process a bit easy, you can take advantage of resources that are available like the palettes at COLOURlovers or the sample schemes at ColorSchemer.
4. Featuring of Best Content
Most bloggers like to promote their best work by making it easy for visitors to find. This helps the blogger by showcasing the most popular posts that will help to increase pageviews and subscribers, and it helps visitors by making it easy for them to find the most useful information on the blog. There are any number of different ways to feature your best work. Here at Daily Blog Tips Daniel has a list of popular articles in the right sidebar, and many other bloggers also use this approach. Others like Courtney Tuttle and Caroline Middlebrook effectively use the area above blog posts for this purpose. Which method you use is up to you, but this is something that you should think about before you start to work on the layout of your blog so that you have adequate space.
5. Monetization
Banner ads are obviously very common on blogs today, and paid text links are also pretty common. Before you develop the layout of your theme, be sure to consider where these ads will be located. In order for the theme to maintain an attractive appearance, the ads will need to fit nicely into the design. You'll need to take into consideration the size and dimensions of the banner ads that you want to sell (125 x 125 is the most common right now) so that the design will work accordingly.
6. Readability
One of the most important factors of blog design is readability. The whole purpose of a blog is to provide content for visitors and subscribers to read, so naturally you will want to make this as easy as possible. Readability can be affected by elements like background color, text color, contrast, fonts and typography, spacing/whitespace, etc. The elements that you are adding to your blog should not detract from the visitors' ability to read the content.
7. Subscription Options
In order to maximize the number of subscribers that you receive you will probably want to include links to your RSS feed and to your email subscription in a prominent place on the page. This is important to consider before the layout is developed. Where do you want these links and icons to be placed? Be sure there is an appropriate space allocated for them in the layout.
8. Ease of Navigation
Visitors will enter your blog from numerous different pages, and most of the time they will not come through your front page. They may find one of your posts through a search engine, through a link, or through social media.
9. Full Posts or Excerpts?
At some point you'll need to decide if you want your front page to display full posts or excerpts (Daniel wrote an article on the advantages and disadvantages last year). While this doesn't need to be the first decision you make, it can have a dramatic effect on the look and design of your front page. Many blogs that display excerpts use custom excerpts to really improve the look of the home page. See PSDTuts for an example of a blog that has a great-looking front page using excerpts.
10. Social Media Integration
Most bloggers really on social media to send a portion of their visitors, and many attempt to optimize their pages and posts for social media traffic by adding buttons, widgets, or links to specific social media sites. Again, this is something that you will need to consider when deciding on a page layout so that the social media elements look like they belong on the page and so they attract the attention of visitors. First, you'll need to decide which social media sites you want to target, and then you'll need to find the buttons or widgets that you want to use. Another option is to use a general widget like Share This .
11. Load Speed
Many of your visitors will have a short attention span, and if your pages load too slowly they may leave before ever seeing your blog. Adding too many widgets, plugins, large images, video, etc. to your blog can slow your pages to a crawl. You'll need to find the optimal point where your blog includes everything necessary but not anything excessive that will slow down the page loads too far. Self SEO has a free page speed test that you can use.
Browse all articles on the Blog Design category
36 Responses to "11 Factors to Consider When Designing Your Blog Theme"
Posiciona tu blog

I really liked this post. I will try to implement these advices.

Stefanos

I will focus on some very important aspcects that one should keep in mind when designing a blog:
• Direct Communications
• Brand Building
• Competitive Differentiation
• Relational Marketing
• Exploit the Niches
• Media & Public Relations
• Reputation Management
• Position You as Expert
• Intranet & Project Management

moses kinuthia(kenya)

Waoo! they are very nice tips that can be used… keep up… smart work..

gendut

very cool tips……great listing to be consider to change and redesign the theme……thanks

wordpress templates

Hi,

Nice articles, its very useful to design new sites. Just i have one doubt, Designing the homepage in flash will affect page rank.

firmanwy

The most common problem is load speed. It can make user feel boring if await along time to read the blog.

Valerie

Thanks for the tips. I am in the process of designing a blog on care givers to go with my website. I need all the help I can get. Tips number 7, 9, and 10 were particularly helpful.

Peter Knight

Good post. I'm quite new to blogging and programming in general. One of the first things I found was the bewildering assortment of themes (and, under WordPress, the extraordinary ease of experimenting.

Your tips here are very useful (as always, this whole blog is)
Thank you!
🙂 P

g.zhen.ning

this is a great article!

Mosey

Is there an easy of telling whether the colour scheme of one's site (or brand) is part of the image of the site? I'm still racking my brains trying to figure out if I should go for a lighter colour scheme.

At the same time…. horizontal or vertical navigation?? Sigh 🙂

Vinh Le

Good article, the topics you mention are definitely worth considering when designing a theme. I would just add a couple things to consider when designing your blog design such as how much time you are willing to invest into it, while more time won't necessarily equate to a greater design, it will help. Knowing how much time you are willing to invest will help you level your expectations so you don't end up getting disappointed in your blog design when you could only spend a few hours on it a week and was hoping it would be the best blog design in the world. It also has the added benefit of appreciating the improvements you make to your design.

I believe even small improvements to your blog design over time will take it very far, so you don't need a radical redesign to be released all at once a few months down the road. You can make small changes to improve usability, readability, or color week by week. Good luck to everyone who is designing their theme, it is a hard, but very rewarding process.

ChrisJB

Steven,

I've been getting an error when I try to comment. Can't remeber exactly what it was now (I made the comment on a different computer), but worth looking into.

Something like, …something …doesn't exist or something.

Steven Snell

Chris,
The link to PSDTuts is not supposed to go to a specific article. I was just pointing out the look of the excerpts on the front page. The link above that is to a specific article.

Giftcardblogger

Very timely post. I am a relatively new blogger and so I did not put a lot of thought into designing the blog. But once it was up and running, I began to notice things that were either not working or were placed in the wrong place. I also began paying attention to the user experience and how that can be enhanced to improve time spent on the site.

I am now doing a redesign to incorporate all the feedback and lessons learnt. Hope others will not have to learn these painful lessons.

ChrisJB

Any chance of a direct link to that PSDTuts article (point 9)?

Thanks

Charlie Gilkey

Great post, and timely as I'm currently in the process of researching the design of my blog, though it won't happen for a few months. I think Readibility is trumped by Ads all too often on blogs, so much so that people have to navigate through ads to get to the content. Great tips!

hoberion

hmm, I cant remember seeing the design of this blog since I use google reader all the time (ah, it seems scoble just shared this). You might want to include more rss makeup tips…

but the info is very valuable, thanks for sharing

Stephanie

Some great thoughts for me as I think on redesigning some of my blogs. There's so much that could be done to improve the overall functionality with a solid design.

OldSailor

I agree with all your 11 factors. Important factors are load speed and readability. Good work.

Karl Staib – Your Work Happiness Matters

My two sense would be to be sure that you want to make a change. You may be surprised by how many readers like your blog theme. Just because you are getting sick of it, doesn't mean they are. So check in with them and see what they think. You may be able to put more time into creating valuable content.

Great article!

Armen

As usual, great post Steven.

Steven Snell

Caroline,
So being involved in the process definitely paid off for you. I think too many people rush into the design without really considering many of these factors and then later something doesn't work quite right.

Michal

Well, I prefer simple, non decorative design. Not many colors, with easy navigation. So many blogs are so difficult to navigate, sometimes you even cannot understand what is it about.

Caroline Middlebrook

Yup when I changed my blog theme I was very clear about what I needed from my new design – I wanted the design to be able to support the common 125×125 ads and I also wanted one of those large three section headers so I could showcase the best content above the fold.

There are a lot of lovely looking designs out there (particularly WordPress themes) but they don't necessarily support the above criteria very well.

Thanks for the mention 🙂

Matej

lol, I didn't knew that I read so fast 😛 really 2 minutes? cccc

Daniel Scocco

That was fast Matej, I published it 2 minutes ago :).

Matej

I always enjoy reading your posts under " Blog Design" category. Great and useful post as always, thanks!
Comments are closed.