Wikio, News Aggregator and Top 100 Blogs
I will be frank here, I think that the marketing rep of Wikio.com emailed me about 10 times on the last month to let me know about their new blog ranking system (as you can see perseverance pays off…). But I am not writing about them only in the hope of stopping the harassment: I also think that they have an interesting service.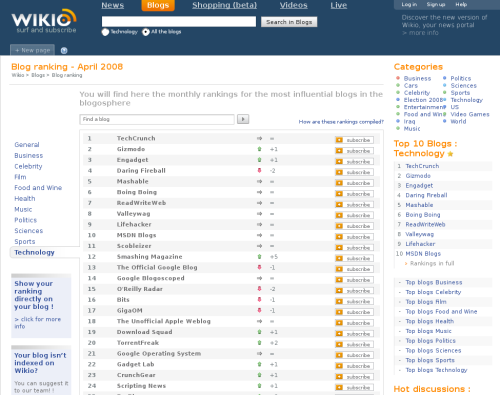 Wikio is a kind of news aggregator, but with an interesting slant: surf and subscribe. That is, they feature a bunch of news and stories from around the web, but they also give you the possibility to subscribe either to local RSS feeds or to the direct feeds of the sources.
The Top Blogs section is particularly useful. Basically they have a Top 100 list for several niches, from business to celebrities, from technology to sports. If you are trying to find some quality blogs on a certain topic, for instance, you could go there and browse around, and even subscribe to their RSS feeds directly from the Wikio website.
Here is how the calculate the rankings:
The position of a blog in the Wikio ranking depends on the number and weight of the incoming links from other blogs. These links are dynamic, which means that they are backlinks or links found within articles.

Blogrolls are not taken into account and Wikio only counts links from the last 120 days. We thus hope to provide a classification more representative of trends in the blogosphere.

Moreover, the weight of a link depends on the linking blog's position in the Wikio ranking. With our algorithm, the weight of a link from a top blog is greater than that of a link from a blog that is less well ranked.

Our rankings also include Top Blogs for several categories: Technology, Politics, etc. New categories will be added on a regular basis.
Browse all articles on the Blogosphere category
12 Responses to "Wikio, News Aggregator and Top 100 Blogs"
Daniel Scocco

Hey guys, yeah there is a point on the fact that they might just ge "getting" while not "giving" back to bloggers.

The Top 100 lists are not that bad though, especially for finding new blogs on specific niches.

Susan

Sometimes I wonder if these type of sites just "use" bloggers like a few other sites I know of!! I have not heard good thing so far about them needless to say but thanks for the information

Renato

Daniel , you should not have promoted them. They are so lame as the stories are embedded into frames with their advertising, so there is no pr juice or direct links to the original stories what so ever. Completely content stealing.

To the dumb person with his online money tricks site:

Stop spamming your website here, i did not come here to see your shameless promotion.

Mehmet

It is good you to keep us updated with this kind of websites. Maybe as another post, would you be interested to share your RSS list? Or a post, that will be listing websites that you follow?

Michael

I think that it is getting to the point where we have waaaay too many news aggregators. My favorite news aggregator is my RSS feed reader and so far no one (Digg, Delicious, RSSmeme, etc) have been able to aggregate news better than I've been able to.

team ray

i like this more than technorati

Daniel Scocco

Sorry forgot the links.

Rhys

I got a similar e-mail and did put the badge on my blog.

The chap seemed a nice guy too and I had some screen real estate free too.

Not sure if I agree with the fact I'm 75th biggest tech blog in the UK though.

Sumesh

I'll go through it alrighty, but I think you forgot to link to them (or was it intentional?)

Ben

I'm not to impressed with this site. I signed up right after getting and e-mail and the first week my ranking was 160 something. The following week it dropped down to 10,000 somethings and has stayed there ever since.

Not sure if it id something that I'll stick with.

Rich

I guess Wikio.com's marketing rep didn't do that good of a job…since you don't even link to their site in your entire posting!

Hafiz Dhanani

Another news aggregator? I think we have enough of those. In any case I'll check it out.

There might be some blogs I haven't come across.
Comments are closed.