Use a notebook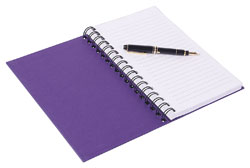 Always have a notebook aside to your computer, and jot down notes whenever you come across interesting posts, quotes, or when ideas pop into your head. I used to be really stubborn regarding this tip, it was like: "Come on, I sure can remember that, no need to write it down". Then after a couple of days I would go: "Man, what was that nice idea that I had for a post?".
Electronic notebooks or online to-do lists are fine if you are used to them, but the old pen and paper represent the most efficient solution in my opinion. There is a little story from a professor that asked his classroom what method they used to keep track of day-to-day information, and about 80% of the classroom answered that they managed that information with electronic devices such as PDAs, mobile phones or laptops. At the end of the lesson the professor wrote on the blackboard that the midterm exam would be postponed by one week, and 3 out of 4 students grabbed a notebook or a scrap of paper to write it down…
Browse all articles on the Blogging Basics category
22 Responses to "Use a notebook"
Louie Sison

good old handy-dandy notebook does the trick. Classic tip but always works its charm.
thanks.

Daily Good Tips

ask the readers by polling, what's idea they want for tomorrow.

Bang Kritikus

Use handphone to do list

writerx

It is a matter of training, we are used to the old method of pen and paper, which seem easier at first, however, when you start accumulating a lot of notes you will see the value of the electronic method, there is a vast difference, the advantage with electronic documentation is, notes are searchable, the other problem with pen and paper is one of legibility believe it or not some people have trouble reading their own handwriting especially when notes are taken hastily, typing on a Blackberry is far superior to writing on paper, I have broken myself to resist the pen and paper thing, lost my notes too often always have my BB hardly ever have a pen and notebook handy even scratch pad work I do with jarnal, and remember google notebook is more a research tool, it is not well suited for quick random notes you do that with a pda or a smartphone or fire up jarnal, Onenote or Tomboy etc. If you are around a computer, I do try to use pen and paper sometimes but I am finding most times my notes would have been better typed(no need to copy from paper if I need to insert text in another document), I am sorry for the students that grabbed the scrap of paper if they do not quickly transfer the info to a pda or something that can remind them of the change, the paper scrap or even the notebook usually fail in this regard, it is much better to discipline yourself and enter such information in something you are very likely to look back on and be reminded or that will give you a buzz.

Craig

Well, I think its true… need it to remember))

Ramanathan

Daniel, this is a great tip. I used many online tools and finally, using stickypad now. Google notebook is a flop. It takes time. I stopped using it long back. I used AT notes for sometime. Its a great tool share your scrap with friends with just IP address.

As you said, traditional notebook and pen is optimal (great usage of the word).

Thanks.

Shankar Ganesh

I agree with this post 100%.

Ramen Junkie

I've started using a notebook to keep a record of activities and information while at work. This way any followers in my position have an idea of what kind of maintainance I've done on the equipment.

I've also started "tagging" the pages by writing important keywords in the upper corner of the pages. If I'm looking for information on the Tower Generator I can thumb through looking for these keywords in the corner. Or if I want generic record for "Master Control" I can look for that. It works surprisingly well and it's kind of a neat example of technology moving backwards so to speak.

Which reminds me, that was a topic I wanted to blog about. Maybe I should find a notebook to jot down a reminder.

Lucky Balaraman

Yeah, I used to use paper but now find it more effective to use an online notepad. I'm presently jotting thing down on 'Google Documents and Spreadsheets'…

The big advantage is that I can note something down from any place on earth that has an Internet terminal. Maybe even from my 3G phone.

The single disadvantage is that Google can cancel my account at any time. To safeguard against this, maybe once a month I'll back the notes up on a DVD.

I thought of using a private WordPress blog on my own domain for noting things down, but creating multiple documents on it seems just too cumbersome.

Cheers

Lucky

///////////////

Daniel

Plain Jane, the link is OK, thanks for commenting.

Plain Jane Mom
Chris M Johnson

Notebooks are definitely the way to go. While I still use a PDA to keep track of things like to-do lists and events I always have a pen and paper within arms reach so that I can write down those random and spontaneous ideas.

Daniel

Ellen, I also tried to use Google notebooks, and even tried to email stuff to myself, but the pen and paper option is optimal most of the times.

Rory, notebooks are definitely postsavers!

Rory

I love this tip. I do it already, but I love hearing it repeated.

I carry a notebook everywhere. I work outside most of the time, I have my notebook in my top pocket, or in the car, parked not far away. I am always coming up with ideas, or sentence structure, ways to write things, when I am pretty much in the middle of nowhere. The notebook is a lifesaver (postsaver, to be more accurate, and slightly less dramatic.)

Ellen

Sadly I agree with your post. I try to use Google Notebook especially when I want to refer back to a website but when it comes to writing down random notes such as a musical artist I want to look up I revert to pen to paper. It's just easier when a pad of paper and pen are right in front of me whereas I have to open Google Notebook, find the notebook I want to put the note in and then type it in.

Dawud Miracle

Good-old-fashioned paper works great. Especially when you're away from your computer.
Comments are closed.