How to Get a Custom URL for Your Facebook Page in Five Easy Steps
Does your Facebook page's URL look something like this?
www.facebook.com/My-Facebook-Page/303188632181849
By default, your Facebook page's URL is made up of your page's name plus a long number. If you want to put the URL on your business card, or spell it out over the phone, this is obviously not ideal.
The good news is that you can create a custom URL (sometimes called a "vanity URL") with a username and no number, like this:
www.facebook.com/myfbpage
In the past, you needed 25 likes to do this, but you can now do this at any time – even when you're setting up your page.
It only takes a couple of minutes to secure your custom URL, so do it today if at all possible: the longer you delay, the higher the chance that someone will take the username that you want!
1. Login to Facebook and go to your page. (You can find it in the left-hand column of your Facebook home page, under Pages.)
2. At the top of your admin panel, click "Edit page" and select "Update Page Info", as shown in the screenshot below: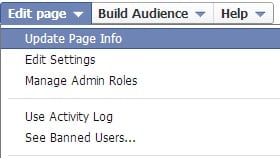 You'll then see this at the top of the Page Info tab: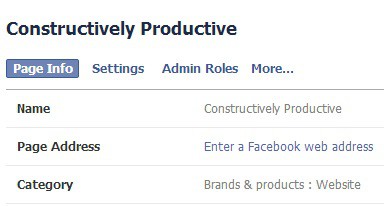 3. Under "Page Address", click the "Enter a Facebook web address" link, then click the new link that appears – "Create a web address for this Page?"
4. Your page should be automatically selected from the drop-down menu. Enter the username you want and click "Check availability". You'll need to make sure your username fits Facebook's guidelines.

5. Make sure you're happy with your username (and double-check the spelling) before confirming it. Once you're sure you're happy, click "Confirm".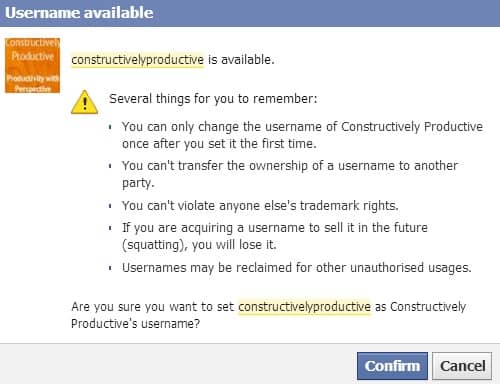 And that's it! You should see this confirmation message:

Your old URL will redirect to the new one, so you don't need to worry about updating your previous links.
Have you had a custom Facebook page URL for ages, or did this post prompt you to get yours? Let us know in the comments.
Browse all articles on the Social Media category
11 Responses to "How to Get a Custom URL for Your Facebook Page in Five Easy Steps"
Uju

I have just tried for a new page I created days ago and according to Facebook, "your page needs at least 25 fans to have a web address".
I just got the one for google plus after 10 fans… So pls edit your post

Ali Luke

@Shawn – I know, I was totally shocked 😛

@Shahzad – Hey, you're one step ahead of us! 🙂 I actually have a couple of guest posts in the works from an SEO expert who can cover more advanced topics with us — we're planning to have one about the Google Hummingbird algorithm changes, for instance.

Are there any bloggers you'd like us to bring on board, or any particular topics you'd like us to cover? I'm really open to suggestions! You can reach me at ali@dailyblogtips.com if you'd rather email than leave a comment.

(That goes for everyone, not just Shahzad, obviously; please do send your suggestions in.)

@Mariusz – glad this helped!

Mariusz

Thank, I had a lot of problems finding this since Facebook changed a lot in their interface. Thats very helpful.

Shahzad Saeed

Hi Ali,
Was expecting a strategy change since you guys conducted the survey.

How about accepting solicited guest posts like ProBlogger does instead of just being you and Daniel? It would be better if you could bring and publish some expert voices here. How about weekly case studies??

Like the name DBT suggests, we are daily readers here not occasional 🙂

Shawn Gossman

@Ali – Leave it to Facebook to make big changes and not tell anyone about it – LOL! 😀

Ali Luke

Thanks folks!

@Shawn — I don't think it's been very well publicised.

@Shahzad — Our survey showed we've got a mix of beginners and much more advanced readers, so we're aiming for a good balance of posts! We're still tweaking the balance so maybe it's not quite right yet.

Are there any specific more advanced topics you'd like us to cover? We're very open to suggestions.

Shahzad Saeed

Hmm,
This week DBT has been publishing very basic posts focusing on beginners. Is this a part of the new strategy of DBT?

Shawn Gossman

Thank you so much for creating this post, Ali! I had no idea that Facebook lifted the 25-likes requirement! I have a lot of pages on there that need their own custom url. 🙂

Hardeep

I want to say thank you about the wonderful post, really helpfull

Cheers 😉

Lakhyajyoti

Now a days, it is so simple to create a Facebook vanity url. Thanks for sharing the step by step guide.

Shyam Chathuranga

I used to grab pretty URLs for all my Facebook Pages years ago. But that was long ago before this new update…

Recently, I had the chance of using Pretty URLs in my Google+ Account and Page too. Hope Google will not charge for those URLs in the future.
Comments are closed.