Is Technorati Going Downhill?
I used to visit Technorati very often. Almost daily, now that I think about it.
Not anymore.
I can't identify one big factor that contributed to that lost of interest, so probably we are talking about several causes. Here are some that come into into my mind.
1. Technical problems
Sometime ago I started having frequent technical problems with their tracking engine. At times my blogs would not update for several days in a row. Once in a while they would also disappear completely from the system. I still could see the links to them, but if you clicked there you would get this message:
We're sorry…we don't have a blog by that name. If this is your blog, ping us so we can put it in our index!
Contacting the support center about it was a waste of time as well, I would always receive the same canned message (from a computer I assume).
2. No clear purpose
When I first discovered Technorati it was really exciting to go through the "blog reactions" page. It would allow me to see all the blogs that were linking to me, which articles were getting the most attention and so on.
Over the time, however, this feature became less and less useful. I log into my WordPress control panel several times in a day, so I can track the incoming links from the Dashboard. Moreover, as your blog grows you will find yourself with less and less time to spend checking who is linking to your blog.
So what is Technorati all about? If you read their "About us" page, here is their definition:
Technorati is the recognized authority on what's happening on the World Live Web, right now. The Live Web is the dynamic and always-updating portion of the Web. We search, surface, and organize blogs and the other forms of independent, user-generated content (photos, videos, voting, etc.) increasingly referred to as "citizen media."
Well, honestly I think that they ended up spreading themselves too thin. If I want to find blogs or article I will just use Google and not Technorati's search engine. If I want to find what is hot right now, I will probably just head to Digg of Techmeme.
3. Lack of innovations
We can't deny that Technorati pioneered the blog tracking model, and until some time ago they were in a very favorable position to shape the whole segment and keep their leadership position.
In order to do so, however, they would need to keep innovating and serving the needs and wants of their visitors in newer and better ways.
That is exactly where they left a lot to be desired. Most changes on Technorati were related to the structure and design of their website, with no breakthrough ideas or significant improvements.
Is there other evidence?
If you visit Technorati you will see many other indicators that things are not going too well for them. They are trying to bump the number of page views artificially, for instance. The list with the Top 100 Popular blogs used to be presented in single page. Recently they restructured it in 10 pages with 10 blogs on each page….
Apparently they are also struggling to sell their advertising space. Sometime ago the site only had direct advertising deals (which is the prefered advertising method for most mainstream website), and now they have Google Adsense all over the place, and several "Advertise with us" links spread through the site.
Finally, if you take a look at their Alexa rank evolution over the past year, things are not shiny there either.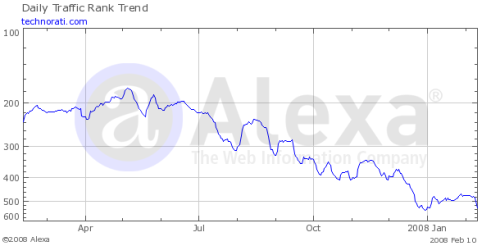 Now don't get me wrong. I really hope that Technorati manages to shake things up. They helped to promote blogs heavily in the past, and we all should be thankful for it. That being said, they need to start working harder and smarter if they are to get back on track.
What do you think? Do you still use Technorati as you used to?
Browse all articles on the Social Media category
40 Responses to "Is Technorati Going Downhill?"
Lamonte

I personally think sooner or later they will gain better activity with new features in the future :).

Bret

Funny you should write about this. I've been thinking about this general idea for a couple of months now.

From my personal point of view, Technorati just doesn't offer any value — both to bloggers listing their blogs, or to general visitors. My big question whenever I go to Technorati, "What's the point? Everything seems scattered." Okay, if I get a high enough rating, I might get noticed more; however, I've looked at my stats and I rarely, if ever, see Technorati as the referring URL. I still have a link on my site for people that want to add me to their Technorati favorites but I don't think it gets much use.

Good post.

pet

Rarely I use it.

It dosen't get more traffic for me

Ian Kallen

I understand that there's still much to do but we've been applying a lot of effort towards retooling our backend systems for performance, stability and index quality. We appreciate the feedback; we'd like the folks that are disappointed to check back as we make improvements and for everyone to keep letting us know how we can best be of service.
thanks,
-Ian
Technorati

BradBlogging.com – Increase Website Traffic With Easy To Follow Steps

I completely understand what you mean by that, I rarely even visit the site.

Imagine if you started that site and just saw all your traffic, advertisers and blog submissions going downhill…

You'd go mental!

Eli

I'm also unimpressed how they censor some blogs, such as Smashing Magazine, because (I believe) they think Smashing Magazine give out too much link love. Which they sort of do.

Did I make sense? I know they've censored Smashing Magazine, so they can't really pass on link juice through Technorati.

Alfa King

I thought I were alone. I have had the same problems you mention at 1. My blog's authority was not updating nor were the posts. When I queried I had the same automated response and that was all. The next day the authority moved by 1 point.

TzuVelli

I have tried to use technorati several times in the past but the site was so slow it just wasn't worth being their.

Tom Beaton

Maybe its was just a fad that lasted a bit longer than most? Question is what is next?

john long

aggree with madhur..but it help for goggle indexing

Madhur Kapoor

I dont use it anymore . I have used it for around a month and it hasnt sent me a single visitor .

Andy Beard

I think losing the WP dashboard link accounted for a large chunk of the drop, as did changes in the way Google rank Technorati pages (though they still get so decent search traffic)

As with many things, public perception of quality gets influenced by the influencers, and people currently look on Google as being better search results.

Technorati actually index more blogs, and index them quicker than Google based on my recent experience.
They are also offering much cleaner search results than in the past, but their search results are littered with Blogroll links, theme authors etc.

As a theme author, your links showing in Technorati become more noisy, less relevant – if only a fraction are editorial links, you are less likely to check them out.

Andrea

I totally agree that Technorati is heading to bad waters. Not having updated info is reason enough for me to not see value anymore. The rest is just extra amo to say bye bye.

I think we're all still hanging on though b/c we have some sort of twisted emotional attachment to the service. I mean, they were pioneers and we never like seeing the first become the last. We always hope they'll inspire and serve us with new tools again and again… but they just aren't.

Tanny

I never really liked it, I guess it was because of the technical problems and more, I stopped checking long time ago, I only "visit" now and then to see if there is something new

Solo Business Marketing

While editing my bookmarks a few weeks ago, I found my Technorati link and realized I hadn't checked my blog's stats on that space in quite a while, so I agree with you that Technorati is no longer of interest for daily stats and links.

The updates are woefully slow. There's no relevance on their site for me.

Ben

I had the same problem as stated in #1 and still have it. Really frustrating. On average, I only receive 1 person every couple of days from their site. So I do plan on discontinuing using them.

Not to change the subject, but I've noticed a lot of blogs no longer use Technorati tags. Are they still worth the effort? Do they still produce leads? Or, are you better off ditching them and using social networking? Personally, I have quite using the tags because I see no evidence that they provide traffic.

Jeba

Technoarti sucks!! Heavily spammed!!

Bilingual Blogger

Good to know I'm not the only one who has been wondering about Technorati. I've had no luck whatsoever trying to get a response from their technical support and after three months I've just given up. It's kind of sad how they are seem to be deliberately bringing about their own irrelevance.

stagueve

I'm using Technorati only for the backlinks service (blog reactions/authority) and like you i really hope that they'll "shake thinhs up" 😉

Rajaie

The only way I ever used Technorati was just when I added my blog to it, and that's all.
I also think that many sites on the internet are going downhill, particularly facebook, but that's a different story all together 🙂

Aaron B. Hockley

Their tag feeds quickly provide updates on specific topics. I blogged about it a couple weeks ago:

Guillermo

Technorati has been going downhill for a long time Daniel. It's time MS buys it.

Paolo Amoroso

Besides the update problems, some time ago their search results RSS feeds had lots of duplicate entries. After a number of exchanges with tech support and no fix in view, I finally solved the problem by switching to Google Blog Search.

Also, Technorati has possibly the worst, most persisting, multiple, flashing "You are the 999,999th visitor: Congratulations you WON!" ads of the whole web. Apparently, I am always the winner: what about fixing that broken counter?

Ty Brown

Which is more reliable, alexa or technorati?

Stretsh

Oh, I thought my blog was canned by them. I've had the same problem as mentioned under 1.

Only, I never got any response from them!

Daniel

Simone, that graph shows the evolution of their Alexa rank, not traffic levels.

That is, out of all the websites tracked by Alexa, how does Technorati feature?

Even if the number of people using Alexa go down, therefore, this shouldn't affect the overall rankings.

John

I find it too hard to find what I'm looking for. The search is not always relevant and all they ever seem to change is the look and feel of their website, while the core technology (as you not) doesn't work reliably.

Simone

I think that relying on Alexa to show a decrease of traffic is not a good point: seems to me like Alexa is going down as well, some might be the 2 effects combined

Napster

I rarely use it now. Lack of new and intresting stuff and quite boring sometimes.

Rajeev Edmonds

I agree to certain extent that things are not going well at technorati. I got no noticeable advantage by listing some of my old blogs at technorati. Now I prefer StumbleUpon and Twitter to spread the tentacles of my blog posts. StumbleUpon brings decent traffic to my posts within few hours after stumbling it.

Daniel, what is source of that graph that you showed in the post?

Edmonds. R.
Comments are closed.