Is it True That Long-Form Blog Posts Perform Better?
As a blogger, you spend an enormous amount of time creating content. And you want that content to succeed, right? If you're like most bloggers, though, it's possible that you've fallen into a "comfort zone" where you're consistently publishing content of a particular length.
And if this length is shorter than about 2,000 words, you may be damaging your conversion and engagement rates. There's a lot of evidence on the web right now to support that long-form content performs better than short-form content.
Here's everything you need to know about long-form versus short-form content performance, and why you should be publishing more of the former.
Why People Think Short-Form is the Answer
Today, people cruise the web on tiny screens, and it doesn't seem like anyone has time to sit down and slog through a Moby Dick-sized blog any longer. That said, it makes sense that people believe short-form content is the answer. After all, what's not to love?
While short-form content may be easy for readers to digest, it doesn't convert very well. Unless, however, you have a site with an incredibly high DA score.
If you don't, short-form content won't cut it, and you'll find yourself falling short.
Long-Form Blogs and Google SERPs
If you evaluate the top ten results in Google's search engine results pages (SERPs), you'll notice that the average content length of content that ranks in the #1 position is 2,450 words. For proof, check out this SerpIQ graphic on the topic: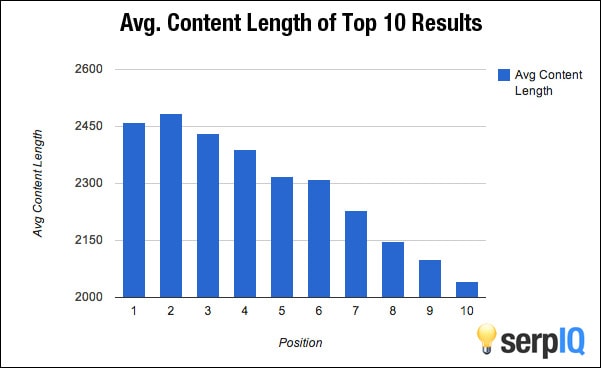 As the content on the graph moves from the number one to the number ten position in Google, you can see that the corresponding length drops, as well.
So why does long-form content perform so well? The answer is simple. In the last several years, the number of customers searching Google with long-tail keywords has increased, and people have begun to turn to the web as a primary source of information.
While some Google users do want short, fast content, others want in-depth, ultra-informative material. What's more, Buzzsumo reports that there is 16x more content out there with less than 1,000 words than content with more than 2,000 words.
Since long-form content has less competition at the outset, it's likely to rank better and find its niche of users easier than short-form content, which already saturates the web.
How to Rank With Long-Form Content
So you've decided you want to create more long-form blog content, but what's next? Follow these tips to develop successful, long-form posts your readers will love:
– Format your long-form accordingly. Long-form content, when improperly formatted, can feel like a brick of text that users can't access. Keep it accessible by formatting it accordingly. Use headers, subheaders, bulleted lists, and links to break the content up, and keep your sentences and paragraphs short.
– Include images. One of the best aspects of long-form content is that it provides all the room you need to include graphics and visuals. These graphics and visuals enhance the content and make it more valuable for readers, thus helping it rank higher. To keep your long-form content on the up and up, include visuals throughout.
– Keep it longer than 1,500 words. Content that is 1,500 words or longer will perform best. Bonus points if you invest in content that is 2,000 words or longer.
– Make it a list. To keep your long-form content skimmable, format it into a list post that readers can skim easily.
The Verdict: Creating Long-Form Content Will Help You Rank
While long-form content takes more time, energy, and effort to produce than short-form content, it's an excellent way to help your site rank and gain more visitors. By creating more long-form content, you can easily distinguish yourself as a content leader and enjoy a higher ROI from the material you publish.
Dave is the CEO of Dave's Computers Inc. He writes a weekly column for Daily Blog Tips covering the best tips about blogging and Internet marketing. You can also find him on LinkedIn.
Browse all articles on the Writing Content category
11 Responses to "Is it True That Long-Form Blog Posts Perform Better?"
Abhipsa Resourcing Group

Great post about the content. So like that, "content is King". Content plays most important role in blogging and website. It most important unique and Quality.

Nec Birmingham

Content plays the most important part, it must be unique and 400-500 word each for a blog. Images should have alt tags for good SEO

sandeep kumar

Now i will increase my word count in my blog with more information to rank better. Thanks for the post

Hiteshough

Earlier I used to believe that a 150-200 word post is enough. Will implement the information shared by you.

Sweta Shah

Yes, long form content really help to getting site rank and gain more visitors. It takes more time, energy and effort to produce than short-form.

Immagine e stile

Great info.
Content is the king, but also the "form" has a key role…so, shorter is better! 😉 (at least in SEO….)
Thanks for the interesting advice.
cheers

Nisha

Great information! I am a blogger and usually write blog post of 400-500 words and sometimes just 300. Apart from word count, the most important is content quality. It has to be engaging that readers should enjoy reading and get the information for exactly what they were looking for. So content quality matters a lot.

Dhaval Parmar

Super helpful Steve!

An in-depth post like this with so much valuable information must help everyone in this industry. There is so much information in this content that I have to come back again and again on this page to recheck and reconfirm that I am on the right track. Will be looking forward for more knowledge-heavy articles like this from your blog.

Thanks again for sharing this with us.

Harish Negi

Super information. I use to restrict myself to 600 words. Now I will to make it up to alt east 1000.

Latlon Technologies

I agree with you Dave, people believe that long blog provides great information than the short blog. But, all long blogs are not quality blogs. There are some bloggers who write small but worthy blogs. According to me the quality of the blog does not depend on the number or length of the blog, it depends on the information they are providing.

Guy Siverson

Great info on short verse long content. I actually use a mix. Some short, some long. Is this a good idea? Also… do comments count as part of your content as the page grows in size?
Comments are closed.