Starting a new blog or growing an existing one can certainly be frustrating, as it may seem like you are not on pace to achieve your goals. Like anything worthwhile, building a solid and effective blog will take some time and hard work. As Daniel wrote recently, it gets easier with time if you can stick with it.
I see many bloggers completely give up or seriously slow down their activity because they feel like they are not getting anywhere, when in my opinion they are on the right track.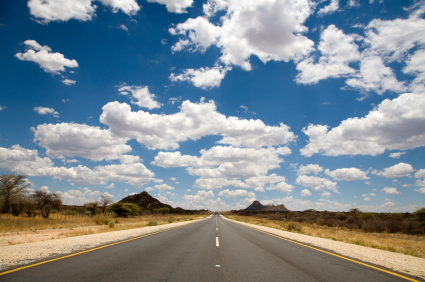 Hopefully if you are doing the right things and making progress you will recognize your growth and accomplishments, but not all do. Here are 10 signs that your blog is on the right track. If several of these items apply to you, don't give up just because the achievements are not coming fast enough. I think if you give it some time and continue to work, you will reach your goals in time.
1. Growing Subscriber Count
If your blog's subscriber base is growing, even slowly, you are making some progress. Gaining trust and subscribers is not easy, so try not to get your expectations unrealistically high. If you have realistic goals for subscriber growth you will more likely be able to feel good about your progress and stay consistent with your blogging.
2. Increasing Numbers of Inbound Links
Links are important for any blog. They help with click-through traffic, search engine rankings, and recognition. For bloggers, incoming links are also representative of how well you are known in your industry and your number of links will grow as you start to become recognized as an authority.
3. Increasing Numbers of Valuable Comments
If your blog is receiving a decent amount of thought-provoking comments, that is a good sign that people are reading and paying attention to you. Comments are the lifeblood of blogs, and those that have a lot of valuable comments from readers become even more useful for readers.
4. Increasing Visitors, Pageviews, and/or Pagviews Per Visit
Many bloggers are stats junkies. While growth in traffic isn't always representative of meeting or surpassing your blogging goals, it certainly isn't a bad thing. Hopefully, over time your blog stats will increase as more and more readers visit and subscribe to your blog.
5. Consistent Posting
If you are posting consistently on your blog, you're already one step ahead of the vast majority of bloggers. It sounds pretty easy, but consistent posting is a huge challenge for many. If you're able to keep posting consistently, good things are likely to happen.
6. Improving Quality of Articles
Quality is always going to be a somewhat subjective issue, but I think most bloggers can look back through their archives and get a pretty accurate idea of how the quality has trended over time. I know that when I look back at my first few months of blog posts I'm kind of embarrassed at the low level of quality, and I don't think I'm alone. Growth in quality is natural as you will become more knowledgeable about your topics and as you learn about blogging and writing in general. Take a look back at how your quality of writing has improved and I think you will be encouraged to keep going and see what happens.
7. An Ability to Clearly Define Your Niche
One of the most overlooked items when starting a new blog is being able to accurately define the audience that you will be targeting. As time goes by, you'll learn what types of content your readers appreciate (and what they don't respond to) and you'll most likely get a better idea of where you fit into your niche. Knowing your place is very important for branding and creating a blog that is appealing to the readers that you are targeting. If you know precisely where you fit into your niche, you're on the right track.
8. An Increasing Network of Bloggers
Networking is probably the most crucial aspect of blogging outside of content creation, and in some cases it can be even more important. If you are continually meeting new bloggers and strengthening the relationships that you have made, you will drastically be in a better position for the future. Building a network will help you to learn from others, gain valuable and loyal readers, increase inbound links, increase votes at social media sites, and much more.
9. A Knowledge of at Least 1 Specific Way to Get Targeted Readers to Your Blog
As you continue to blog, you will learn more about traffic generation and getting people to read and recognize what you have written. If you have even one specific method that consistently helps you to reach your target audience, you are better off than most bloggers. Maybe you have spent some time writing guest posts for other blogs in your niche, maybe you've had success with leaving intelligent and relevant comments at other blogs, or maybe you've developed a strong profile at a niche-specific social media website. Whatever the source is, if it is something that you can continue to use in the future, you are one step closer to blogging success.
10. Achievement of Goals
Many bloggers have long-term goals, such as making a living with a blog, or getting 10,000 subscribers. But what many bloggers lack are short-term goals that will help them to take the necessary steps towards those long-term goals. If you are setting monthly goals for blogging revenue, subscribers, traffic, etc. and you are achieving those goals, don't give up because you are not getting to the long-term goals fast enough. Take pleasure in meeting your short-term goals and keep challenging yourself.