This is the second official Daily Blog Tips free WordPress theme. GreenTech is a 2-column, highly customizable theme. It comes with a cream colored background, and details in brown and green.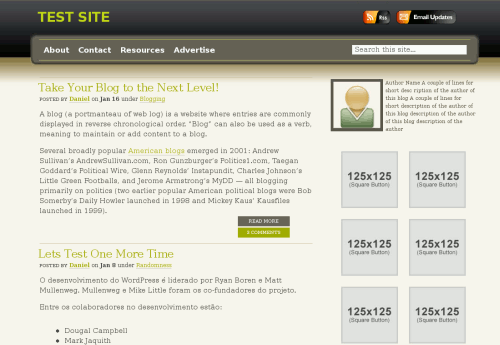 The theme was created by Mayank Gupta from Review Saurus. Mayank is launching a blog design company soon, so he wanted to showcase his excellent work.
The theme is very functional, and it comes with the following features:
Advertising Ready: The theme comes with six 125×125 banner spots on the sidebar. You will just need to upload the banners to the theme "Images" folder and update the ads.php file.
Easy Feedburner Integration: The "Theme Options" section inside the WordPress control panel enables the blogger to insert his Feedburner URL, which will be used all over the theme.
Widgets Ready: The theme supports widgets, so just drop the ones you use.
About the Author Section: The theme comes with a sidebar section dedicated to the author. You can upload your picture and a small description using the author.php page.
Comments Styling: Author comments have a different style.
Read More Tag Styling: The "Read More" tag is already styled and integrated into the design. Useful for bloggers that use post excerpts.
Search Engine Optimization: The meta and title tags are already optimized for search engines.
If you need any help customizing the theme or using it on your blog just post a comment below and we'll try to help.
Update: Due to popular demand we have also created a second version of the theme with 2 sidebars below the sponsor spots. It is already available for download.
Visit our WordPress Themes page to download all our themes.