Do you want to get paid to write short stories?
You know, in 2021, the U.S. saw 222.2 million online magazine readers aged 18 and above. This marked a rise of 300,000 from the year before.
As of March 2021, People magazine's website stood out with 48.88 million unique mobile users. Not far behind was WebMD magazine, boasting over 35 million.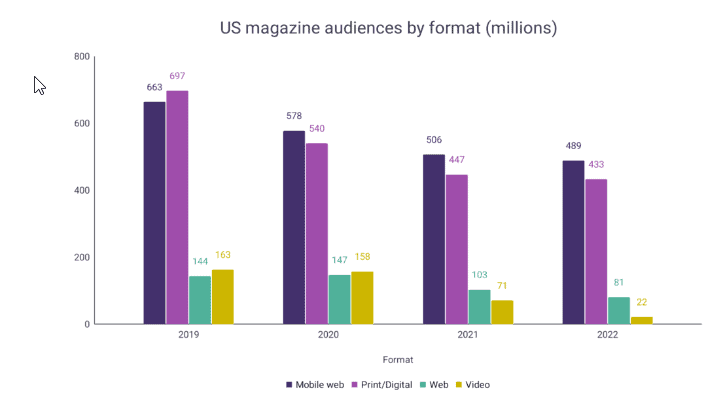 Image  Source: Words rated
Moreover, short stories are in high demand regardless of genre in 2023. If you're brimming with tales or drafts, now is an opportune moment to write articles and get paid instantly. We have 35 distinguished magazines and websites that pay you up to $400 per week.
21 Websites to Write Short Stories And Get Paid in 2023
If you're passionate about storytelling and want to monetize it , check out our list of 21 websites ready to pay for your short stories. This opportunity not only showcases your talent but also boosts your income.
Literary magazines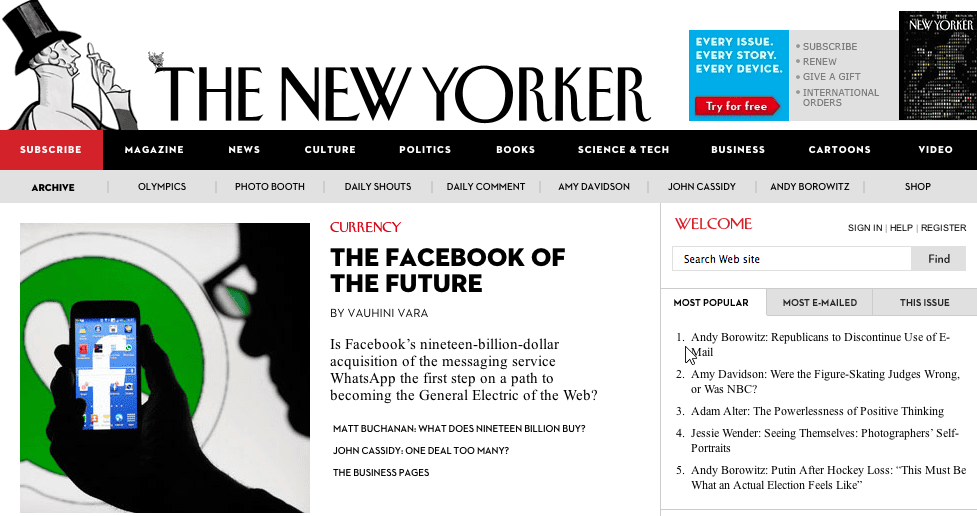 The New Yorker website, an iconic platform since 1925, now offers a wide array of diverse content. A number of writing platforms, including New Yorker poetry submissions from writers, offer daily compensation to aspiring writers. It's a great opportunity for novice writers who are primarily interested in short stories.
Its submitted poetry sections are a beacon for literary enthusiasts, inviting them to share their stories that leave readers feeling inspired. It is a golden age for aspiring writers, with so many sites rewarding them daily to get started. Now is the time to start your writing journey and earn money.
Does the New Yorker pay for poems?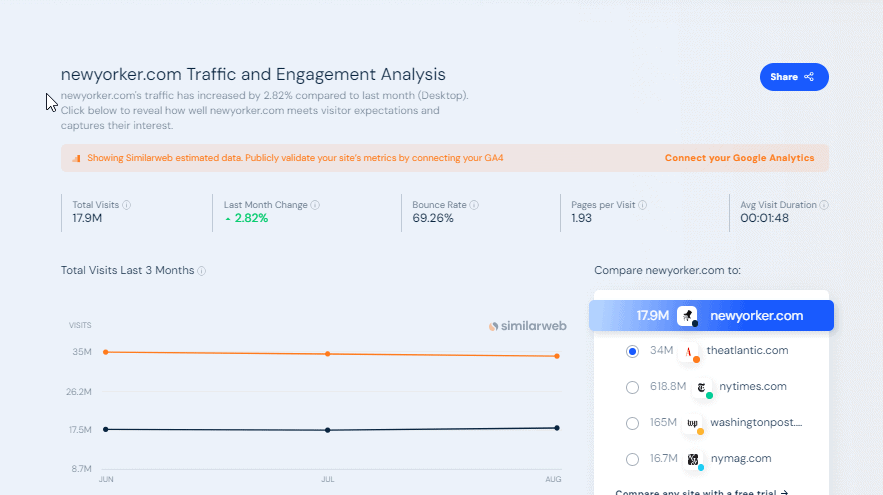 The price for up to 25 lines is $350, and $10 for each additional line after that. The New Yorker celebrated for its literary fiction, has an impressive readership of a million people looking for stories that leave powerful impressions on their minds. It's been reported that they compensate roughly $7,500 for short narratives. Furthermore, they are open to receiving poetry, humorous stories, and cartoons.
Features
Comprehensive news and cultural coverage.
Weekly magazine content, from fiction to humor.
Rich multimedia: videos, podcasts, and narrated articles.
Interactive crosswords and Cartoon Caption Contest.
How to Pitch:
You should research the Magazine's style and preferred content before pitching it. You should draft a crisp and compelling pitch that highlights the uniqueness of your story or idea. Then, send your pitch to the relevant Editor or department, ensuring you follow any guidelines or protocols they have in place to submit.
You can find the email addresses of the editors of each segment here.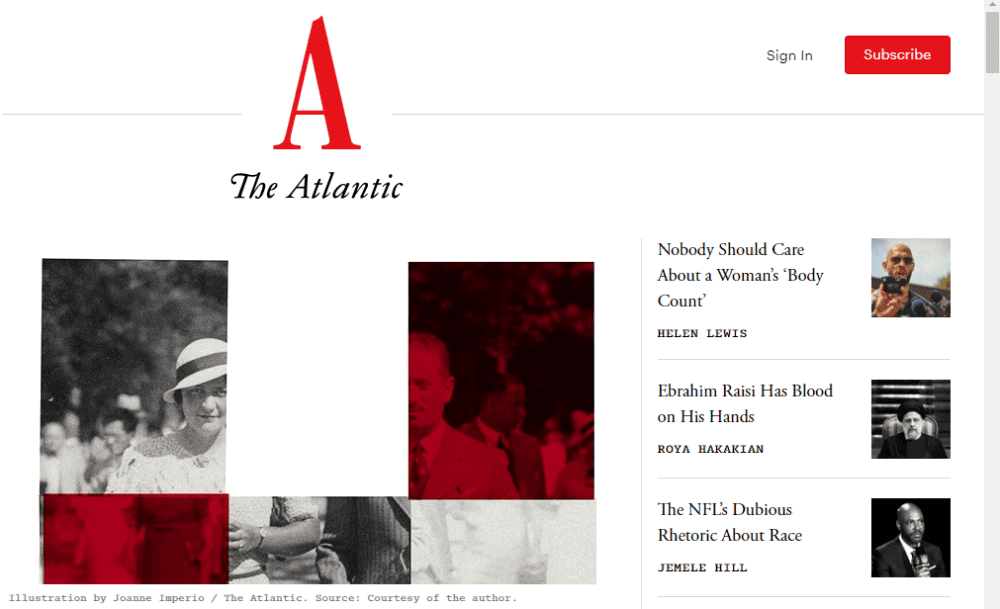 The Atlantic, established in 1857, initially discussed slavery and politics. Over the years, it has expanded its scope to cover news, politics, tech, health, and more. This publication attracts industry innovators and influential thinkers, serving them with fearless discussions and profound insights.
Moreover, if you're looking to get paid to write or even be paid to write on online literature, now's the time to capitalize on your passion. Take up writing as a profession and explore the many opportunities available to you. Your talent could not only write for money but also bring meaningful stories to life.
How much do writers for The Atlantic get paid?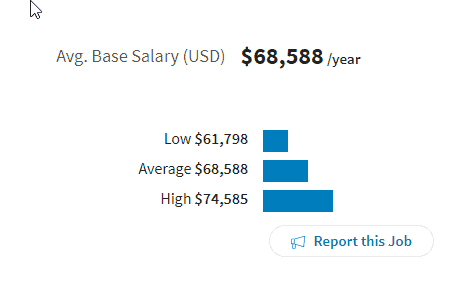 From our records, the ideal salary range for a Contributing Writer at The Atlantic seems to be from $61,798 to $74,585, with the mean salary sitting at $68,588. There can be significant differences in pay rates based on the region, the specific department, and other crucial factors, including an employee's education, qualifications, and additional competencies.
Features
Historic foundation dating back to 1857.
Initial focus on grave topics such as slavery and political affairs.
Diverse coverage: from news and politics to tech and health.
Reputation for fostering brave and innovative thought.
 How to Pitch:
You can propose ideas for articles or opinion pieces to The Atlantic. They also review finished works of nonfiction, fiction, and poetry.
You can find the email addresses of the editors of each segment here.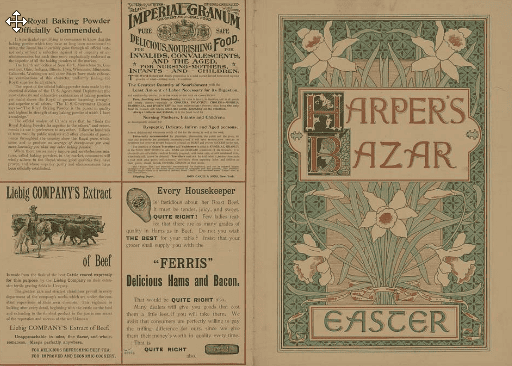 Harper's Bazaar was originally published weekly in New York City on November 2, 1867. The Magazine publishes short stories that have always inspired its readers to invest in a fashion that enables them to radiate confidence while sporting laid-back styles and luxurious couture.
The short story publishers collaborate with renowned fashion editors, photographers, and illustrators. If you're passionate about weaving tales and wish to monetize them, you can weave tales for profit. You need tenacity and commitment in order to make your publications pay.
 How much does Harper's Bazaar pay the writers?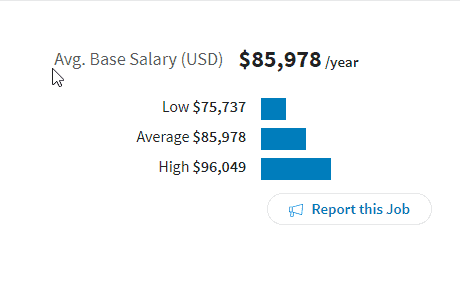 According to our records, the ideal salary range for a Writer at Harper's Bazaar falls between $75,737 and $96,049, averaging out at $85,978. However, the pay scale can fluctuate considerably based on factors such as location, the specific department, and other crucial elements like the writer's educational background, certifications, and other skill sets.
Features
Showcases exclusive interviews with global celebrities and fashion designers.
A rich blend of stunning photoshoots and gripping narratives.
A trendsetter, forecasting fashion, beauty, and lifestyle shifts.
Collaborations with renowned photographers for iconic cover shots.
 How to Pitch:
The Magazine only entertains or returns unrequested nonfiction manuscripts. However, Harper's is open to evaluating unsolicited fiction. Any unsolicited poetry open to submission right won't be reviewed or sent back.
You can find the email addresses of the editors of each segment here.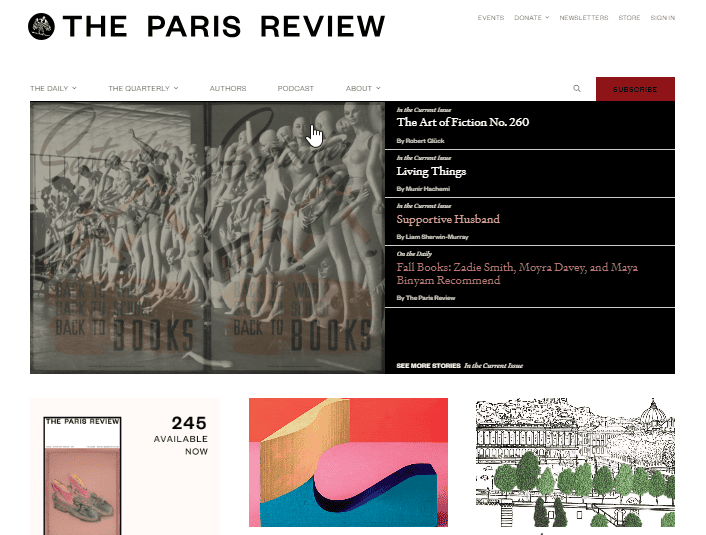 The Paris Review stands as a testament to literature's timeless appeal. For decades, this platform has nurtured and showcased budding talents and celebrated authors, offering readers a rich tapestry of poems, fiction, and interviews.
If you've been scouring the internet for writing jobs, your search might just end with "The Paris Review." Have you ever wanted to write for a living? As well as showcasing your prowess, this platform compensates you appropriately. You can turn passion into paychecks by writing for this website.
How much does the Paris Review pay for short stories?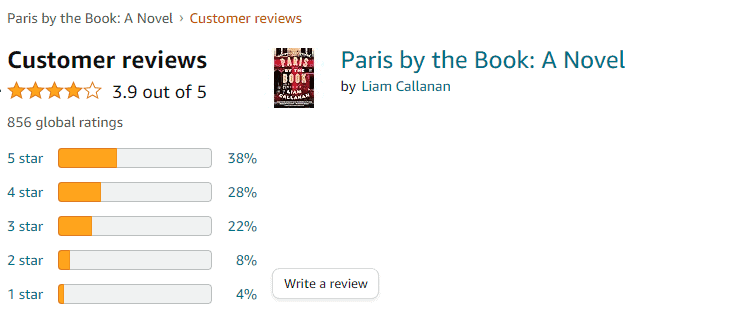 They'll pay up to $1000 per story. It is important that prospective authors familiarize themselves with our recent publications. We prefer stories between 1000 and 7500 words and novelettes between 7500 and 15000 words.
Features
Renowned for its in-depth interviews with literary giants, known as the "Art of Fiction" series.
A platform that embraces and promotes emerging writers and poets.
It is a rich tapestry of fiction, poetry, and thought-provoking articles.
Celebrated for its commitment to original voice and authentic storytelling.
How to Pitch:
You can submit fiction manuscripts to the Fiction Editor including stories, while poems should be sent to the Poetry Editor. While simultaneous submissions are allowed, it's essential to notify if the manuscript is accepted elsewhere promptly.
You can find the email addresses of the editors of each segment here.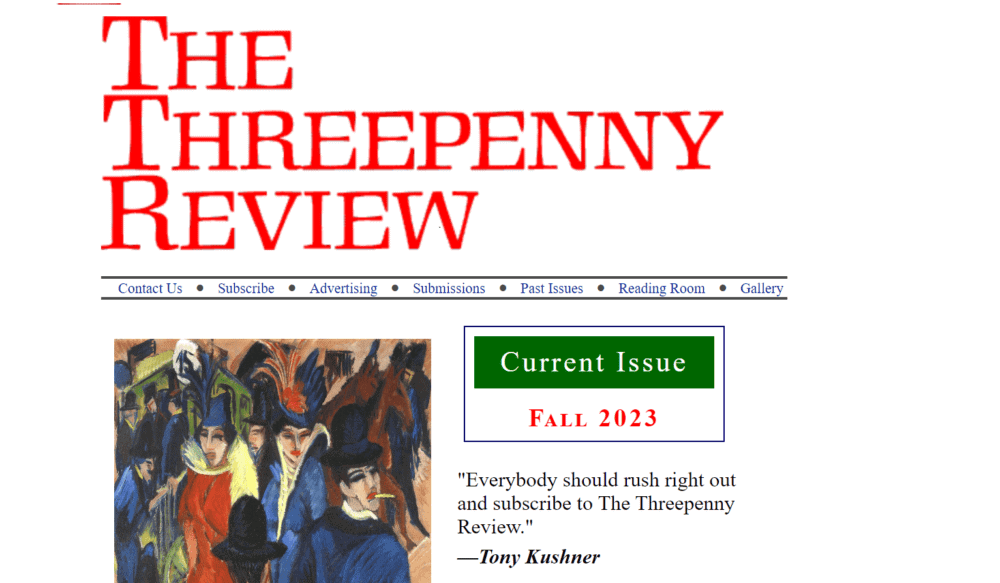 The Threepenny Review boasts over 6,000 subscribers, including 4,000 long-term subscribers, ranking it among the country's leading literary journals. It's a highly reputed  magazine recognized for its eclectic content.
Now, if you're passionate about article writing for pay, this website is your destination. They offer paid articles, which means every story you write can earn you money. It's true: you can make money writing articles. So, why wait? You can earn with every word you pen by diving into the world of writing.
 How much does it cost to submit to the Three Penny review?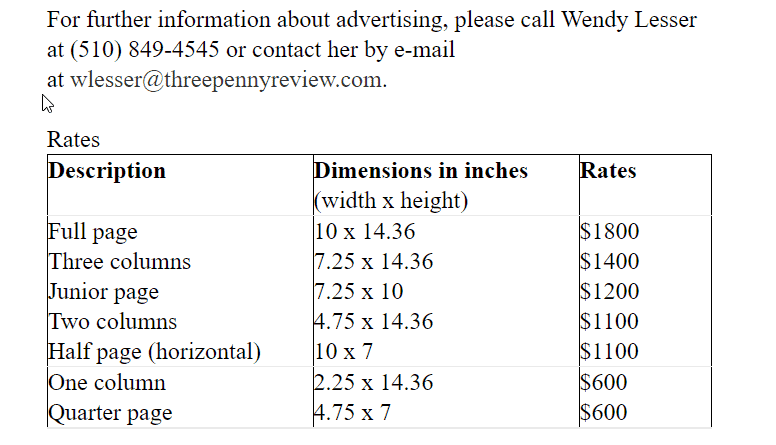 Currently, it offers $600 for stories, articles, and poems, while Table Talk pieces are compensated at $200. Upon payment, the Magazine secures the initial serial rights for both its print and digital versions. However, once published in these editions, the copyright immediately returns to the author.
Features
Contemporary Literature
Cultural and Social Commentary
Critiques and Essays
Fine Arts Reviews
How to Pitch:
Make sure your submission aligns with their style and tone by familiarizing yourself with their published content. Ensure that your proposal or completed piece follows the website's submission guidelines. Your pitch should stand out by offering a unique perspective or voice that adds value to your literary collection.
You can find the email addresses of the editors of each segment here.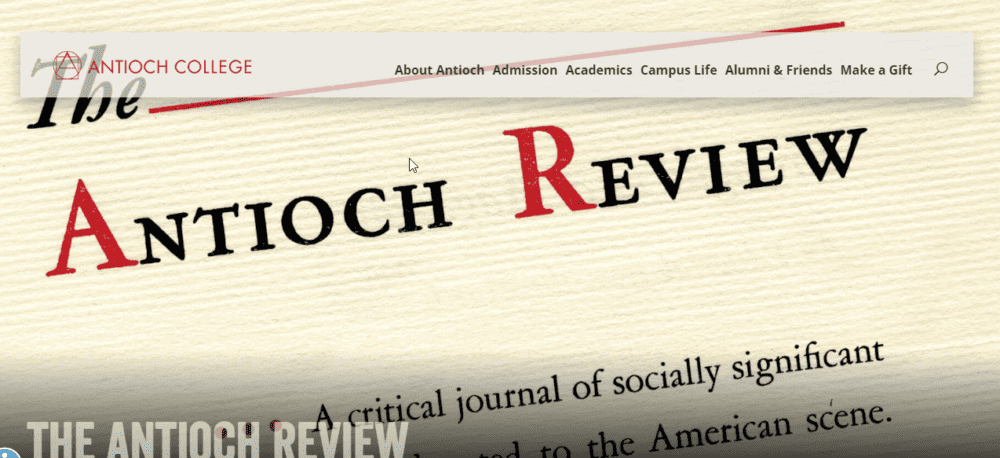 The Antioch Review stands as one of America's oldest continually publishing such magazines, founded in 1941 amidst the cornfields of Ohio. It has been publishing fiction and poetry for over 75 years, earning an international reputation for publishing the "best words in the best order."
Looking for platforms that value quality? It could be right for you. While the market is teeming with writing sites that pay daily, few can compare with it. So, if you're seeking not just pay to write articles but also a platform where your work can be part of an esteemed literary tradition, this might just be the place for you.
 What are the Payment Details of Paying by Antioch Review?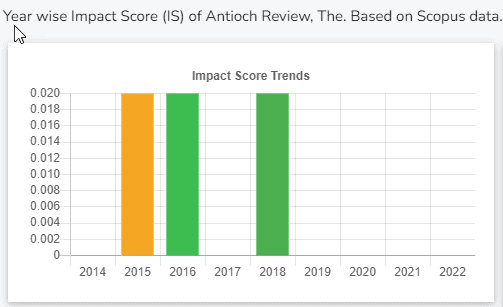 The payment is upon printed publication at the rate of $20.00 per printed page (about 425 words). A discount is offered to authors who wish to purchase additional copies.
Features
Long-standing journal
Fiction and poetry
International authorship
Published by Antioch College
How to Pitch
Typically, there will be a "Subscribe" or "Subscription" link prominently displayed. Follow the on-screen instructions, providing payment and address details as required.
You can find the email addresses of the editors of each segment here.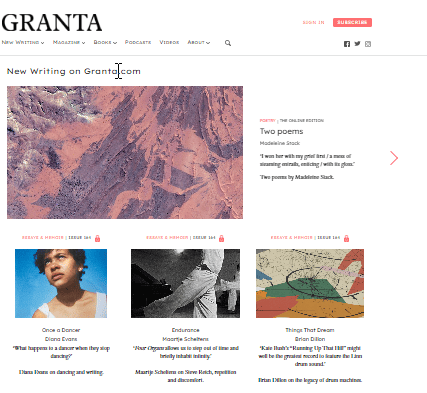 Granta magazine has been publishing student politics, literary pursuits, and lighthearted banter since 1889. The earlier version of the Magazine published the initial works of prominent writers like A. Milne, Smith, and Hughes. It's a great place to publish and get paid if you're passionate about Magazine publishing brief stories.
However, its popularity waned in the 1970s due to financial hardships. The Magazine's relaunch was inspired by a group of determined postgraduates during this turbulent time. So, publish your work and earn, enabling budding and established writers to reach a global audience.

Source: Diabolical plots
Does Granta pay writers?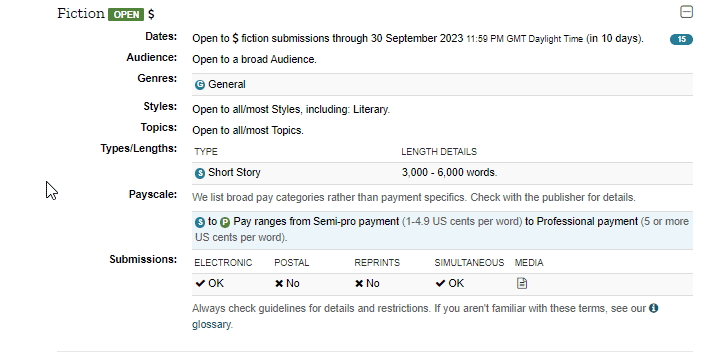 All or most topics are welcomed, including memoirs. The word count should be between 3,000 to 6,000 words. They pay you  from semi-professional rates of 1 to 4.9 US cents for each word to professional rates of 5 or more U.S. cents for every word.
Features
– Quarterly English-language magazine
– Publishes new writing (fiction and nonfiction)
– Emerging and established authors
– Themed Issues for one story
How to Pitch:
They accept submissions from both published and unpublished writers. You can find more information about their submission guidelines on their official website. Select the subscription option you prefer, provide your details, and finalize the process.
You can find the email addresses of the editors of each segment here.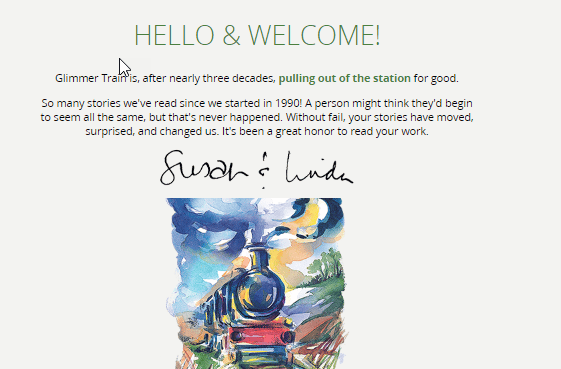 Glimmer Train champions emerging writers with unparalleled dedication. We are committed to bringing new voices to our pages and telling their stories. Throughout each issue, you'll find living writings that straddle the line between punch and subtlety.
We are passionate about storytelling at Glimmer Train. It is our mission to showcase short fiction. We invite you to embark on a literary journey where words matter and stories offer unique experiences through human experience.
What is the Payment Procedure for the Glimmer Train Website?

Compensation for writers with approved stories was generous ($700 – $3,000), with payment provided upon acceptance. Two standard minimal-fee reading periods ($2) were conducted annually.
Features
– Focused exclusively on emerging writers
– Family-owned
– Welcomes new and fresh voices
– Variety of themed contests for submissions
How to Pitch:
Though Glimmer Train ceased publication in 2019, you can still find back issues or collections for sale on various platforms. Look for this website collection in online bookstores or other literary journals that pay.
You can find the email addresses of the editors of each segment here.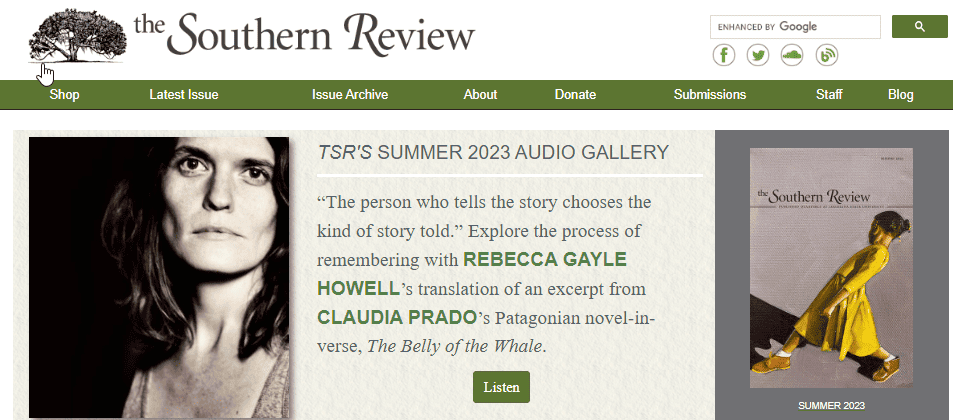 The Southern Review is considered to be one of the oldest journals in the world. The Magazine continues to enrich the literary scene with a captivating medley of poetry, fiction, and other journals. Its words are a testament to the power of storytelling, which makes it a must-read for those who love books.
It contains an array of flash fiction and stories that will leave an indelible impression. This platform offers writers a unique opportunity to share their words, placing a high value on each word contributed. So, be a part of this Magazine that pays, and let your words find a home in its illustrious pages.
 What does Southern Review pay its writers?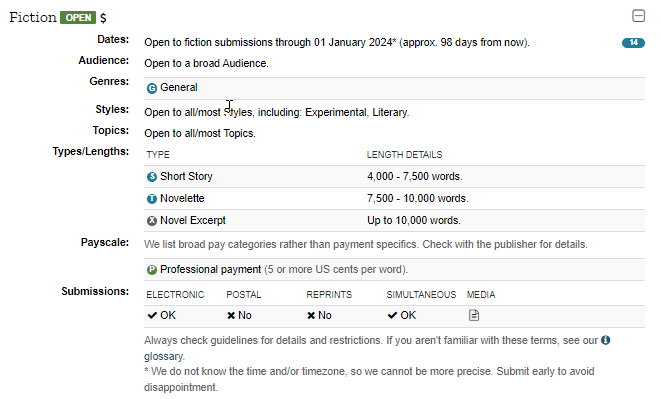 The website compensates with $50 for the first printed page and $25 for each following, up to $ 200 per writing. Additionally, contributors receive two copies of the issue where their work is published, along with a one-year subscription to it.
Features
 Launched in the Southern states
 Literature, culture, and history emphasis
 Publishes fiction, poetry, and essay
 Features works from all over the world
How to Pitch:
We allow simultaneous submissions, but if your work is selected elsewhere, please inform us immediately via email. People currently or recently (in the past four years) associated with Louisiana State University are ineligible to submit. Get to know our journal's style by subscribing before submitting your work.
You can find the email addresses of the editors of each segment here.

Zoetrope, founded by iconic filmmaker Francis Ford Coppola, is more than just an artistic magazine. It's a vibrant intersection of literature, art, and film where creativity knows no bounds. The pages come alive with short fiction, transporting readers to worlds both familiar and fantastical.
It is a meeting point where words and visuals dance together. Here, short-length stories can take on new dimensions, serving as a springboard for major films. You're invited to explore the magic of storytelling, one word at a time, whether you're a writer, an artist, or a cinephile. We invite you to let your imagination soar as every word is a brushstroke.
How much will  Zoetrope magazine pay for a short story?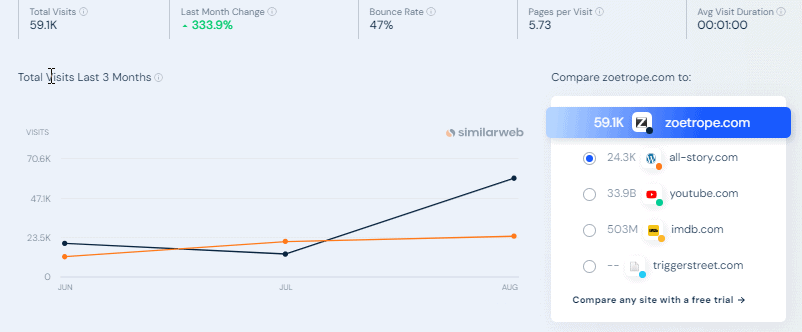 Image source: Similar web
The payment can reach $1,000.The writings can be submitted through conventional mail or through their submissions portal.
Features
Founded by Francis Ford Coppola
Publishes tales, one-act plays, and essays
Features artwork in each issue
Affiliated with Zoetrope: All-Story, a short-story contest
How to Pitch:
All-Story welcomes unsolicited stories or one-act plays that are no more than 7,000 words long. To enroll, this includes portions of larger projects, screenplays, treatments, or poetry that will be sent back without being read.
You can find the email addresses of the editors of each segment here.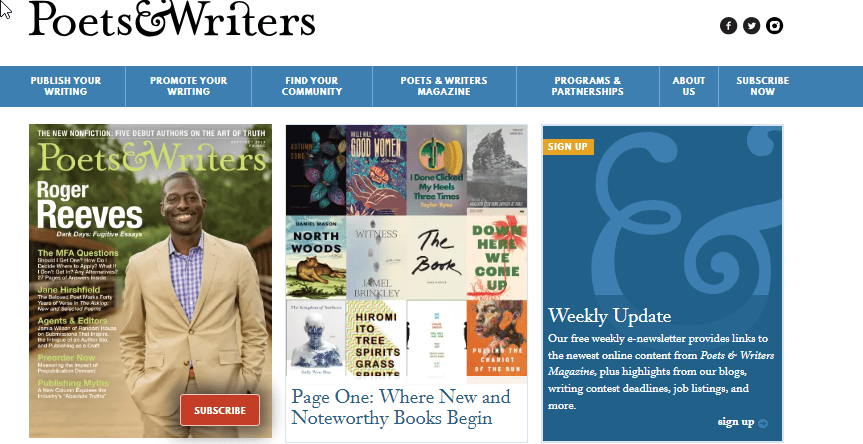 Poets and Writers provides an abundance of resources for writers, including information about more than eight hundred magazines. The website is your ultimate ally if you're passionate about short stories. They cover a wide range of magazines, making it easier to find the right platform.
This Magazine can be your guiding light if you're into tentative fiction. You can find a wealth of information in magazines devoted to such stories. It supports your creative journey in short stories, whether you're an emerging or established author.
 What are the Payment Details of Poets and Writers website?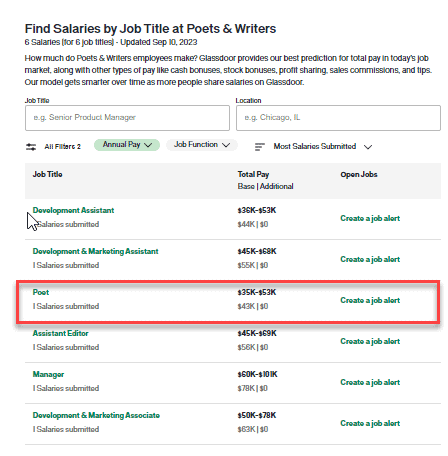 It is reported that the website "Poets and Writers" compensates their writers with amounts ranging from $35 to $53.
Features
Provides resources for creative writers
Lists current calls for submissions
Information about upcoming writing contests
Offers advice about the business of writing
How to Pitch:
The majority of these publications welcome submissions through their websites, via email, or on online submission platforms such as Submittable. However, in certain instances, if you choose to submit your work by mail, it may necessitate the inclusion of a self-addressed stamped envelope (SASE).
You can find the email addresses of the editors of each segment here.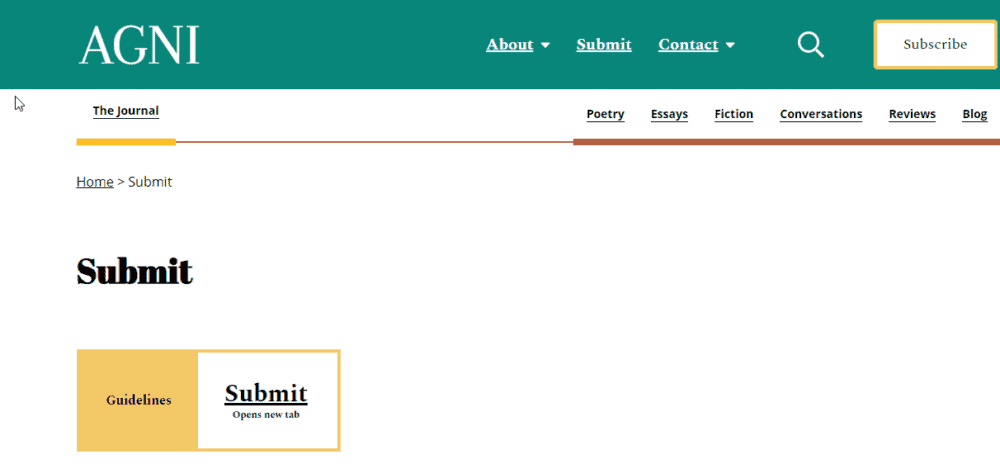 Agni believes that storytelling's power comes not only from its ability to transport you into different universes but also as a way to make money. Our website is your portal to a universe filled with awe-inspiring, thought-provoking, and thrilling stories, making it a unique opportunity to pay a minimum fee for accessing premium content.
We have an ever-expanding collection that will capture your imagination. If you love to write, why not submit your own feature article? You can make money from your passion by writing on Agni's website.
How Agni pays to their writers?
It offers competitive rates for creative work, paying writers a competitive rate. Prose content is paid $20 per page and poetry $40 per page, with a cap of $300 per piece. We value your artistry, whether you're sharing vivid experiences or selling short stories. Join our literary journey and be part of esteemed magazines that publish short stories by submitting your entire manuscript via mail for consideration.
Features
 Multi-lingual support
Secure login and user authentication
Efficient and advanced search feature
High-resolution product images
How to Pitch:
We accept submissions of literary short stories, poems, and a variety of nonfiction, ranging from memoirs, personal essays, and lyric essays to thought-provoking long short articles. However, we do not consider genre mystery, science fiction, or romance pieces for our publication.
You can find the email addresses of the editors of each segment here.
Genre magazines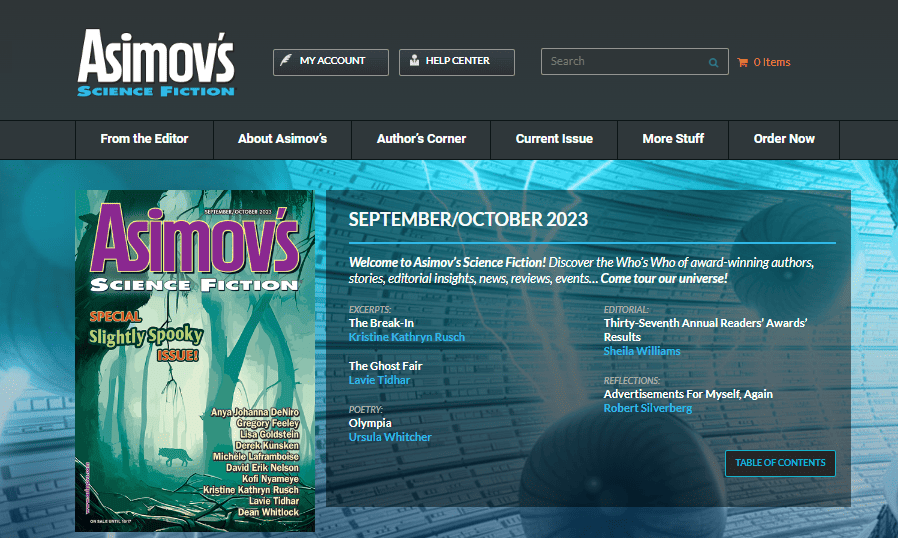 Asimov's Science Fiction is a dynamic space where authors share insightful posts, thought-provoking articles, and captivating podcasts. Visit us regularly, for within these digital pages, you never know what treasure trove of knowledge you'll unearth – from the art of storytelling to the intricacies of crafting science fiction.
Have you ever wondered how to make a living writing science fiction? At this Magazine, we understand the aspirations of writers, both seasoned and burgeoning. We believe in supporting your dreams, and that's why we not only offer a platform for short story writing but also ensure that your writings get published. This website pays its authors fairly.
How much money do Asimov's Science Fiction authors make?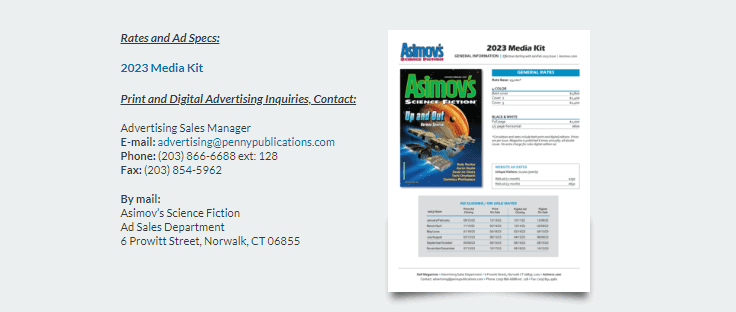 It is a recognized platform for science fiction tales. For short narratives up to 7,500 words, Asimov offers 8-10 cents for each word and 8 cents for every word exceeding this limit. Rarely do we purchase narratives less than 1,000 words or exceeding 20,000 words, nor do we publish serialized novels. For poets, our rate is $1 per line, with a maximum limit of 40 lines.
Features
Futuristic Settings
Robotics Concepts
Space Exploration Themes
Human-Machine Interactions
How to Pitch:
Our fiction subscription form online requires your name, email, a cover letter (optional), the title of your story, and the story itself. If included, the cover letter should have the story's length and your publishing history. The word count of the story should also be specified, ideally at the top right corner of the manuscript's first page.
You can find the email addresses of the editors of each segment here.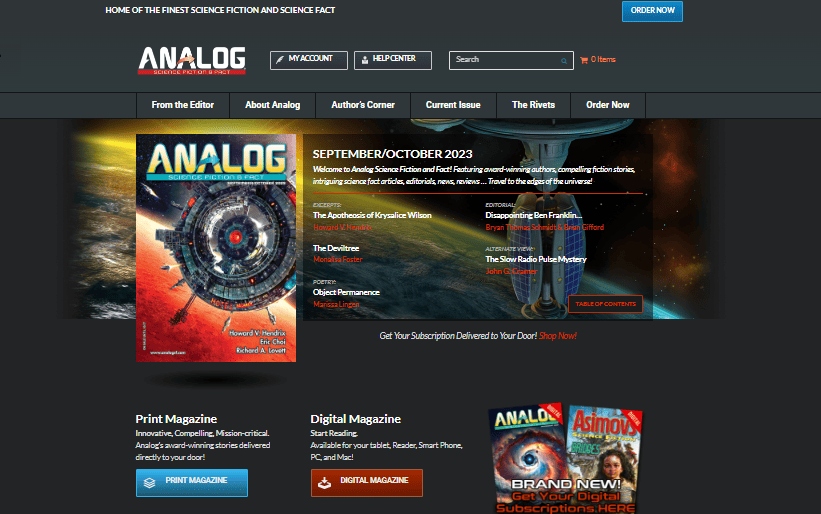 Analog Science Fiction and Fact, a beacon in the realm of science fiction since 1930, offers imaginative fiction grounded in scientific accuracy. Its pages brim with articles on cutting-edge research. Explore the Author's Corner, where renowned authors share insights and biographies.
Here, aspiring writers and fervent readers find inspiration in the fascinating world of science  fantasy. Stay tuned for updates on what these journals pay for a story to get published. Join us in the pursuit of knowledge and learn how to write fiction stories and make money as a writer.
How much money do Analog Science Fiction authors make?

It is a reputable science fiction magazine that publishes stories for science fiction and provides writers with several ways in earning  writing. For brief stories of approximately 20,000 words, the amount they pay is 8-10 cents each word. For longer pieces, or serials, of 40,000-80,000 words, they pay 6 cents per word. Writers are paid 9 cents per word for factual articles, and the Magazine also pays $1 for every line of poetry submitted.
Features
Hard Science Fiction
Technological Innovations
Scientific Accuracy
Impact of Technological Advancements on Society
How to Pitch:
Submit your complete or nearly complete book project as a PDF to email using the subject line "Name of the project." Avoid portfolios, loose photos, or texts, and we're only interested in coherent narratives shaped as a book. Send your email with  and submit online.
You can find the email addresses of the editors of each segment here.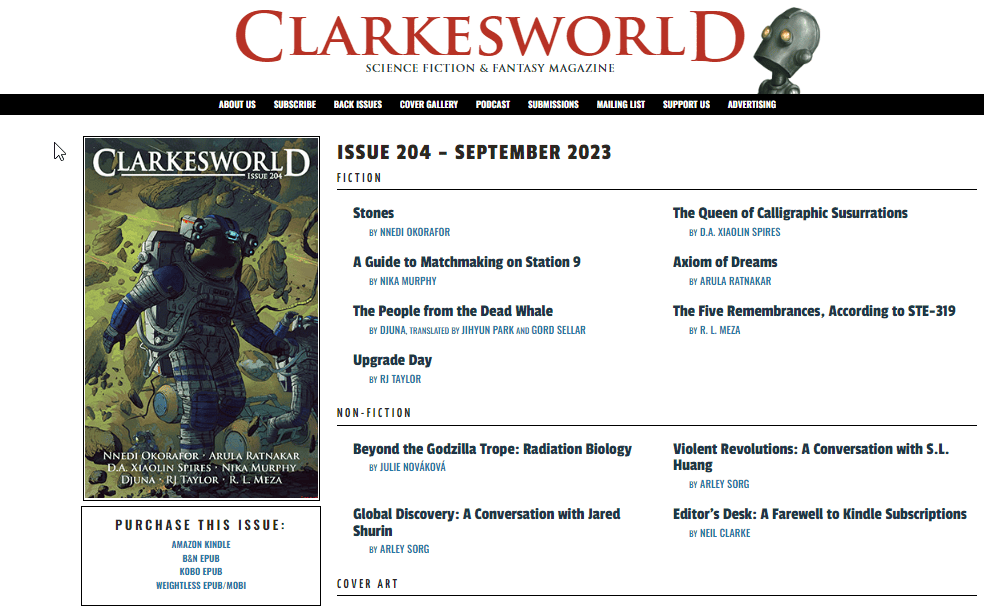 Clarkes World Magazine, a recipient of prestigious awards like the Hugo, World Fantasy, and British Fantasy, is a captivating science fiction publication. Each month, we offer a delightful blend of story collections, short interviews, articles, and stories in audio and text fiction on our website, in ebook format, and through electronic subscriptions.
We pride ourselves on being the home for engaging stories. Our collection of stories, whether you are surprised by stories or spellbound by these, defines our commitment to excellence in speculative fiction. Join us in celebrating the mesmerizing world of fiction and fantasy as we continue to publish all of its stories.
How much does Clarkes World pay?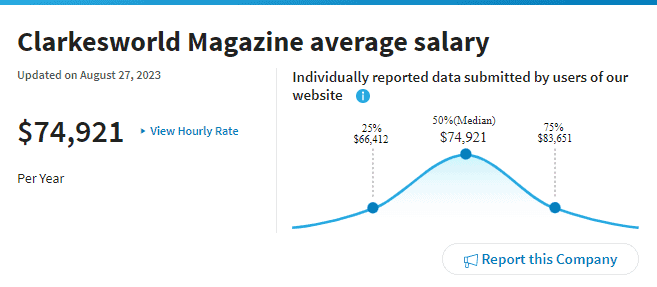 The word count must range between 1000 to 22000 words strictly without any exceptions. The compensation will be at a rate of 12 cents for each word. Payment options include PayPal or check. Authors from around the globe can opt for wire transfers.
Features
Gives Monthly Science fiction content
Published in various formats, including online, e-books, and print
Podcast for selected stories
Well-known for nurturing new authors
How to Pitch:
The form for submitting your work requests details such as your name, email address, cover letter, the title of your story, its word count, genre, and the file of your story. Format your stories in the standard manuscript style (modern is preferred, but the classic is also accepted), and they should be submitted in either. RTF, DOC, or. DOCX formats.
You can find the email addresses of the editors of each segment here.
Flash fiction Online, coined in the 1990s, is a very short story under 1000 words. Previously known as 'sudden fiction' or 'short-short' fiction in the 19th and early 20th centuries, the concept has ancient roots in fables and myths.
We classify it as 500-1000 words, emphasizing complete stories with characters, conflicts, and satisfying resolutions. We prefer character-oriented stories across genres, making us ideal for those in-between tales. Start making money with your  fiction today.
Does Flash magazine pay?

It offers $80 per original, unpublished story for the first electronic rights with a six-month exclusivity period. They also have a non-exclusive, one-time right to publish the tales in an anthology. Other than these, all rights remain with the author.
Features
Brief length
Wide reach
Interactive Features
Instant gratification
How to Pitch:
You can simultaneously submit one original and one reprinted story, but not more. Submitting status can be tracked by your Submittable account. We cannot provide personal feedback or critiques, and previously rejected stories will not be accepted unless the Editor requests a resubmission.
You can find the email addresses of the editors of each segment here.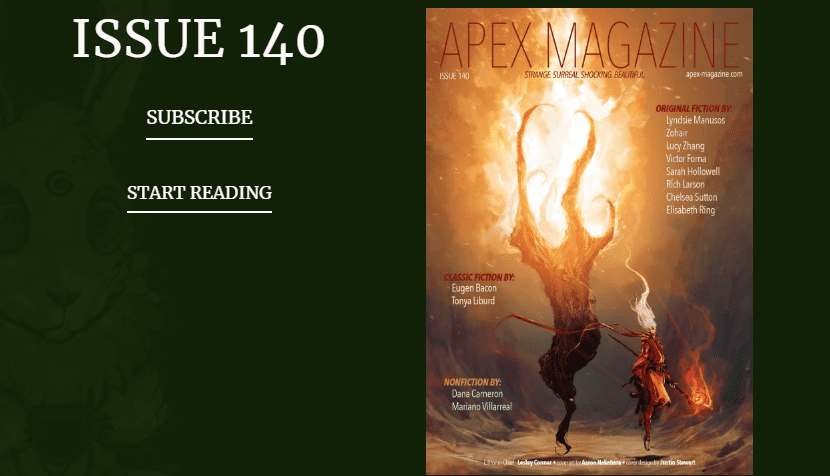 Apex Magazine warmly invites freelance writers to submit short stories. We're passionate about captivating tales set in enchanting realms, offering generous pay to our valued authors. Our publication includes bi-monthly eBooks and online issues released over two months. Join our literary community and share your expertise in short story submissions.
At Apex, we take pride in compensating our authors and showcasing their work through our podcast. In addition to genre short fiction, we feature author interviews, thought-provoking essays, and monthly narrated original short fiction. Join us in our vibrant literary community and contribute to our fantastical fiction collection.
How much does Apex Magazine pay?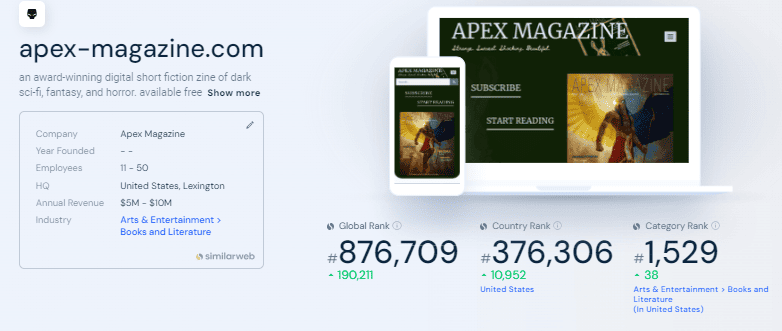 The hard limit for word count is set at 7,500 words, and exceeding this limit will be automatically declined. They pay their authors a compensation rate of $.08 per word for original fiction, applicable up to 7,500 words, with a minimum payment of $50. In case your story is selected for our podcast, you will receive an extra payment of $.01 per word, up to a count of 7,500 words.
Features
Literary Excellence
Brand Reputation
Widespread Distribution
High-Quality Production
How to Pitch:
It encourages accession from all writers, regardless of background or identity, seeking diverse voices. However, only your name, email, and cover letter are considered before making any decisions on your accession.
You can find the email addresses of the editors of each segment here.
18. Light Speed Magazine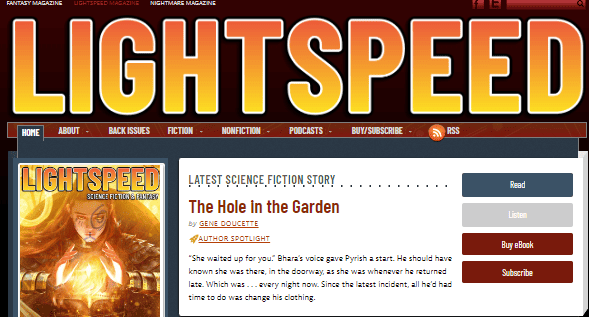 Light magazine's website is a haven for literary enthusiasts. Our platform welcomes short story submissions from talented writers worldwide. We're committed to fostering creativity and promoting emerging authors. What sets us apart? We pay our authors to recognize the value of their craft. Join us and illuminate the world with your words.
 Moreover, we believe that great stories deserve recognition. Our website offers a seamless experience for both writers and readers. Submit your short stories and let your talent shine, knowing we pay our authors for their exceptional work. Join our community today and embark on a journey of literary excellence.
How do Lightspeed help to earn?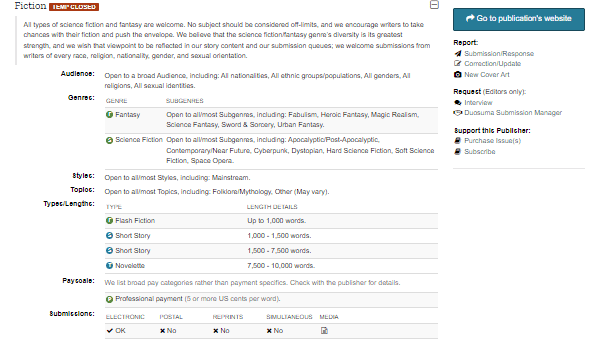 We welcome submissions of short stories and novelettes from 1500 to 10,000 words but prefer those under 5,000 words. Flash fiction under 1500 words is also accepted. Our payment is 8 cents per word for original fiction, and we cover any processing fees from payment platforms.
Features
User-Friendly Navigation
High-Quality Visual Content
Mobile Responsive Design
Integrated Social Media Platforms
How to Pitch:
We do not accept submissions or queries for reprints or nonfiction. Send book reviews to [email protected] or contact our editor. You can also submit art to [email protected] with a link to an online gallery (if there is one). Each gallery is considered for upcoming commissions. However, only 12 covers are used per year.
You can find the email addresses of the editors of each segment here.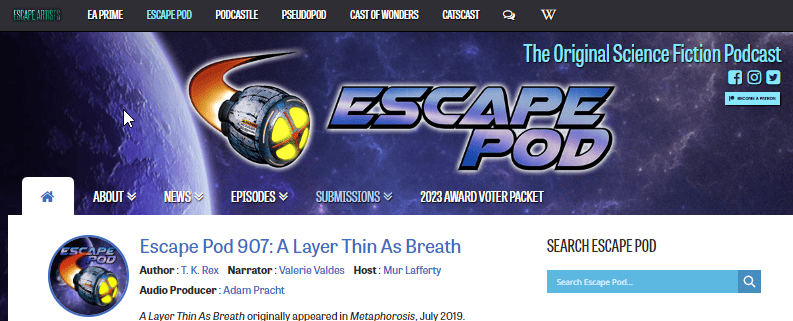 Escape Pod, the leading sci-fi podcast magazine, was established in 2005 by Serah Eley. It's edited by Mur Lafferty and Valerie Valdes today. Our science fiction stories are available both in text and audio. Join our vibrant short story community on your phone or computer.
 Moreover, we pay their authors and value their craft. Subscribe now for your dose of cutting-edge sci-fi narratives, expertly delivered to captivate your imagination. So, join us for the future of storytelling.
How much does the Escape Pod pay in 2023?

We publish only short stories and reprints, excluding poetry, serialized stories, novel excerpts, screenplays, visual art, audio drama, and non-fiction. We pay USD $0.08 for each word for original work and USD $100 per story for reprints, covering all transaction costs.
Features 
Science Fiction Content
Podcast Streaming Feature
Original Short Stories Library
User Community Interaction
How to Pitch:
It welcomes writers of all backgrounds to submit their works, emphasizing the need for increased submissions from historically underrepresented or marginalized groups in traditional SF publishing. We encourage you to submit your stories, discouraging self-rejection due to doubt.
You can find the email addresses of the editors of each segment here.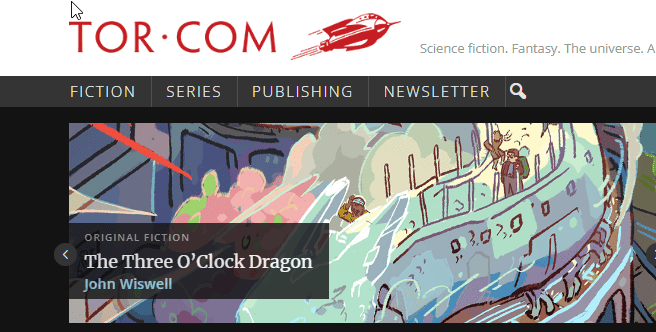 The online Tor.com magazine, established in 2008, is a publisher-neutral fan community. We're pro-author and pro-fandom, fostering civil discourse on sci-fi, fantasy, and related topics. Our posts aim for balanced, constructive criticism with a touch of humor, minus mockery or ridicule. 
We're deeply committed to diversity and inclusivity, actively encouraging short story submissions from underrepresented voices across race, gender, orientation, religion, nationality, class, and ability. We pay our authors and value a rich tapestry of opinions and experiences. Join us in shaping our vibrant community.

How much does Tor Publishing pay?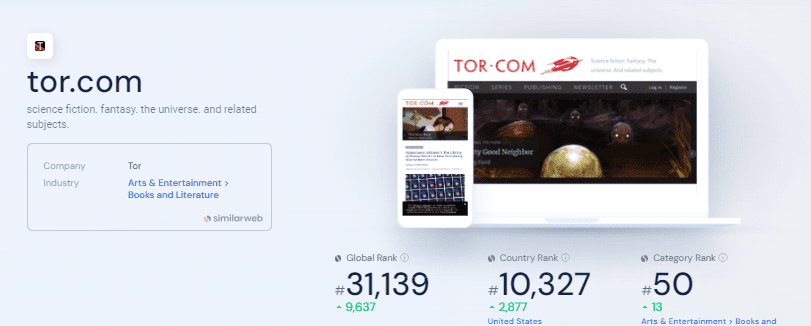 The payment structure is based on how many words are included in the content. Each word costs 25 cents for the first 5,000 words. The rate will be reduced to 15 cents for each word if your content extends beyond this limit. After 10,000 words, 10 cents for each word are paid. 
Features
Wide variety of science fiction and fantasy content
Features original short stories and novels
Multimedia content including podcasts
Community features allowing user interaction
How to Pitch:
This magazine offers guidelines for submitting non-fiction articles, list posts, and reviews. Please find out how to submit your fiction to Tor.com, Tordotcom Publishing, or Tom Doherty Associates, LLC.
You can find the email addresses of the editors of each segment here.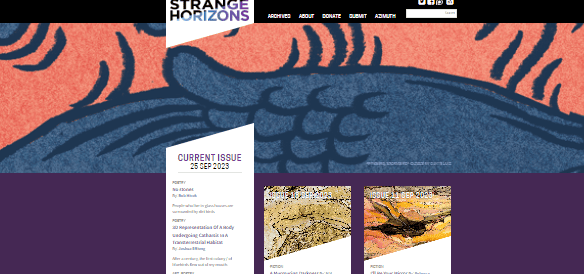 Strange Horizons is your weekly destination for speculative fiction. We showcase fiction, poetry, reviews, interviews, and art. For more details, visit our About page. All content is copyrighted to the original authors, so please seek permission before reproducing.
Our site's brilliant content is copyrighted to the original authors. So, if you're thinking of reproducing anything, please make sure to seek their permission. Are you an author interested in submitting your short stories? We're thrilled to say that we pay our authors for their fantastic work. Join our creative community today.
What are the Payment Details of Strange Horizons?

We pay 10¢ every word, with a minimum remuneration of $60. We're recognized as a professional market by the Science Fiction Writers of America and offer check or PayPal payment. We buy exclusive first-printing world rights in English, including audio, for six months.
Features
 Focus on fantasy and science fiction content
 Inclusion of industry news, reviews, and commentary
 Provides a community hub for fans and authors
 Availability of free eBooks for readers
How to Pitch: 
It accepts artwork (art galleries and illustrations), fiction (fiction short stories), nonfiction (columns, interviews, roundtables), poetry (various kinds of verse), podcasts (podcast readers audition), reviews (speculative fiction and science fiction reviews), and volunteering (to become a member).
You can find the email addresses of the editors of each segment here.

Are there any sites that pay or tell ways to make money writing for online magazines?
In your journey to share your literary talents with the world, remember to explore new online magazines. If you're just getting started or an established writer, these platforms provide a valuable opportunity to showcase your work. In 2022, 86% of Finnish Internet users read online magazines or visited TV news websites.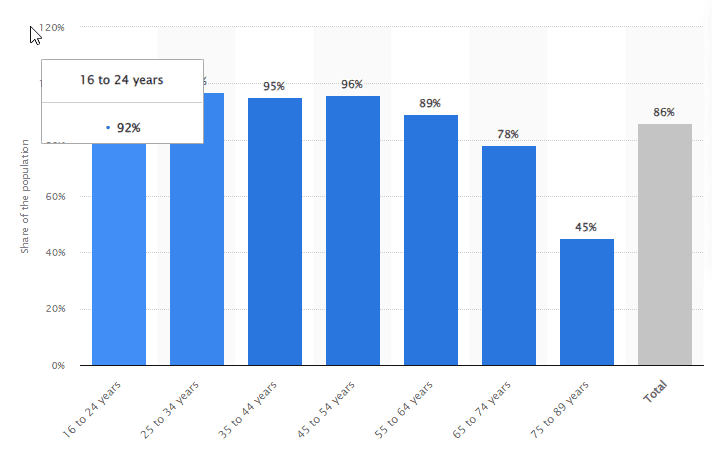 Online magazines are set to grow this year as top manufacturers continue to take strategic measures to drive growth. You will be compensated appropriately for your creative work in each of these publications which is worth millions in USD in 2022. You'll find a variety of opportunities in the world of such magazines. Here are some literary journals that do pay.
Which platforms for freelance writing pay you to write, specifically for writing short stories?
Literary magazines provide a promising opportunity for freelance writers. The platforms compensate emerging and established writers for their work. It is attractive to freelance writers to write for literary magazines that pay.
The US boasts a significantly high number of freelance workers, with the figure reaching over 59 million in 2020, a substantial increase from 53 million in 2013.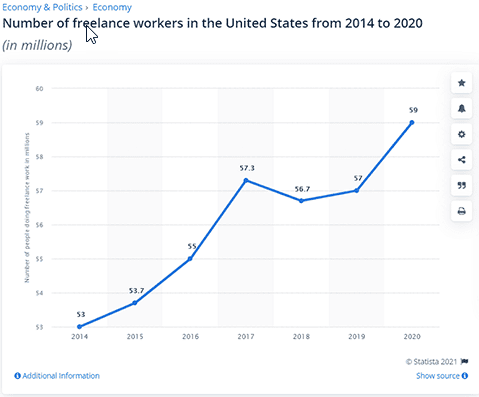 These online hubs offer diverse projects catering to specialized talents. Freelance writers and creative professionals have seen significant changes in the gig economy thanks to platforms.
How much can you make from writing short stories and blogs?
You can earn a lot from short stories, depending on where you publish. There are many ways to self-publish on different websites, depending on popularity. Most magazines offer $0.01-$2 for each word, and competitions often award cash. It depends on quality, platform, and reader reception.
You can earn more or less depending on where you publish. The average monthly income for bloggers 5-10 years is $3,919.96, and for bloggers over 10 years is $4,929.45.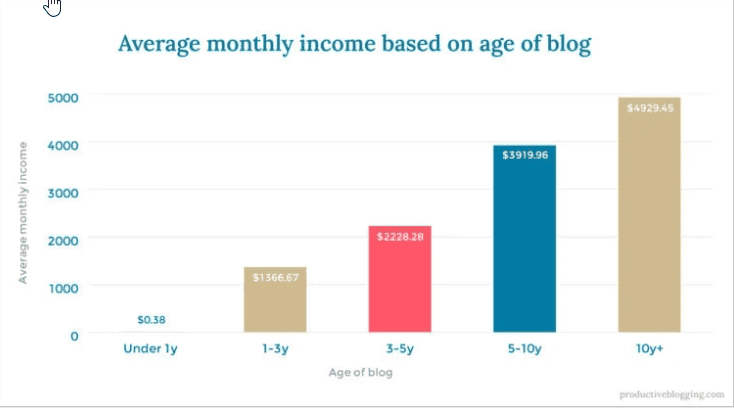 Image source: Productive Blogging
If your stories and blogs gain attention, you could earn from a few dollars to thousands. You need talent, a platform, and readers to succeed.
What kinds of publishers are purchasing short stories?
Many literary magazines and journals actively seek short stories to publish, providing emerging writers a platform to showcase their work and gain recognition in the literary world. 
Additionally, some online platforms and e-zines are eager to acquire short stories, offering writers a chance to reach a broader audience in the digital realm. 
Wrapping Up
As the demand for short stories grows, those with a creative passion will be able to turn their passion into a lucrative side business in 2023. We've curated 21 websites ready to reward your storytelling prowess, earning you $400 per week. These platforms are the perfect places to showcase your talent and boost your income, regardless of your skill level.
So, you are called to a journey of monetary gain and creative expression. Now is the time to share those stories you've been nurturing. Join these literary magazines and websites in weaving your narrative. You can make a memorable chapter filled with artistic achievement and financial rewards. Now is the time to start writing short stories and get paid.