DailyBlogTips Breaks Into Technorati Top 100
Finally we are inside the Technorati Top 100.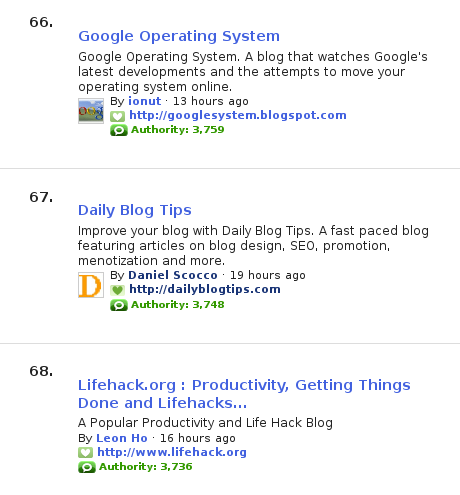 Now I know that this is probably the result of our niche. Blogs on the metablogging segment naturally receive more backlinks, so stating that DBT is among the 100 most popular blogs in the world would probably be wrong.
Still it is nice to receive this recognition. Thanks for all the readers!
Browse all articles on the General category
49 Responses to "DailyBlogTips Breaks Into Technorati Top 100"
Chetan

Great achievement and work there by DBT guys 🙂

Well deserved one!

Mas Visitas

great job Daniel!

check your description on technorati: "Seo, promotion, MENOtization and more"… it says menotization instead of monetization

greetings, Eduardo.

Ali from The Office Diet

That's absolutely fantastic — well done! And well deserved too, I think. I'm especially impressed that you're above lifehack.org 🙂

Not far till the top 50!

Ali

Jeremy Steele

Congrats, keep up the good work

Giftcardblogger

Congratulations!!!! Well Deserved.

redwall_hp

Congratulations and keep up the good work!

FileMaker Plugin

That's great news congratulations! Shouldn't be too long until you hit the top 50!

Ganha

Congrats you really deserve it

unclewilco

Great news a don't know a more worthy blogging blog

pchere

Well deserved. I am sure technorati top 10 is not too far. And DBT is surely among the 100 most popular blogs in the world!

MG

good job guys 🙂

Ritu

Hey Daniel! That's quite an achievement. Congratulations!

Tibi Puiu

Great work Daniel! Well deserved indeed. Great all those beautiful free themes paid off, right? 😛

Thomas Sinfield

That is an amazing achievement! congratulations!

Daniel Scocco
Bilingual Blogger

Congrats! But I thought you didn't care about Technorati, i.e. considered Technorati irrevelant.

Myo Kyaw Htun

Congratulations! Daniel !!!

Inge

Great, congratulations!

Brian

Congratulation! Now you gotta break the top 25!

Michal Splho

Congratulations.
I like that spot on web 🙂

Shankar Ganesh

Congratulations. Keep rocking and rolling 😉

Frank Gilroy

Congratulations!

SE7EN

Congrats for this milestone!

Daniel Scocco

Thanks guys, appreciated.

kriz cpec

Congrats!

Ramkarthik

Great achievement. And your blog deserved it. Congrats.

The How-To Geek

Congrats!

The top blogs list is definitely skewed towards certain niches, but you deserve it anyway.

Bitten

That's a nice spot. Congrats. DailyBlogTips deserves it.

Daniel Scocco

Thanks Igor.

Igor

Congratulations! It's a really good results!
Comments are closed.