Daily Blog Tips Landed Me a Television Deal!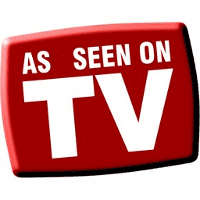 I have some exciting news to share with you guys. Around four weeks ago I received an email from a woman claiming to be an executive producer with one of the largest news channels in the U.S.. Needless to say that I thought it was a scam initially, but the email address was looking legitimate, so I replied.
After a couple of messages back and forth the woman told me that her news channel was looking for someone to comment on blogging and new media. It would be a daily appearance on one of their early morning shows. She told me that my blog and name came up after they did a preliminary research on the web, and they wanted to know if I would be interested to test for the role.
My answer? "Absolutely!"
Over the following weeks I did an endless number of tests. Some of them were just conference calls with the managers to discuss the general aspects of the gig, while others were actually video pilots of the appearances I would be making.
Long story short, they liked what they saw, and we signed a deal! If you live in the U.S. or have access to the U.S. news channels via satellite TV, therefore, you'll start seeing me live every morning. The appearances will be just 2 or 3 minutes long, but it is still very exciting!
The appearance is scheduled to go live on April 22, which is three weeks away. I am counting the hours….
I can't reveal the news channel yet or other details about the deal due to contractual obligations (i.e., they made me sign an NDA), but on April 22 you'll discover everything.
Finally, I just wanted to say a big "thank you" to all the readers and supporters of this blog. Without you this deal would not have been possible!
Browse all articles on the General category
39 Responses to "Daily Blog Tips Landed Me a Television Deal!"
Raivyn

That's awesome. Congrats! I'll keep an eye out. 😉

Jack

Wow, very cool. I can't wait to see it. Just goes to prove everyone is looking more at the internet and the blogging world for experts.

Bob Bessette

That is awesome Daniel. I'm looking forward to you revealing what show the gig is on. Us in the U.S. will either be watching or setting our DVRs to see your mug! Good luck with that…

Best,
Bob

Robert Bravery

WOW, Hope this is no April fool

But well done. Very excited to hear that.

Hopefully you will make videos available fo these 2-3 minute slots so US guys outside the US can tag along.

George

Oh, also if it's an April fool's joke…. ummmm…. it was a good one.

George

Congratulations Daniel! That is SOOOO COOL! It couldn't have happened to a nicer guy.

Hope the tv gig lasts a long time and you get rewarded well for it.

Jaan Kanellis

Awesome Daniel! You are one of the good guy bloggers out there that has helped 1000's of webmasters. Now you will be able to do it on larger scale and audience.

sujith

Congrads friend, But you must give some clue before Apr 22, because it is difficult to figure out from the channel ocean

vanae

ahhh! i'm soo excited for you dear!!

HUGS!
Vanae

Rajendra Pondel

Hope its not April fool.
If not then congrats!
If yest happy "fooling day"!

Kevin Muldoon

April 1st!! :):)

Kiks

Congrats.. I believe you the best news always comes out on April 1st
Enjoy the fame

Daniel Scocco

Yeah, I am guessing this fame won't last long indeed 🙂

Dev | Technshare

ya that's right Kiks best news always come on 1st April 😉

mohsin

have my heartiest congratulations, this success of yours is a true inspiration for me and other readers of the blog.

Gayla @ Slim Fit Mama

Repost this tomorrow and I'll believe it 100% – although as great as your blog is and has been, I'm really on the fence with wanting to believe it today. Honestly, I could see it happening – although the part where they'd have you comment about blogs "daily" is a bit much. I think that's the giveaway to me 🙂

Will be fun to see what the end result is – Is it real or is it a blogstar looking for a good April Fool's prank? We shall see 🙂

Jaydip Parikh

Wow ! So gr8 news. congr8s man !! Its party time 😉

Robinsh

You are eligible for a big congratulations, keep moving you are a future megastar in blogging.

Mstrendy

I'm so happy for you. I ran across your site about two months and your posts have help me so much with my site. I'm always coming through reading your posts even if its two years old. Great Job!!!

Jennifer Brown Banks

You've gotta be kidding! This is so cool! Congrats! Don't forget about the "little people" when you make it big.:-)

Sharninder

Haha … that was a real nice one. I was beginning to get sick (and bored) of all the April fools forwards that I've been getting since morning.

Samuel

Lol nice one dan! Aint we gonna pop champagne in other to celebrate d success lol? April fool!!

Samuel

Lol nice one dan! Aint we gonna pop champagne in other to celebrate d success lol?

jonathan Betancur / Rockvertising

Congratulations!!! The next step is a movie with Tom Cruise!, Really really congrats.

Melvin

lols. every posts written this day should be considered an april fools prank. 😀

Richard Scott | Jewelry Secrets

2 or 3 minutes long? That's longer than it took me to read this foolish post! 🙂 Happy All Fools Day!

Joe

In related news, Mila Kunis, Jessica Biel, and Rachel Bilson have all agreed to convert to Mormanism so they can all marry me.

I want to believe this, but the timing simply won't allow it.

Rudy

First, congratulations!

I Hope this is not April fools blah blah (lol). I almost fell with problogger's latest post (news release) about it being acquired by Google.

Keep us posted…

Azlene Owens

Wow!!! How exciting! I'm so happy for you. It must have been an unexpected success for you. April 22 is an international peace day. What a great day for a start of your first TV appearance.

Young

Haha, Daniel is fooling us with a wonderful story on April Fools' Day.

JC

April Fools? If not, congrats and I look forward to seeing it.

Jean Sarauer

Looking forward to hearing the details so I can tune in to watch. How exciting!

Daniel Scocco

I will keep you guys posted.

Harsh Agrawal

Why Do I feel it's 1st April buzzz?? 🙂
Comments are closed.