Blekko Is Becoming A Nice Backlinks/SEO Tool
A couple of weeks ago I wrote a post announcing that Yahoo! Site Explorer was gone. After that I started looking around for some alternatives, and one impressed me: Blekko.
If you don't know the story, Blekko is a search engine which the goal of filtering spam from its results. They do that by using a list of trusted sites and then crawling the web from those sites as starting points.
Another difference is the use of slashtags, which help users to filter and customize their search queries.
It sure would take more than that to make me switch away from Google as far as searching goes, but Blekko is adding a really nice set of tools for SEOs and webmasters.
For example, if you search for a domain name followed by "/SEO" you'll get a pretty detailed report about that site.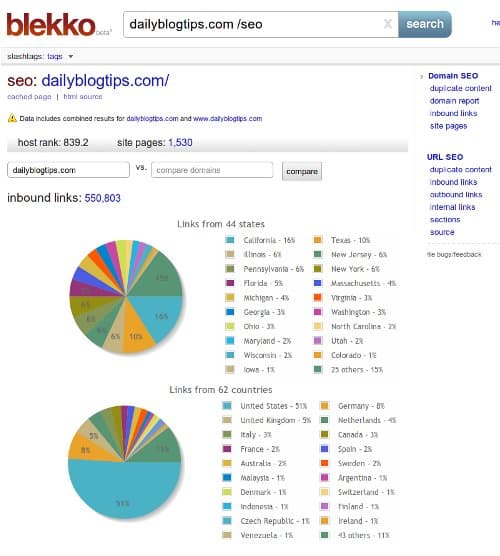 Information includes total number of backlinks, origin of those backlinks, possible duplicate content around the web, number of pages indexed and so on.
As for the number of backlinks listed Blekko has one of the most accurate counts I have seen in a while, so check it out.
Browse all articles on the SEO category
9 Responses to "Blekko Is Becoming A Nice Backlinks/SEO Tool"
Shyam |Sri Lankan History

Yaa Nowadays there are so many tools coming. If you tell this one is great then it's great for me too. Because you are very experienced in this field. I went to check my friends blog. But it told to log in. So Now I'm making a new account.Thanks for telling this one..!

Thanks!
Shyam

Naveen Kulkarni

Excellent Daniel,
This tool looks promising and pretty fast well in fetching the results.

Lenia

I didn't know Blekko but now it is an opportunity to use it. thank you for the information.

Daniel

I noticed Blekko on my SEO Book toolbar, though I am not sure if I can get those same levels of data as you have.

I must have forgotten to include my site with Blekko, so I could get all the stats showing.

I currently have Alexa, Seoquake and SeoBook running at the same time.

Since site explorer no longer provides Backlink data for Seoquake, I will probably use the Blekko toolbar for that purpose from now on.

Jamie Northrup

Good to know, I like the way Blekko presents their insights into your links.

Thomas

Hey Thanks for looking out for us. I never even knew Blekko had domain and link data. I was so disappointed when site explorer went bye bye but the Bleeko tool is a nice start.

Amie Marse

Thanks for the tip! I always love easy tools to scope people out. Especially when you do social stuff, I like to put any new people through a filter of how reliable their site is.

Thanks! I will sign up so I can see the seo results 🙂

Shlomo

Daniel:
Thanks for staying on top of this and sharing what you have found.
Shlomo

Mark Aylward

Sweet
Thanks for the detail Daniel!
Mark
Comments are closed.