WordPress 2.5 Released
All right folks the time we long waited for has finally come. WordPress version 2.5 is officially released.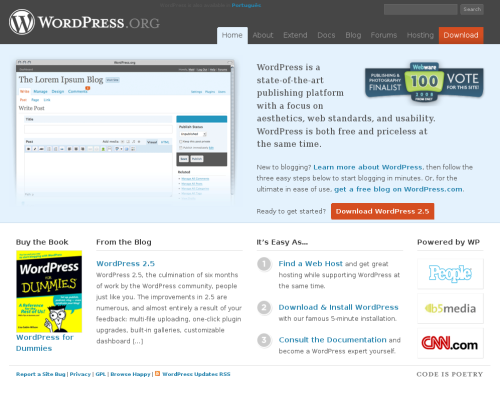 It looks like Matt wanted to synchronize the release of the latest version with the first day of the Word Camp Dallas. You can see a live coverage of the event on Mashable (when I checked the live stream Matt was just finishing his keynote…).
Finally, there is also a nice redesign of the WordPress main website, check it out.
Browse all articles on the WordPress category
19 Responses to "WordPress 2.5 Released"
Deborah

I upgraded last week and the only problem I am having is that I can no longer see my comments though admin. It shows that I have comments to moderate, but they do not show; nor do the current/already approved comments. If I click on the SPAM comments, I can read those. The only way I can see my comments now is through the email notifications I receive asking me to approve and/or when they actually publish on the blog. Anyone have any thoughts on this issue? I'd appreciate any help!

Not A Niche

Hey Everybody,

There is a plugin which automatically upgrades your blog. It's a great time saver and it works great. Check out the shortcut for upgrading to WordPress 2.5

Use it and you are on the latest version in no time. 🙂

Japanite

It's seems that most of the popular plugins are already have updates for the new version. My plugins page today was filled with recommendations for plugin updates.

Anyway, is the DeepBlue theme is compatible with 2.5?

PremiumWordpress

WordPress 2.5 looks great, but think I will hold off upgrading for a bit and let all the early adopters expose any bugs and vulnerabilities first.

Durkin

I just downloaded the version released before 2.5 and updated all my blogs, and then two days later this was realeased ahh! 😀

i like it a lot though!

Lex G

I think I'm getting that wordpress for dumbasses book …

Bloguitar

Works great for me 😀

Daniel Scocco

Well I don't really care about visual stuff.

As long as it is fast and reliable it is good for me :).

Napster

The editor is quite difficult and ugly.

Michael

I have to upgrade soon.

But, I will wait a while, just to make sure that people don't start complaining. I don't want any problems.

SATISH

Great…I Love it.
I recommend everybody to upgrade it.
Its better than any other versions of wordpress!

Rajab Bader

I've upgraded both of my blogs and I must say the new version is more faster and stable. No problems with plugins yet.

One of the new features which I've always wanted is the built-in gallery like the one Matt is using on his blog.

Also Gravatars are integrated and no need for external plugins.

Young

Anything good for the promotion or the output? I won't change to new WP if only some look was changed.

Uri

Oh, great news!!!! I'm definetly upgrading.

Daniel Scocco

I haven't upgraded Daily Blog tips yet. I have a custom database setup here so it will take longer to figure how to upgrade smoothly.

I am using it on a test site, and it is working great.

Definitely a must if you can upgrade easily or if you are starting a new blog.

Lori

Are you using it? Any trouble?
Comments are closed.