StudioPress WordPress Theme Released
Update: This theme is no longer available in the market.
We have another WordPress theme ready to go. StudioPress is a very clean theme, and it comes with the possibility to integrate several AdSense units.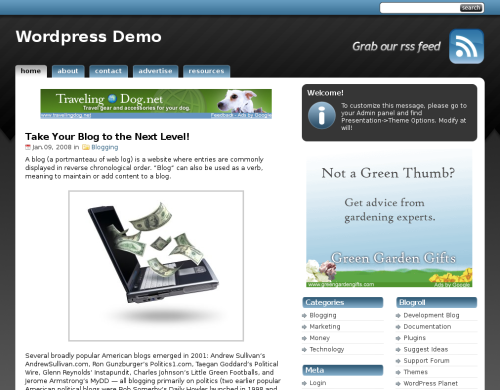 Here are some of the features of the theme:
AdSense-ready: The theme comes with three units integrated already. A 468×60 unit on top, a 336×280 unit on top of the sidebar and a 120×600 unit on the bottom of the sidebar. You just need to copy & paste the AdSense code on the specific php files.
Widget-ready: The theme supports widgets, so just drop the ones you use.
Comment styling: Comments alternate with a different background, making it easier to follow the conversation.
"Welcome" section on the sidebar: You can customize a "Welcome" or "About us" message easily through the form on the "Theme Options."
Search Engine Optimization: The theme comes with title tags optimized, and it already displays only excerpts on archive and category pages, to reduce the duplicate content.
If you have any problem using the theme or any suggestion for improvements just leave a comment below and we'll try to help.
Browse all articles on the WordPress category
388 Responses to "StudioPress WordPress Theme Released"
Daniel

Cesar, can't you do that manually with some HTML?

Cesar

I also noticed that the plugin works because it excludes the pages from the side bar that i created that is called PAGINAS. I still can manage to avoid everypage created to appear in the top of the desing. HELLLLLPPPP!!!!!>…… that is killing me.

Cesar

hey Daniel and Sridhar Katakam i just download and activate the plugin you guys told me to do but still, everytime that i create one page, it automatically creates a new tap on the top. i am trying to keep it simple on the top, if you take a look right now that looks ugly with all that on the tabs.
Hope to hear from you soon. thank.s

Sridhar Katakam

@Cesar: What you need is http://wordpress.org/extend/plugins/exclude-pages/

@Daniel: Thanks for the theme. I am using it at http://www.webtechdaily.com/

One suggestion: get_links function in sidebar.php is deprecated. wp_list_bookmarks() should be used instead.

Cesar

Hey Daniel what i have to say might be kind of complicated but try to understand me. Ok here I go. :

I am using this theme with my domain. And am trying to create at least 9 static pages, you know. I don't like that everytime that I create a new page, a new tap comes up on top of the design. I am using the WIDGET CALLED PAGES so that I can have all the pages on the side bar under Technology Articles. The only taps that I want to have are News, About, and maybe one more. But that's it. How can I make it work to the point that everytime that I creat a page I can only put in the side bar and it does not come up on the top, as a new tap.

Hope you can help me with that men I really love this design.

nicejob

OOpss!!

I hope to say –> "lol"!

thx Daniel and good job again 😉

nicejob

Sorry but I does not understand well your answer
you say "as long as crédit us"
you talk about money or of not to remove the links and copyright of the author??
Thank you again for your answer.

Daniel

@nicejob, you can adapt as long as you credit us.

nicejob

Hello daniel

Thanks for your work

We have the right to try to adapt this template for dotclear?

Thank you for your answer

Daniel

Eric, remove the code there and add the links to each page manually.

Eric Smith

Any way to change the header php to only display pages w/out a parent (main) in the NAV bar? I've got a lot of pages and the NAV bar looks pretty cracked out. I'd like to only show my primary pages in the NAV bar and not worry about all the sub-pages showing up as well.

skarld

You can vote for StudioPress on wpthemez, a digg-like site for WordPress themes.

Lorenzo Chacón

Great theme Daniel, but I have some problems, look this image:
http://img170.imageshack.us/img170/4022/problemwq8.jpg

And I have some problems too with the size of the text, I edit a lot of times but look:

step1

ok It is look good

thank you

Jagermo

Hey guys, great theme. I'm currently translating it to german. Could you send me the PSD-Files for
commentbutton.gif
grabrss.gif and
search.gif?

Would be great, thanks.
jagermo

dombio

Thank you for the theme, it looks great!
I've updated my blog with it and now I'm planning some personalizations…

Daniel

Check what is on line 20 of your single.php file. It should be the code for tags, and maybe your WP version does not have that.

Delete that line and the problem should be solved.

pb

Daniel,

I was able to get the adsense images working properly, thanks for the tip. One more thing, when I click on individual post I get a error that states "Fatal error:Call to undefined function the_tags() in /home/moolahmo/public_html/wpcontent/themes/StudioPress/single.php on line 20

Do have any input on this? Thanks again.

Voice Of Dingchao

thank you very much, i have tried it in my blog http://www.seocome.com. It looks great!

Thanks again!

Ludwik C. Siadlak

Great theme – good job, Daniel!

What's the license? I haven't found it in *.zip.

Warm regards
Ludwik

luffy

Thanks Daniel, I'm looking forward to it.

I saw some site that has a section that integrates a few tabs together and the content change when they click on the tabs. any idea how to do that? i saw some samples of this from some of your links to a premium theme sites.

Daniel

@WebProffy, send me an email and I will send them to you.

@Terra, make sure your cache is not turned on, use crtl+F5 on your browser to clean it.

@luffy, 3 more colors are coming.

@PB, you need to paste the whole adsense code below the lines that are already there (not within the lines).

This should fix the problem.

PB

Daniel

I'm new to blogging and just downloaded your theme. However, I'm not that versed in WordPress, so when I tried to copy and paste my adsense code on the each specific adsense php file, the code is displaying on the blog. Is that suppose to occur?

Thanks,

PB

luffy

i like this, but would like to know whether will you release this in different colors? that will make the theme more unique and please a lot of people.

terra

I apologize in advance, but came upon this theme, uploaded it promptly and am now trying to make changes as needed to the welcome and ad sense units. Changes fine in the WP dashboard, but doesn't display when I reload the page…what am I missing, please?

himi

This is a very nice looking theme! I'm thinking of upgrading one of my blogs and could use this one.

JJ

Yea… that fubars the hover effect. It just puts a text link there. Hmmmm… Ill keep trying. Thanks anyways!

WebProffy

Daniel, theme's superb!

But there are no graphic psd-sources for:

1) grabrss.gif
2) search.gif

I'm from Russia and need to have a russian text there…

Can you make these psd-sources?

Daniel

JJ, first locate this class inside the header.php

<div id="nav">

Then locate the <ul></ul> section inside that class.

Then you just need to delete the code there and add your own links using <li> </li>

I am not sure how this will affect the hover effect though.

JJ

Awesome theme! Had a question though… I have been finding it very difficult to edit the code for the menu (header.php)in order to display only certain pages. I've tried a variety of different code but nothing seems to work. Any idea on what I could do?

Thanks again for an awesome theme!
Comments are closed.