Top Resource: The (nearly) Ultimate Guide to Better Writing, from Write to Done
Is writing sometimes (or often) a struggle for you?
Perhaps you never seem to feel very inspired.
Or maybe you never seem to finish what you start, or it's difficult to stay productive.
You might have a specific problem with a particular aspect of writing, like crafting blog post introductions, or proofreading your work.
The free ebook The (nearly) Ultimate Guide to Better Writing from Write to Done covers all of these topics and more.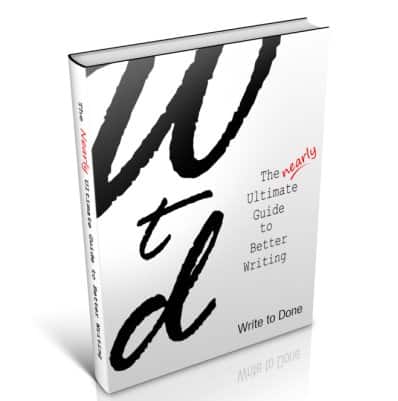 (Note: you'll need to supply your name and email address to get the ebook – you'll also receive regular updates from Write to Done, though you can unsubscribe at any time. They publish great content, not too frequently, so I'd recommend staying subscribed!)
So what's the book like?
At 116 pages, I'd consider it a full-length ebook – it wouldn't be at all unreasonable to charge for it. It's packed with great information for writers – Mary Jaksch, Chief Editor of Write to Done has brought together some of the best articles published on the site.
The topics covered range from finding your passion and inspiration to practical advice on writing blog posts and ebooks, proofreading your work, and staying productive. Like the Write to Done blog itself, the ebook is aimed at writers in general rather than bloggers specifically – but there's definitely lots of good advice for bloggers here too.
Since Write to Done has a strong guest posting culture, plenty of great writers are included as well as Mary Jaksch herself, such as Leo Babauta (who founded the site), Joanna Penn (of The Creative Penn), Larry Brooks (of Storyfix) and even me. 😉
So, what didn't I like about the ebook? I did have a few niggles. The ebook might have benefitted from a little more organisation – although the chapters are in a reasonably logical order, it would've been useful, for instance, to split them into different sections on different topics .I'd alsohave liked the authors of each chapter to be listed in the table of contents.
But those are minor complaints, and given that The (nearly) Ultimate Guide to Better Writing is free, I definitely recommend downloading it and dipping in and out to find the chapters that are most relevant for you right now. It could be just the boost your writing needs.
Have you read The (nearly) Ultimate Guide to Better Writing? What did you think of it? Drop a comment below to tell us.
Browse all articles on the Writing Content category
2 Responses to "Top Resource: The (nearly) Ultimate Guide to Better Writing, from Write to Done"
Idrus

Thank you for recommending reference source blogging very good knowledge. I have downloaded the ebook and subscribe to them as well. I hope to get a lot of inspiration and tips on writing better blog posts.

Steve B

Thanks for the book suggestion.

And btw, I have never heard of the term "niggle" until I've read some of your articles.
Comments are closed.