A couple of years ago we saw the trend of "mobile optimization" emerge. People started urging us about the importance of optimizing our sites for mobile devices, about creating versions for the iPhone and other mobile phones and so on. There were even companies that created a business model around this idea.
I wrote about it, but I never really bought into it. In fact early in 2009 I had already written a post titled Do We Really Need to Optimize Our Sites for Mobile Phones?.
One year later I still defend the position that optimizing for mobile devices is not really necessary. Not because people are not using these devices to access the web. They are. But most mobile and smart phones these days work pretty much like portable computers, with fully compatible browsers. The resolution is not great yet, but we are getting there.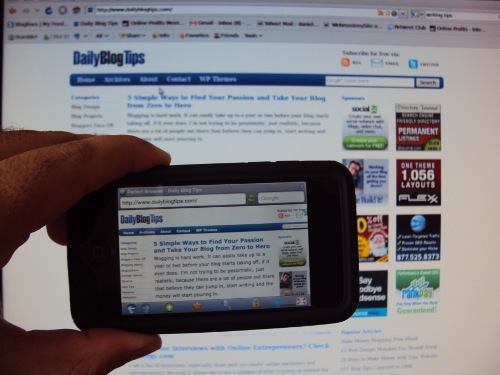 I got inspired to talk about this issue again after my little brother came hope with an iPod touch. Once I grabbed it to play a little I connected to our wifi spot and opened Daily Blog Tips. To my surprise the website was loading fine, and it was perfectly possible to navigate around and read all the posts. And that is an iPod touch. Imagine what you'll be able to do with the iPad or the coming smart phones.
In other words, I don't believe we'll see the rise of a "mobile web", with separate protocols and websites. I believe we'll continue using the "traditional web," even though we'll certainly start using new and mobile devices to access it. Sure there will be new applications and features that mobile connectivity makes possible (e.g., Foursquare), but overall the good ol' web will remain as the core network.
Thoughts?