Nine Places to Find Great, Free Images for Your Blog [Guest Post]
This is a guest post from Jack.
What's the best way to get great images for your blog?
You probably already know that the images for your blog should be taken from sources that explicitly allow for their reuse. This normally means they're licensed under Creative Commons, which is a kind of copyright license that allows you to use the images as long as you attach a proper attribution.
(There are a few variants of the CC license, so you should always pay attention to what exactly your rights are and whether attribution is obligatory or not. Some of the image databases allow to use their photos with no attribution.)
Here are nine great places to get free images for your blog, in alphabetical order:
1. Fotolia
www.fotolia.com
This website is full of high quality photos … but you (normally) have to pay for them.
However, every week Fotolia selects three photos that can be downloaded and used without paying anything: free royalty-free images of the week. Who knows, maybe they'll have exactly what you were looking for?
2. Flickr
www.flickr.com
You've almost certainly come across Flickr before.
To get images under the right copyright license, you can us specific groups like Free Use, which include only photographs whose owners declare no copyright and grant their works public domain status.
You can also run an advanced search and check the box for Creative Commons (as explained here). Remember that Creative Commons licenses differ from each other, so you should always pay attention to what specific type of CC license you're about to use.
3. Freerange Stock
www.freerangestock.com
You can use these pictures freely, even without adding a proper attribution. However, you're forbidden to redistribute, repackage, or claim ownership of the images. All the photos offered by FreeRange Stock are in JPG format, and they're high-quality – they're always reviewed before being posted. The website also offers free textures, useful in any graphic design project.
The only thing you need to do before starting your search for a perfect picture in their impressive database is to register free of charge on the website.
4. Google Image Search
images.google.com
Google Image Search lets you find images licensed under Creative Commons – but only if you first set your location to the US (if you're not already in the US!) After that, you'll see the license filter.
You can use the customized search for looking for images under the following licenses: reuse, commercial reuse, reuse with modification and commercial reuse with modification: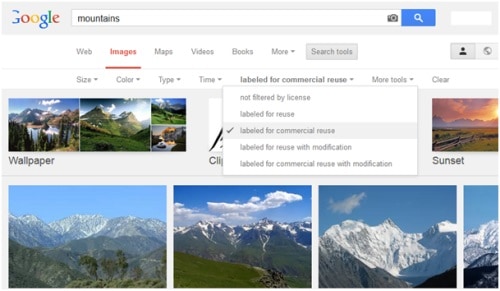 Note that Bing and Yahoo also have similar search functions.
5. Imagebase
imagebase.net
ImageBase is a collection of images, mostly taken by David Niblack, a photographer kind enough to let people use his photos for free. The images downloaded from this website can be used for any purpose, both commercial and non-commercial, without attribution.
You don't need to register to use the website, and the photos are high quality. The photos found here are of high quality, and, apparently, those of the highest resolution are among the newest ones.
6. Openphoto
openphoto.net
This is a sort of alternative photo sharing platform, whose primary audience are teachers, students, artists and developers. The website was founded in 1998 by Michael Jastremski, and has grown very large.
You can browse through dozens of photo categories that range from animals and food to concepts and holidays. In general, all the photos here are distributed under the Creative Commons license, but the details of the copyright differ for different photos, so always check the exact usage terms before you use the photo on your blog.
7. Panoramio
www.panoramio.com
This website can be of great use if you write a travel blog – all the photos are organized according to their location, as the platform is based on Google Maps. However, you can only use the photos after contacting the artist and asking for explicit permission. The best place to ask is the comment section below every photo or by using the private messaging feature available at Panoramio. The photos cannot be used for commercial and business purposes, however, unless the photographer agrees to it.
8. Stock.xchng
sxc.hu
When you use this site, keep in mind that the first row of images (under "Premium results for X on iStockphoto.com" are not free and they come from iStockphoto.
The images listed under "Results for X on SXC.hu" can be used for free, once you've registered, but before you go and paste an image onto your blog post, check the picture's availability as some might require the author to be notified and credited when using the photo for any public work. You'll find this information in the image info box.

9. Unrestricted Stock
unrestrictedstock.com
The website provides not only stock photos, but also videos, fonts, buttons, icons, illustrations and vector resources. All the works available at Unrestrictedstock.com can be used free of charge in unrestricted terms of use, even for commercial purposes. I think that as far as its content is concerned, this website is pretty unique – it includes beautiful illustrations and hand-drawn icons.
The website creators call their enterprise a mission to bring to the world high quality visual materials for free and I love the sound of that!
Which of these sources of images is your favourite … and which new one will you be trying out? Let us know in the comments.
Bio: Jack has a masters degreee in IT, and has been in the SEO business for the last 8 years, witnessing all the changes it went through first hand. He's also a co-author of the seokitten.com tool. White hat SEO is his main area of expertise.
Browse all articles on the General category
10 Responses to "Nine Places to Find Great, Free Images for Your Blog [Guest Post]"
Mark

Until a couple of months ago, I was a fan of Google Images and Flickr. This changed when I started to receive dozens of copyright infringement complaints.

Basically, I had to replace half of my blog's images! Since then, I've been trying Stock.xchng, but it's not that good. There are simply to few good quality images.

However, I've recently stumbled upon YAYimages.com. They say that they offer unlimited image streaming for just $9.90/month. Has anyone tried it yet?

Joy

I read about google images somewhere else but could not find the "… commercial reuse" thing among the options! Thanks a million, your post made me aware of the fact I have to set US as location ! 😉

Sasha

Personally i am using flickr for upload images. I think more then 60% peoples on flickr. What do you think admin?

Raspal Seni

Hi Jack,

Didn't know Google image search had a CC filter. Thanks for the tip. Haven't heard of some of the others, except flickr and fololia. Do all of these sites have high quality images?

@sami: Using images isn't compulsory, since you are the one to decide if you want to post an image or not. But, posts with images attract more comments and readers. I read somewhere the other day, images/visuals have 60,000 times faster impact on us than just plain writing/words. Another thing is the use of colors in the image. How much the images attract you depends on the colors used. I have always used at least one image on each of my blog posts since the start, but I have to say, searching for the perfect image takes time. This maybe the reason DBT doesn't include images other than needed screenshots.

Alvi

i only know 3 of them, and Flickr is still my favorite 🙂

Brodie Tyler

This is a great resource! I'm always looking for new places to find images for blogs. Thanks for sharing!

sami

Using images in blog posts is good but a lot of bloggers think that it is compulsory. Most of the times I avoid using free images or create a simple graphics myself. Take a look at all the posts of DBT. How many posts contain images ?

David A.

Thank God, I'm looking for images for my trading quotes. And google image wasn't no help.

The sites you recommend are great. Thanks again.

David

Treathyl FOX

Thanks. Reblogged.

Jonny

One thing to bear in mind is that it's crucial to correctly reference where you got the photo from, depending on the individual licensing agreement. Some sites won't need it, but if you are planning on using a photo from flickr for example, it's typical in the Creative Commons agreement that you will need to hyperlink/give credit to the original author. If not it can result in legal issues in extreme cases.
Comments are closed.